Good news everyone! Mehku is coming up from Florida for Christmas, and he wants to Nerf! Without further ado, I announce: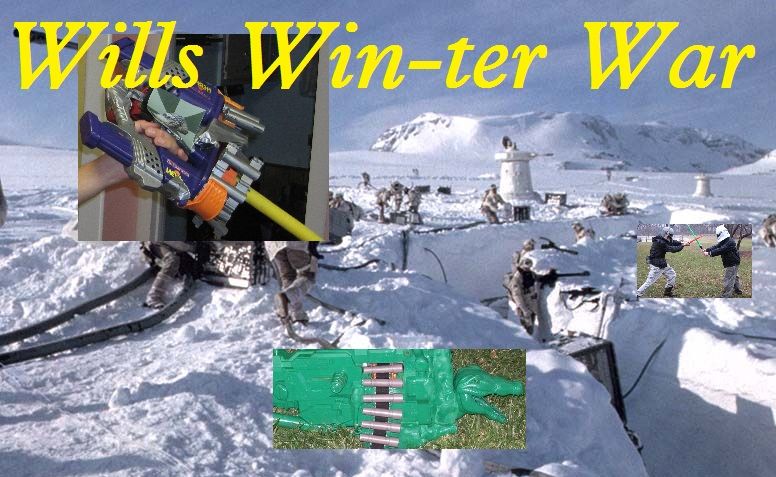 (totally what this is going to end up looking like, chubbs' and all)
Date:
December 26th (A Wedensday)
Time:
11ish - 3ish
Where:
Picnic Area #5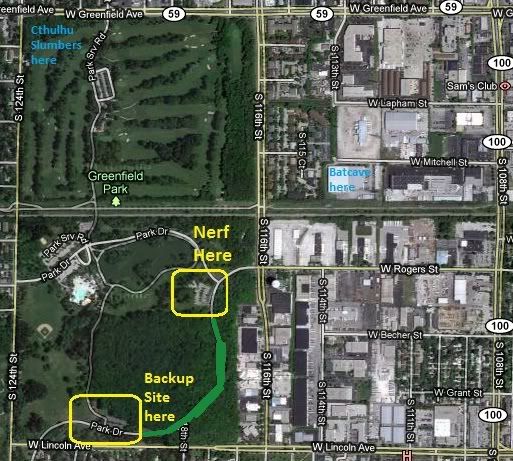 Address for your mapping site of choice: Park Dr, West Allis, WI 53227
What to bring:
+ Warm clothing. I would suggest layers.
+ Eye protection is
mandatory
+ At least 1 pistol for the pistol rounds.
+ Melee Weapon if preferred. Your melee weapon can only be
1-5 feet long and less than 1 ft wide.
Any melee weapon may be disallowed if a host deems it unsafe.
+ Enough ammo. If you do not have ammo, don't worry, we have a community bucket going. (However, our bucket could always use a re-fill if you feel like donating)
+ Something for the raffle we'll be having.
+ A bag lunch with plenty of water or some other type of drink
What not to bring:
- GLUE DOMES
- Modified stock ammo
- Anything painted entirely black, silver, or any form of camouflage.
- Blasters that have any sharp or pointy objects on them. This is for Toaster boy.
- Douchy attitude

Relevant Information:
~ Homemades are allowed so long as they don't get supa-sub-optimal ranges (150+ feet)
~
Don't be afraid to ask questions! The only dumb question is the one not asked.
~ West coast rule-set
~ A hit is defined as the projectile in question changing direction upon the striking the player first. If there is a dispute, take the hit and move on. If it continually becomes a problem, bring it up to a host.
~ Anybody is welcome to attend, including family and friends. Said people
should
be 13 years of age or older due to general shenanigans
~ If any guns have any sharp or pointy objects on it, try and duct tape it down. This is mainly for Toaster boy.
Hopefully he'll show up for once
~ Barrel taps: if you're within range where you believe your blaster may cause your target pain, say "Barrel-tap!", "Bang!" or something to that affect and then discharge your weapon at the ground.
~ If big ammo hits a melee weapon, the melee is broken until tagged
~ Blasters count as shields
~ Shields are broken by large ammo and count as a hit
Possible Game-types:
Zombie/Killing floor
loser
Defend the core
Freeze Tag
Wingman
Capture the Flag
Attack / Defend
Chaos/Meatgrinder/Shenanigans/Immortal/Style/Pattycake round
+ More
After party
We typically go to Pizza hut/Taco bell after wars, here's the address for it:
11011 West National Avenue, West Allis, WI 53227
FIRE AT WILL!
Edited by hummer, 27 November 2012 - 11:16 PM.