Hello!
Long time no write-up!
Let's start by showing you what you'll end up with:
(Or rather... what I ended up with)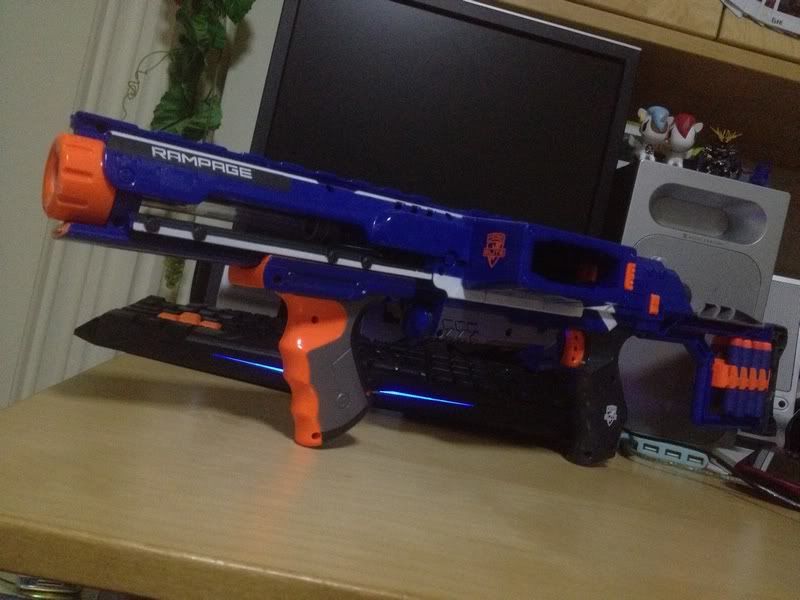 TA-DAA!
A Stock N-Strike Elite Rampage!
Just kidding.
It looks almost like it's stock.
It's a Rampage with an Air Tech 3000 air tank.
I know that this isn't the first Raider / Rampage with air tank internals, but mine has a twist...
I made it with an "auto loading" feature.
Back story:
I first saw Popatachi make this back in 2010:
Popatachi's original Raider 3K vid
Then I saw AJ / AdelaideNerf make one with a Mega Missile Tank:
AJ's Raider + Mega Missile Tank Integration vid
(Writeup:
http://nerfhaven.com...showtopic=19961
)
Finally, I saw Coop make one with an SM1500 tank (and a hopper):
Coop772's Raider + SM1500 Tank vid
Recently, I landed myself an extra Rampage shell after perfoming a Rampage-Raider retrofit (that I happily call the Rapage, tee hee) so I decided to try my hand at this.
I wanted to steer away from my usual usage of wyes, and I focused my mod idea based on Popatachi's and AJ's:
Popatachi's required a manual load of a dart in-between each shot while AJ's required you to perform a separate action to work the breech to feed the next dart from the clip.
However, Popatachi's retained more of the original stock Raider look by using the stock front grip...
and I decided that I would try to come up with a version where I could maintain at least 90% of the stock appearance, while making it feed darts from a clip into the breech without the need for a "separate action".
Before I continue, I want to say that while working on this mod, hamoidar actually came up with essentially the exact same concept in the form of a homemade (with a stock airtank) that he named the "RAD-V1" and "RAD-V2".
Just to be clear, I claim no credit. It's just a case of 2 people having the same idea. Kudos to hamoidar!
Check out his writeup here:
http://nerfhaven.com...showtopic=23221