Hey guys, after warnings and such of breaking forum rules, hopefully this will actually be a good contribution. I personally do not like chopping my Nerf blasters up, and loved the idea of a brass breech, but didn't want to take apart my plunger (in case I f'd up) and take a chance of ruining my $30 blaster, so I tried a minimalistic approach to getting better accuracy and range from my Longshot along with the standard AR removal, dead space filling, plunger padding, spring replacement, better seal, etc. Here's what I did:
Materials/tools
Dremel with sanding bit and metal cutting bit
17/32" brass
Brass polish
Hammer
I bought a foot of 17/32" brass pipe/tube from my local OSH for about $3-$4, and it surprisingly fit very well inside of the Longshot's breech...well kind of, I had to initially twist it in and a small layer of the plastic was shaved off, which helps later on when you fit the brass in. I marked off about about 43", including the tip of the (don't know what you call it) plunger that guides? the darts from the clip into the breech, and outlined the breech from there.
Cut, sand, polish (Sorry I don't have pictures of these first steps but they should be simple enough). Make sure that the areas where you cut the brass are sanded to an angle, angled from the inside to form a sort of "ramp" for easier feeding.
Stick the brass into the breech...I don't even know if this is what you call it, please correct me if it's not the right thing. You will have to hammer it down gently to get it in, and try to make it flush with the original breech. Sand excess off.
Overall I got a good 5-10 feet extra from this little mod, as well as a major accuracy improvement. Before this mod with my previous mods I got about 70-75 ft average.
Here's my pictures of it (I know you guys are saying sand it down more, and it is sanded better, this was just my first one, I made a better one, but it's still just as ugly looking because I don't have very steady hands
.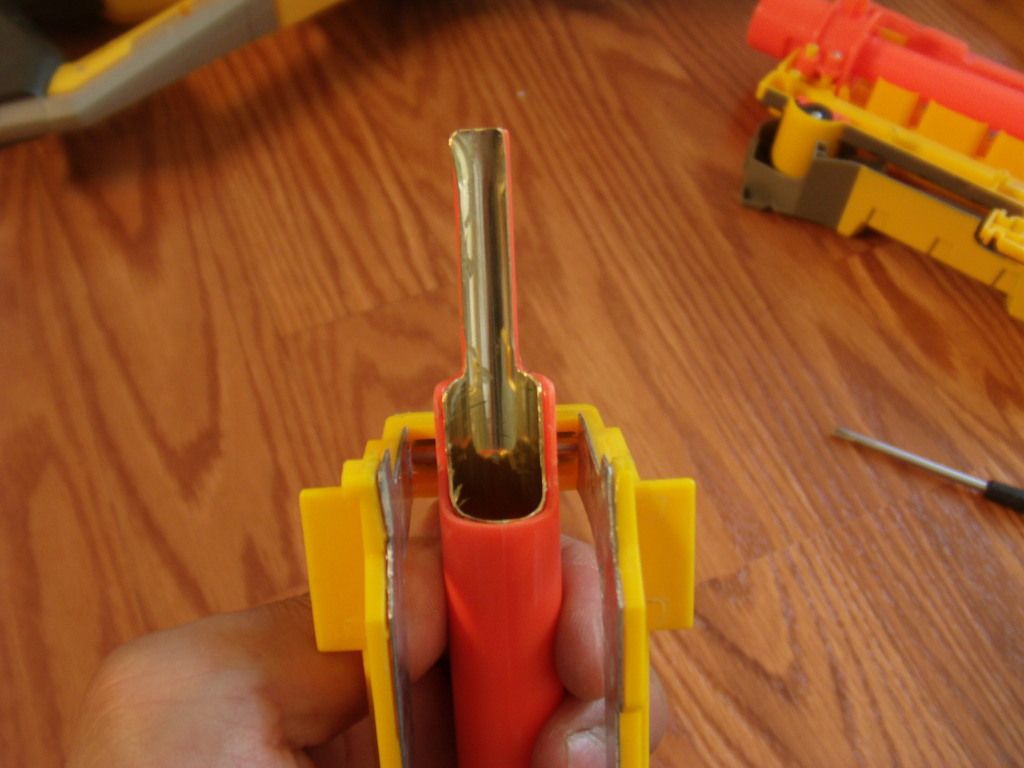 Accidentally sanded some of the insides but first time with dremel so it's decent.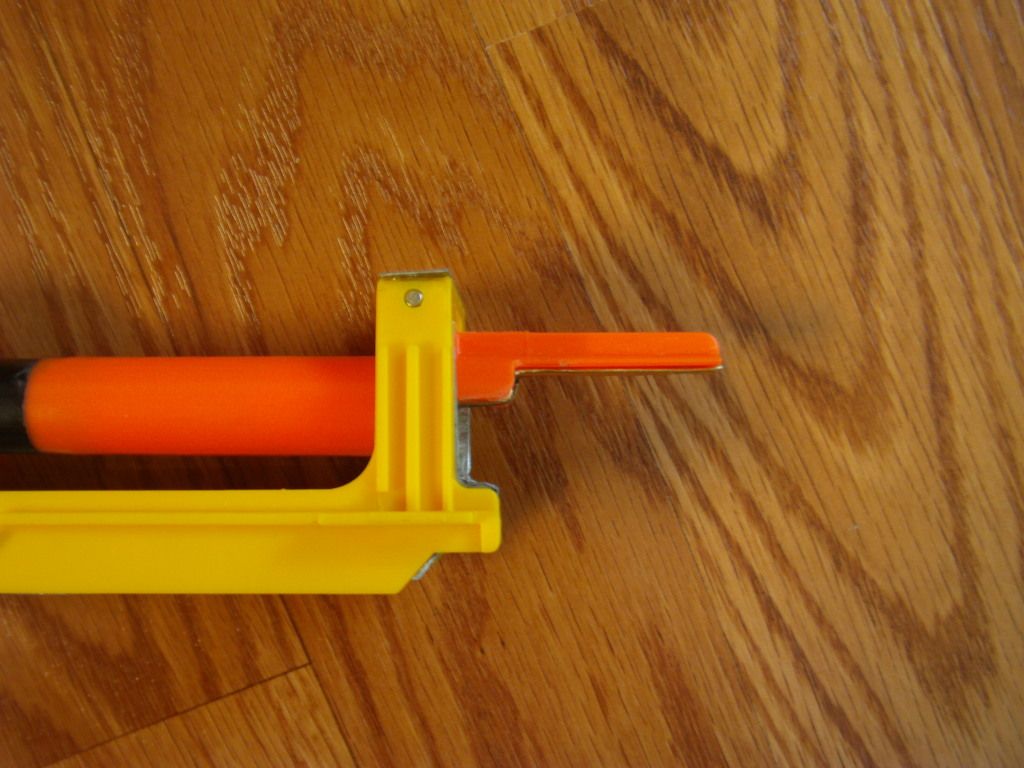 Flush with the breech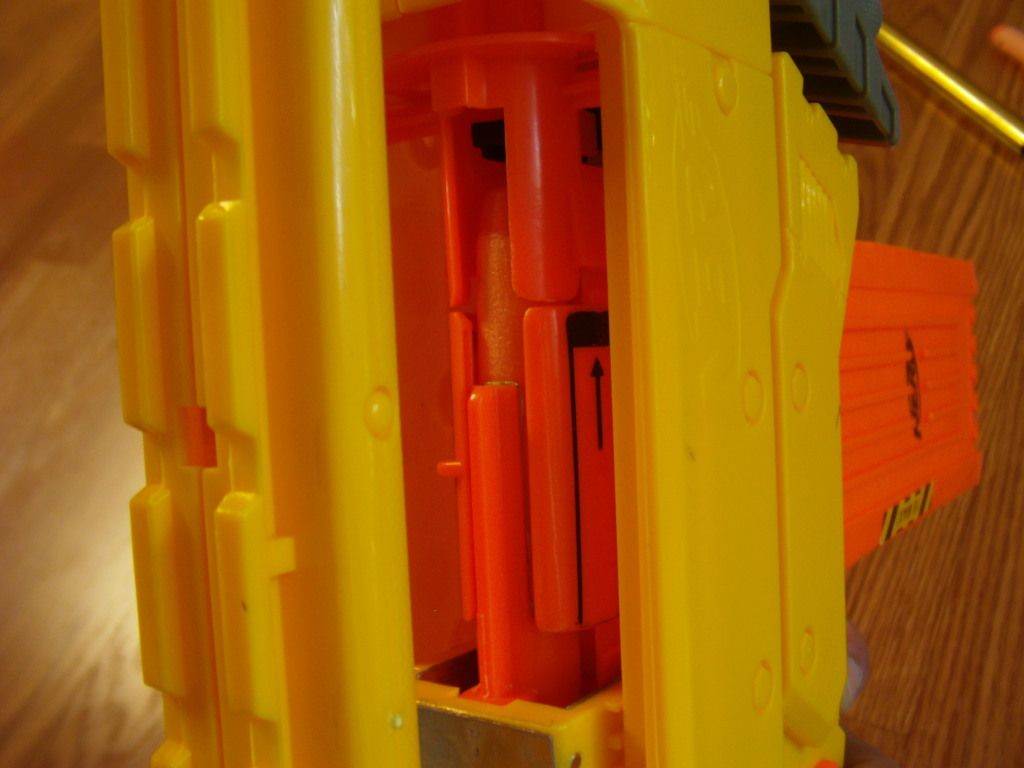 Breech open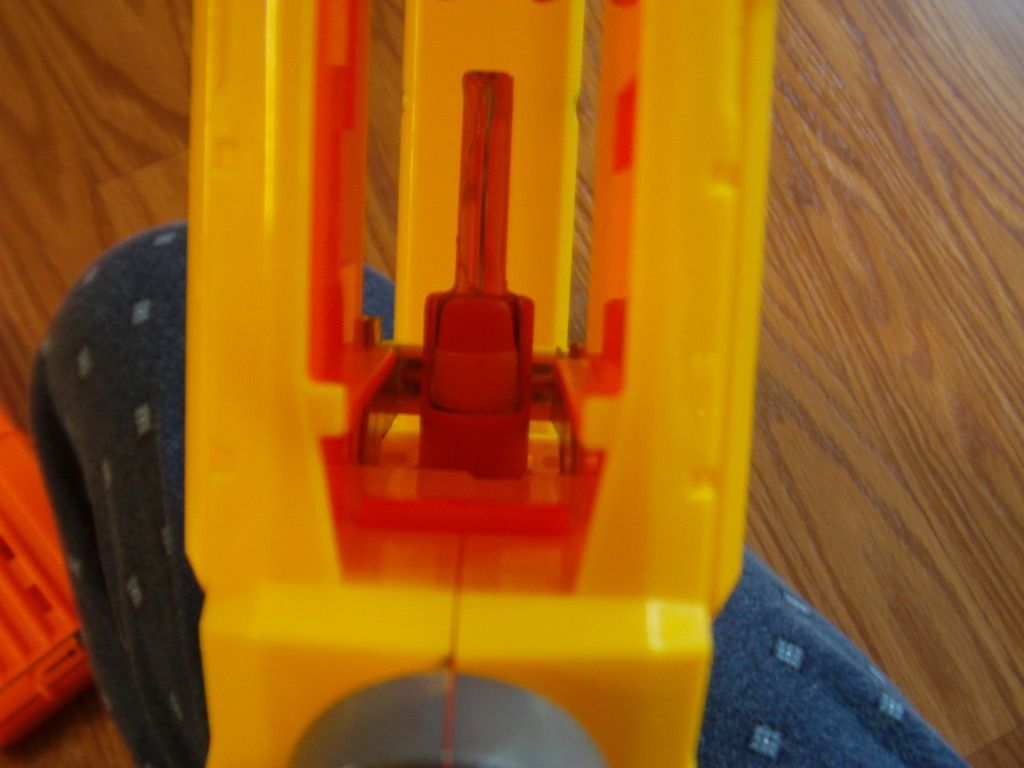 Breech "closed". I de-primed it to show how it still feeds darts well.
Edited by owmyquach, 31 July 2012 - 10:40 PM.