Found this at an ACME for 7 bucks today, and with no other write-ups for it (as of what I can find), here is the write-up for the Banzai Super Strike.
First, let's look at the blaster.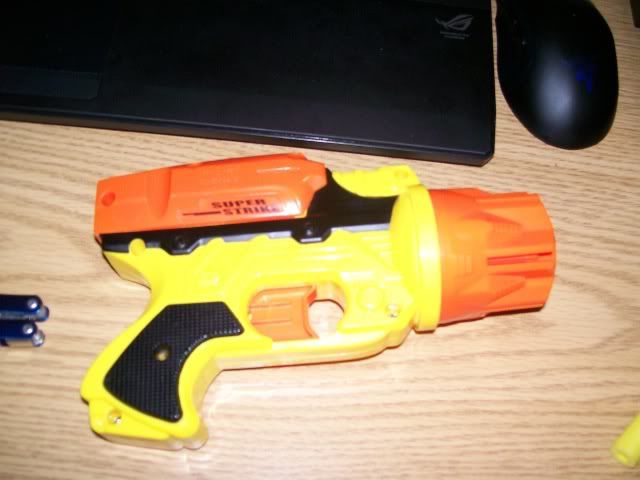 Open the blaster with a slightly larger than average Phillips (meaning, just a bit bigger than Nerf screws). There are 9 screws, 3 on the priming mechanism and 6 on the body (one under the the priming mechanism).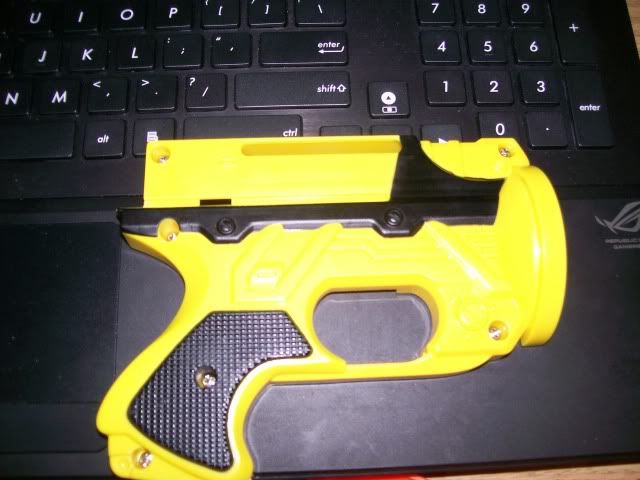 The internals, all you really need is the turret which just slides out easily.
Next, remove all 6 air restrictors from the turret. I used a pocket knife, but a drill or dremel would work just fine. All there really is are just the air restrictor pegs.
Then reassemble and you're good to go. I did put three pennies behind the spring for more compression, but I may add more after I paint this blaster.
Stock with stock darts the blaster got about 15-20 feet. Modified it got 25-30. Buzzbee Darts work really well and can achieve up to 35ft. I bet with a spring replacement and more pennies would cause for much better ranges, but I only had 3 pennies in my wallet and do not have any extra springs. Streamlines range from 20-35ft, they're Streamlines. Whistlers about 25ft. Nerf Suctions went roughly 20ft, maybe 25. Again, with a better spring and more pennies, this may get some decent ranges.