THANKS TO THESE USERS WHO MADE THIS MOD POSIBLE
CHEESYPIZZA001
DOOM
BOOT
KIDFLASH
Most of my posts on nerfhaven have been total crap and questions. Today, i will actually benefit something to the community. I will add to the writeup as time goes on, and i remember what else i should add. in the mean time, enjoy
SOOOOOO this is my first REAL writeup...
Cheesy thought of it, kidflash built it, but i perfected it.
I have always used my NF as my primary, as it was the only gun i really liked. I wanted a primary, but i couldent really find one that fit my needs, wants, and likes. So i decided to come up with a list of things i would not go without on my primary
1.Decent Ranges: it doesnt matter how fast you can fire or reload, if you cant hit anyone at a decent range, you dont stand a chance.
2. All darts: We dont use stefans, because we have people sensative to pain, and little kids in our wars. we have tons of darts in all different types. i am not limiting myself to just one type of dart, because that leaves me at a huge disadvantage
3. compact/light: Im a runner, i rush, im on recon. whatever you wanna call it, i do most the running on my team. I cant cary around a vulcan or longshot with a raider drumb, as it counters my style of play
4. ROF/Reload time: i needed something where i can fire at a decent rate, but also need to be able to reload quickly
5: Comfort: Im wanted a comfortable shell, like the firefly, longshot, or NF. Not like a AT3K, Deploy, or SM3K.
6: Low upcost: no CO2, no batteries, air compressors, or anything i would have pay to replace the power source. Just pure manpower
in addition, i thought of things i would like on a DREAM PRIMARY
7. Semi auto: perfect right?
8: Swappable clips: quick reload in a pinch
9: built in secondary: just in case things go bad
10: efficency: i want it to be where i have to spend more time priming than playing
I dropped the ball a few months ago with this plan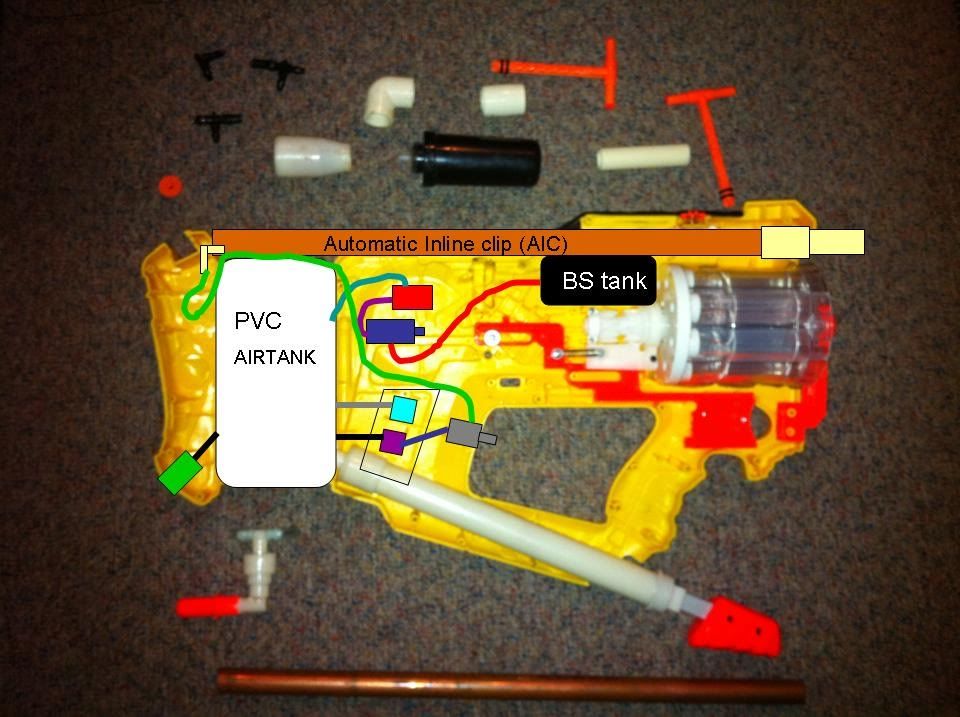 it was good, but i was a little ignorant of pnumatic air systems, and blew up a few salvo tanks. TOTALLY 100% MY FAULT
After some hard thinking and testing, i finally bought the parts i needed. I will list them here later. More testing and failure, until i finally got it to work. Here is the inside: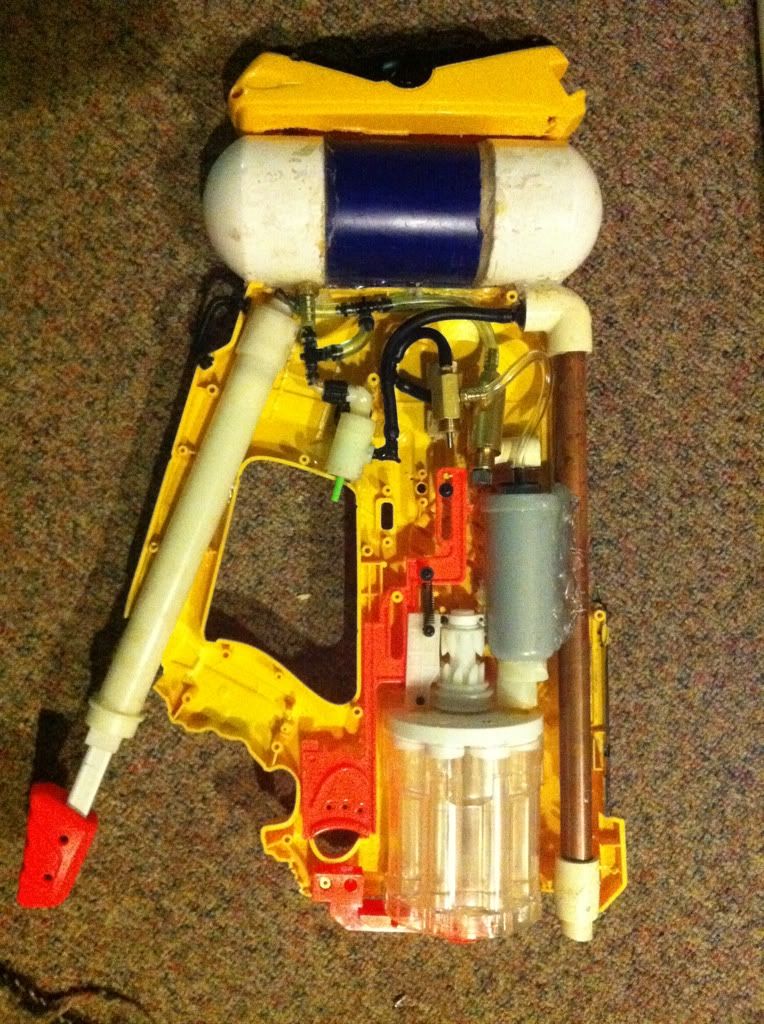 wow. looks alot like the drawing doesnt it
I will go more in depth on using a 3 way valve and a backpressure a little later if anyone is interested. Im gonna just cover most the stuff specific to this mod first
FIrst, you wanna make room for the air tank
THIS CUT NEEDS TO BE DONE ON BOTH HALFS OF THE SHELL
Before:
After: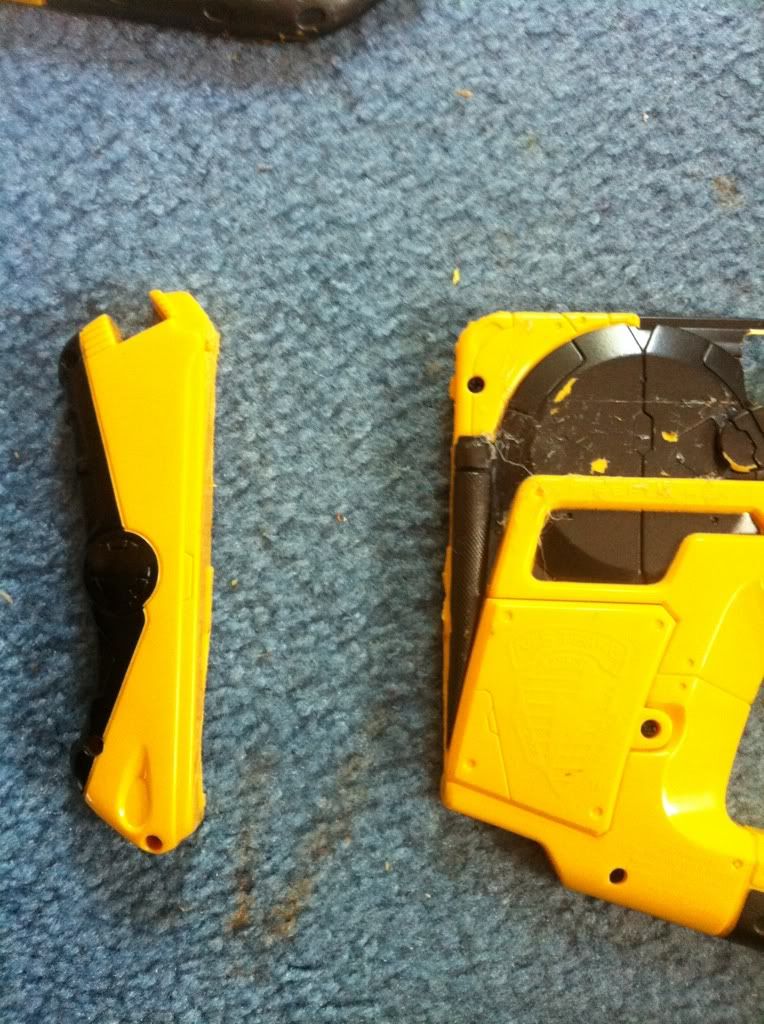 then you wanna make room for the salvo tank by making a cut like this:
NOTE THIS CUT ONLY NEEDS TO BE CUT ON ONE SIDE
Before: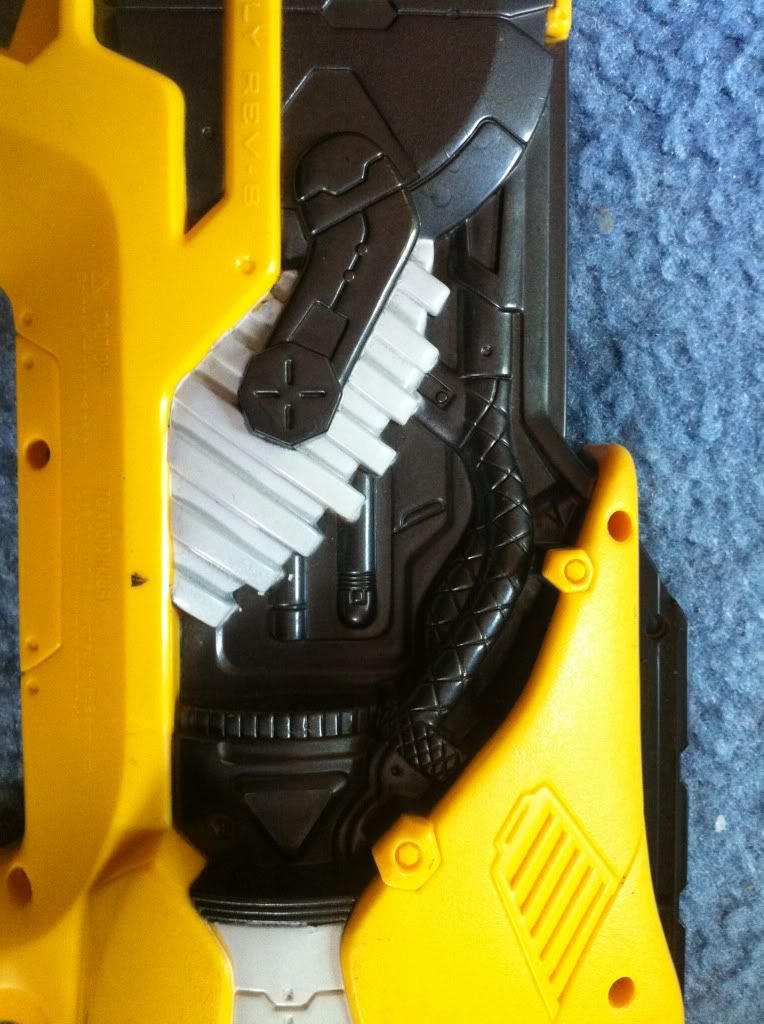 After: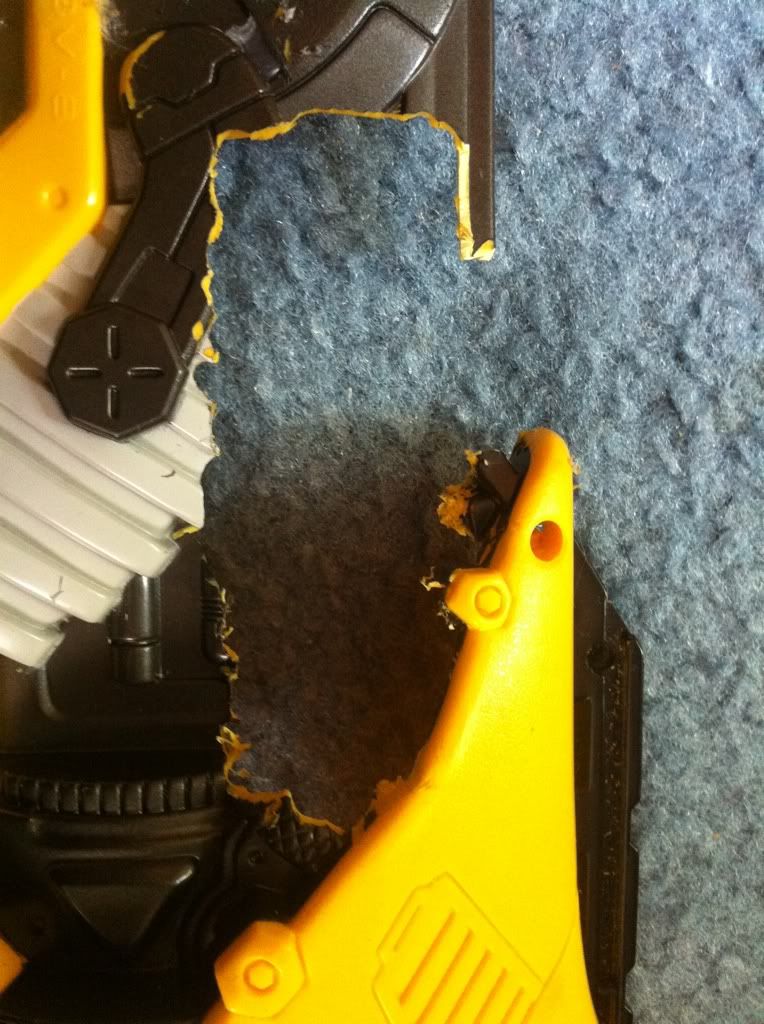 you can cover that hole with plexiglass if you want
So your pumps gonna go in the bottom support bar. make way for it to come out. make this cut on both sides
Before: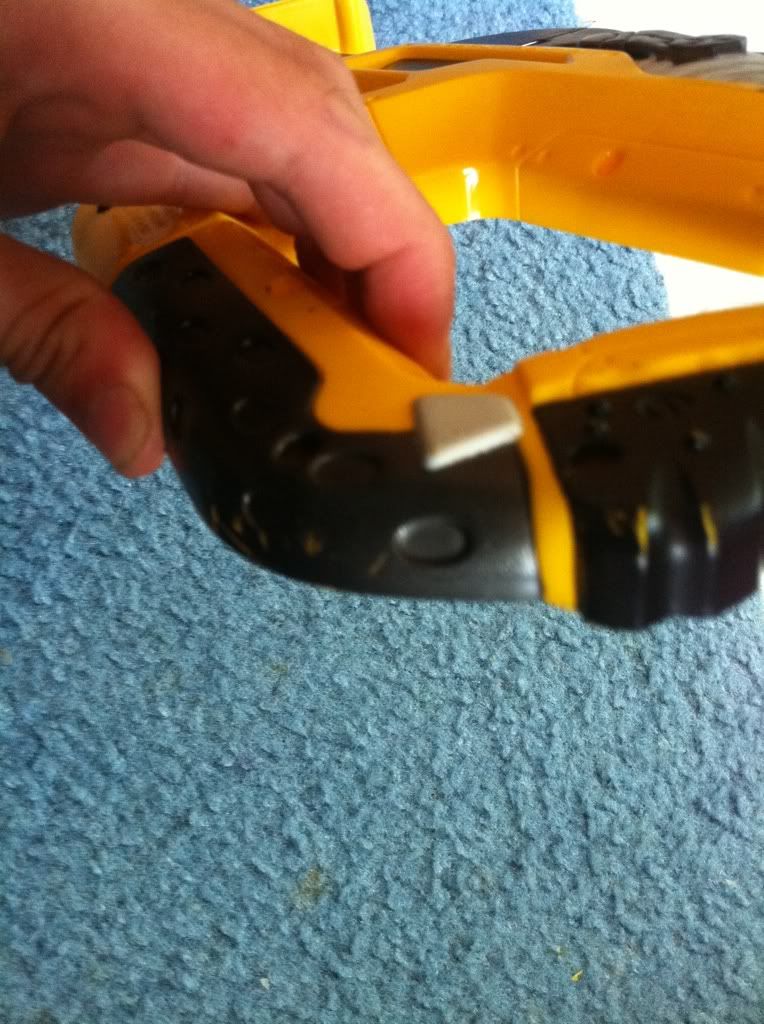 After: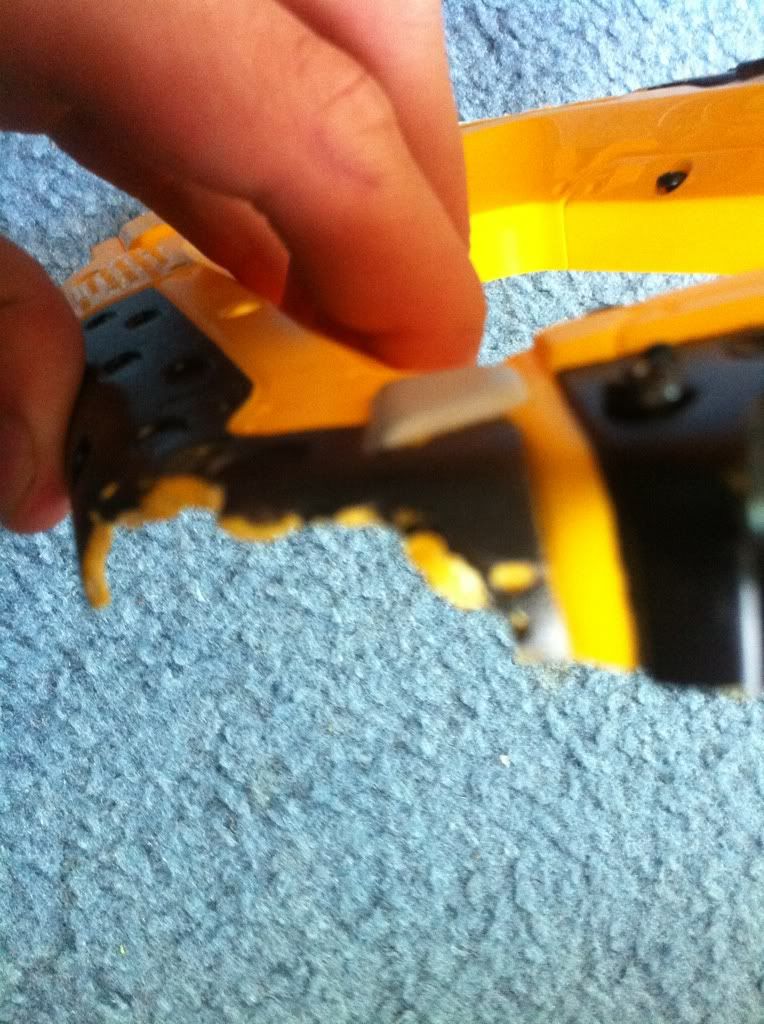 Your pump is gonna go here, so remove all the screws in its way like this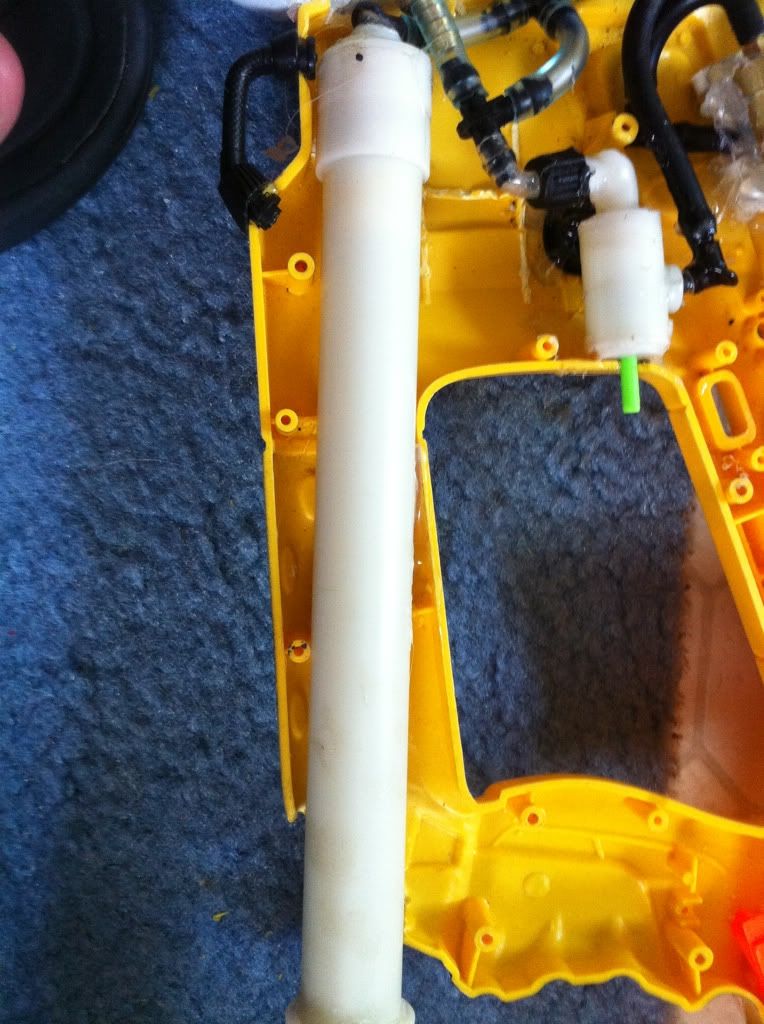 For the airtank i used 2" PVC pipe with 2 caps. I used the shell of a super soaker to make it look more streamlined. Glue it to the bottom half of the shell with hot glue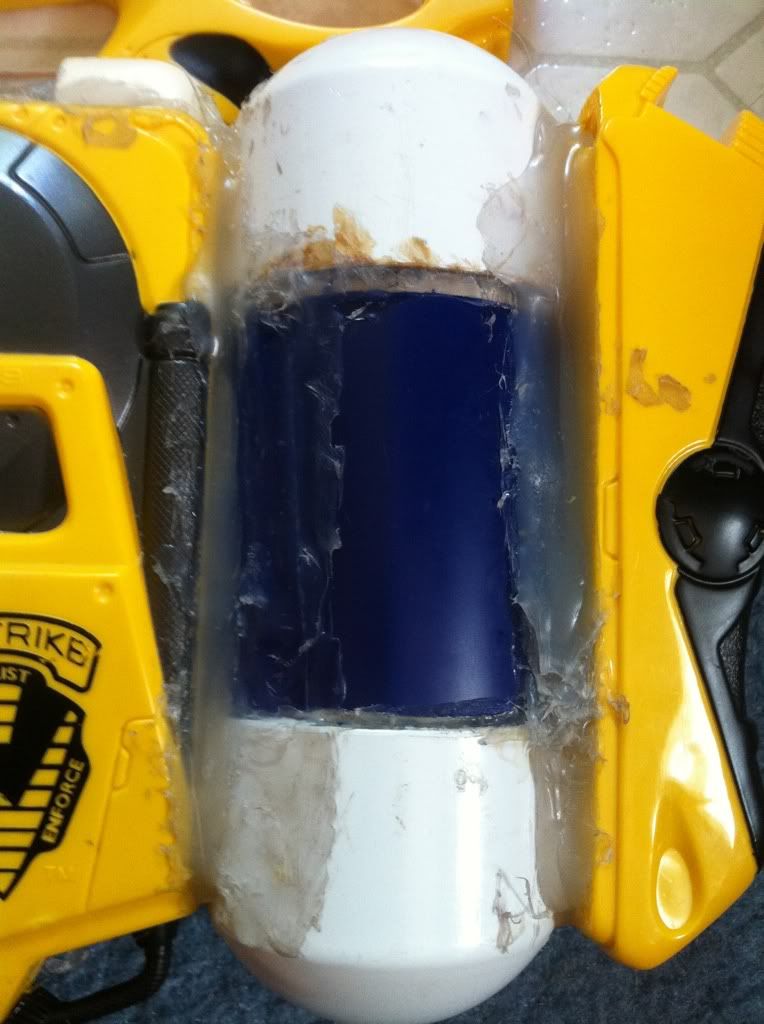 I did the removable turret mod. if you havent seen it before i cut this
before: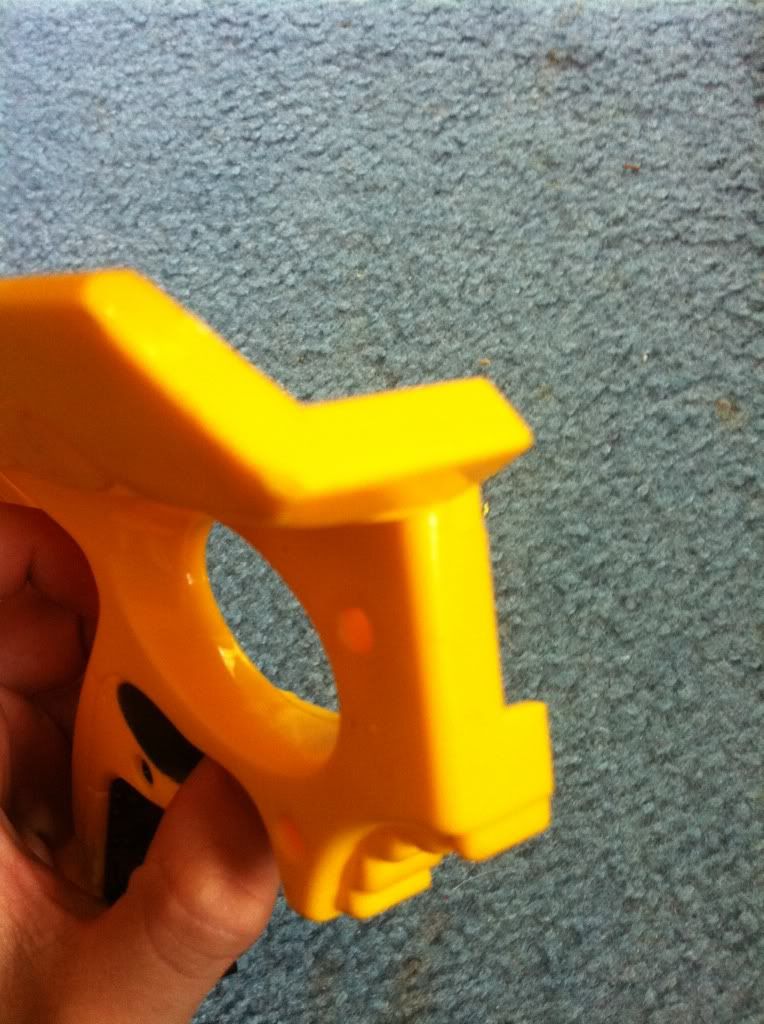 After: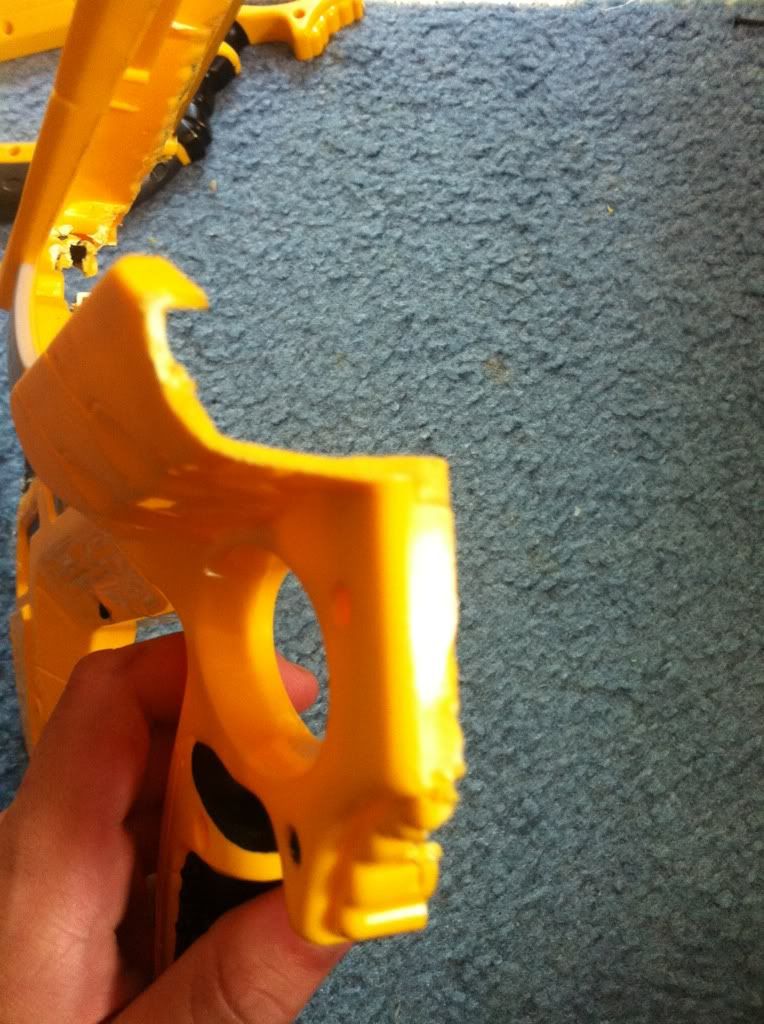 and this
and shortened the rod on the front thinga-majiggy and placed it like this so it can flip up and down like this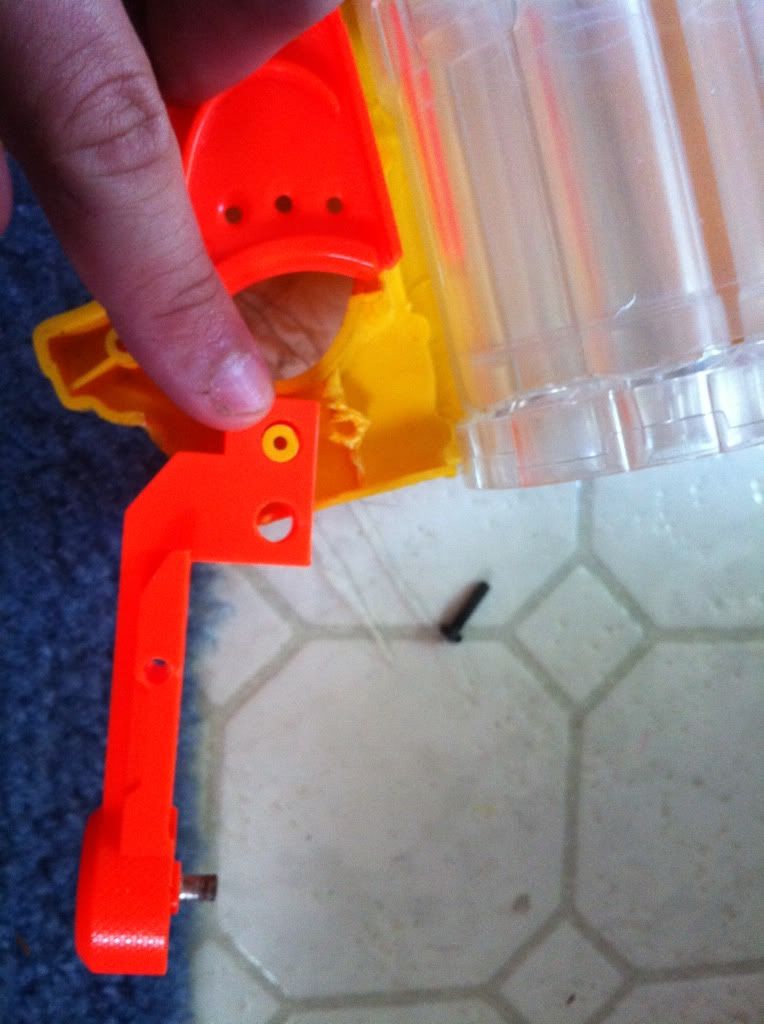 unscrew everything from the turret and screw just this part back into the rotator thingy. keep everything clear unscrewed and throw away everything shiny (if you ditched the flash like i did)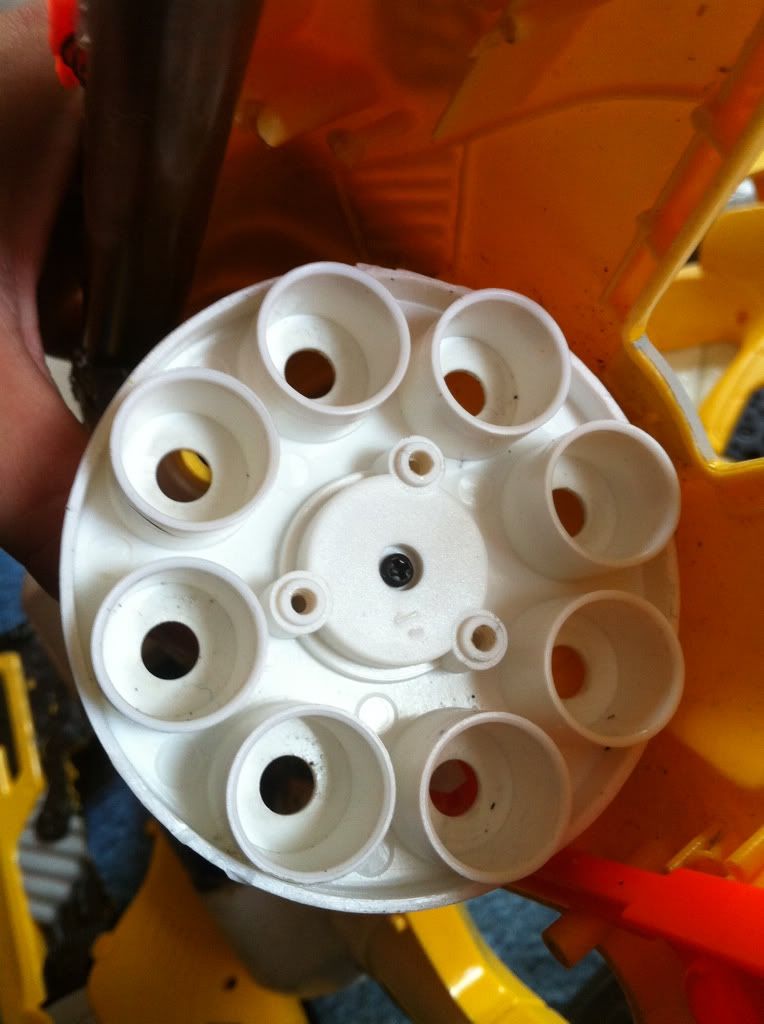 dont screw the clear part into the white part. the clear part will serve as your clip and its held in by friction and stabolized by the front orange thingy
I made a modification to the pump to make it more compact. cut, and epoxy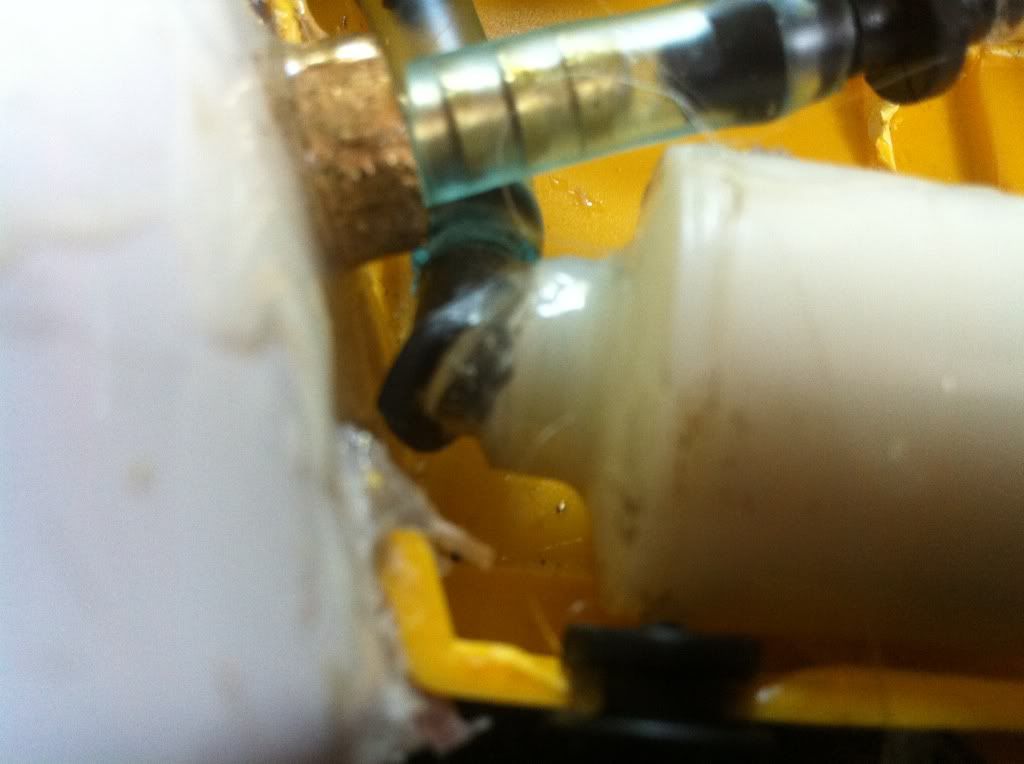 drill and tap your desired barb into the bottom side of your airtank too
cut the seal off the front of your plunger tube. align and glue it to your salvo tank.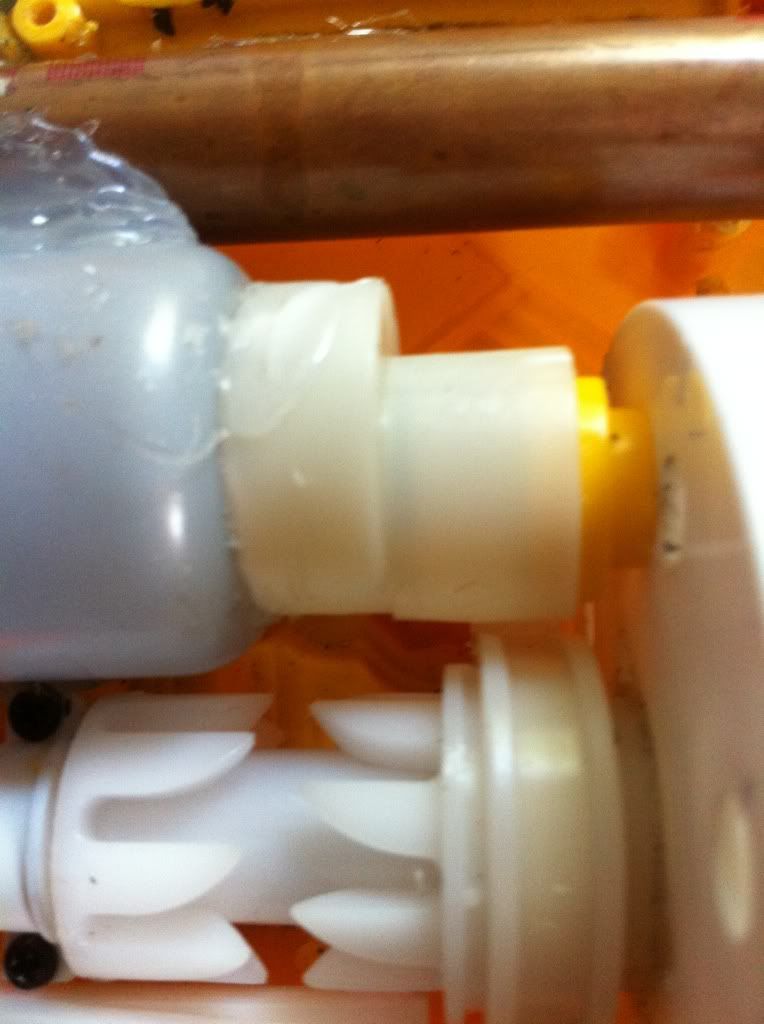 and glue your salvo tank to the inside of the shell like so
i glued it to my built-in ARSCB for support. it is not necessary, but i like it
here is a picture of the hose setup: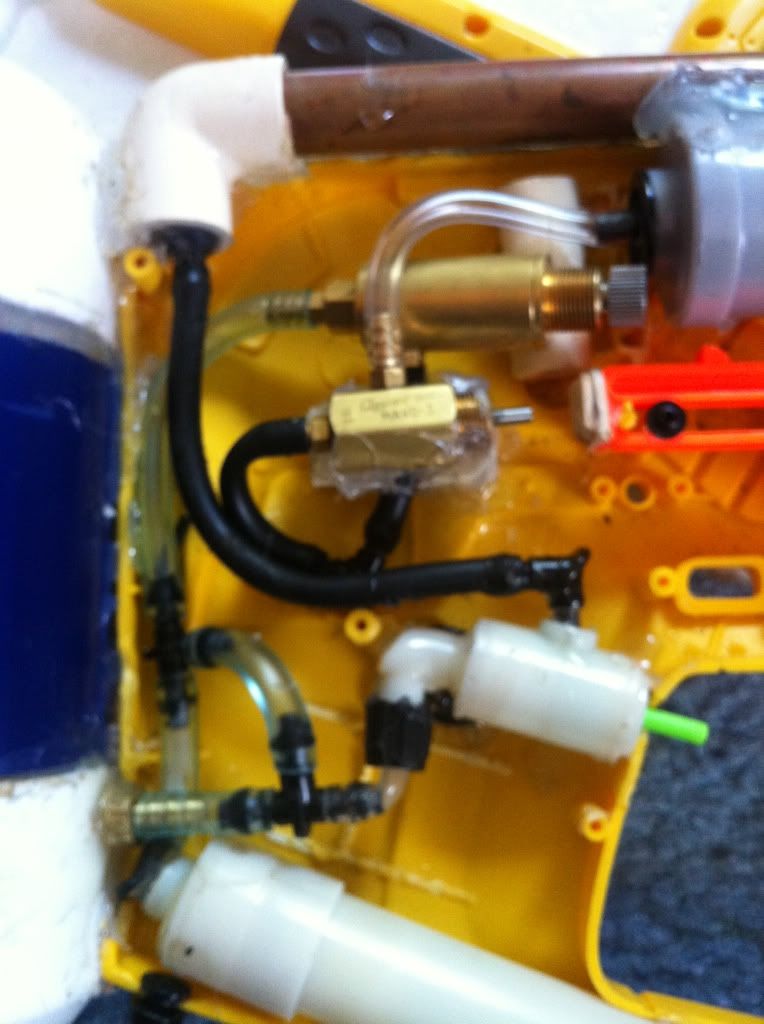 im gonna summarize it for you people scratching your heads. the tank has only one barb, that barb then splits off into 3 directions.
1:to the pump
2:to the magstrike valve->ARSCB
3:Regulator->semi auto valve->salvo tank
if you dont know what an ARSCB is, go look up my writeup on it. the regulator makes each salvo shot efficient and consistent. The ARSCB is triggered by the magstrike valve and fires 4 darts/8 stephans in full auto. The Gun is semi auto, compact, consistant, swappable drumbs, comfortable, incredible ranges, has a built in automatic secondary, holds alot of shots, and works with all darts. it accomplishes everything on my list.
I am getting really sick of typing this writeup right now. Im gonna post this for you guys to take in, see what you guys think, add alot more later tonight. feel free to ask whatever you want, and say whatever.
Edited by Dyxlesic, 07 August 2011 - 05:32 PM.