So I have been working on ideas for how to make a shotgun that has multiple shots before reloading. I saw the Cerberus but I did not want to make a turret, and did not want to hassle with rotating the turret after each shot. Also it seemed fairly frong heavy. (I am not dissing on it, it seems really cool, just not for me).
So anyway, down to the meat of it. Here is the finished product.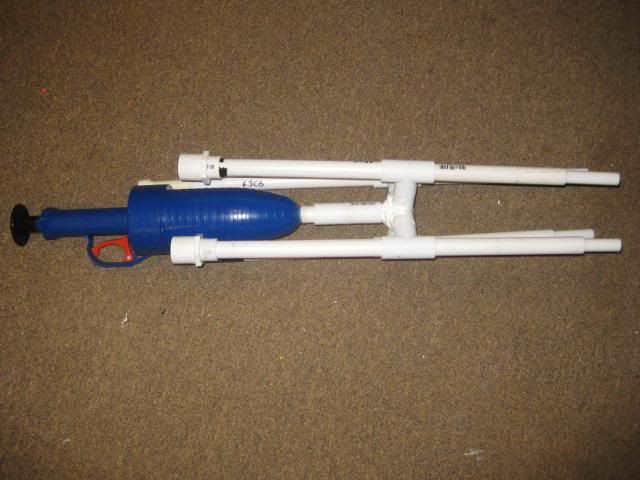 As the title of QuadCB suggests, it is an RSCB multiplied by 4 in order to make a 4 shot shotgun that is able to be fired as fast as I can pump the cobra. With my fully pumped cobra, shooting slightly uphill (blaster level to the ground) I got an average of 80 feet. I would guess if I fired on flat ground I would be getting around 90 feet flat. Also my darts suck, better darts could also easily add another 10-20 feet.
After range testing I would be willing to bet that this could be used in a titan for sure and a blaster like a 4B if you shorten the barrels and the clips a bit. In fact with a 3-4 shot clip and 6" barrels you could probably get this to work on a +bow as it was kinda sorta working on a hand cannon, it just had awful ranges. As far as ranges for these blaster goes, I have no idea.
So how did I make it? Well it is fairly simple to make.
Materials:
1/2" PVC cross coupler
4 1/2" PVC couplers
Endcap for your choice for RSCB
Lots of PVC
CPVC (or another barrel material of your choice, but I would suggest something tight)
We will start with the hardest part (not very hard)
Take your PVC cross coupler
(Image taken from
http://www.tootoo.com/buy-pvc_cross/)
And drill into it with a bit that is the same diameter as your PVC OD and drill into the center. Be sure to only go through one side.
Now, take a section of 1/2" PVC that is long enough to fit in this cross and stick out about 2/3 inches and nest a piece of CPVC into the section of PVC.
Finally glues this section of PVC into the cross using plumbers goop. Once the goop is dry secure the piece on with something stronger like epoxy. Once finished it should look like this. (Ignore the pieces of PVC in the coupler)
On to the easy part.
Construct 4 RSCB's. I used 10" PVC for the clip and 10" CPVC nested in 8" of PVC. Don't forget to nest CPVC in the PVC that connects the RSCB's to the cross to reduce deadspace. I would suggest using
check valves
to secure the end. (I haven't finished all four of mine yet.)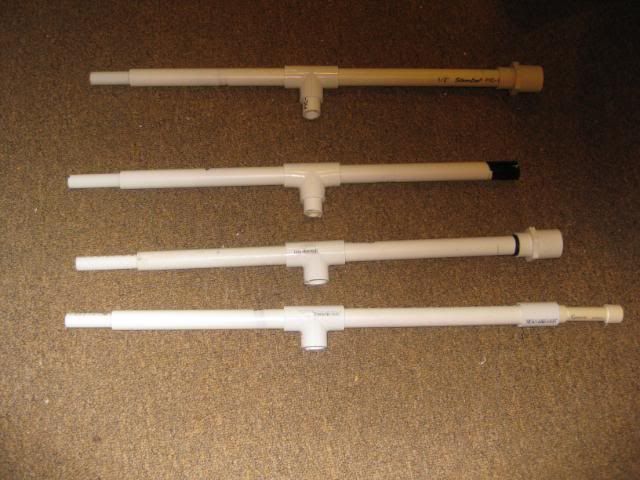 Now assemble
And you are now ready to attach to any high powered blaster.
Edited by GeshmanWG, 31 March 2011 - 06:21 PM.