After a bit of experimentation, I've found that Buzz Bee's bastard child of an air blaster is actually pound-for-pound a better 4B. The airflow within the tank assembly is much better, making it a fantastic platform to build from.
Here's how to make it Mega-er.
*Materials:
-Mega Missile.
-3/4" to 1/2" reducing bushing, of the totally-round variety(see picture)
-1" to 1/2" reducing bushing.
-1" PVC coupler.
-Vinyl tubing, your choice of size. I prefer 1/4" OD 1/8" ID for the run from pump to tank, 1/4" ID for coupling it.
-PVC/CPVC/ABS cement(Oatey's red can here).
-Tools, you tools.
Let's get started chopping that thing up. Here's what you're starting with: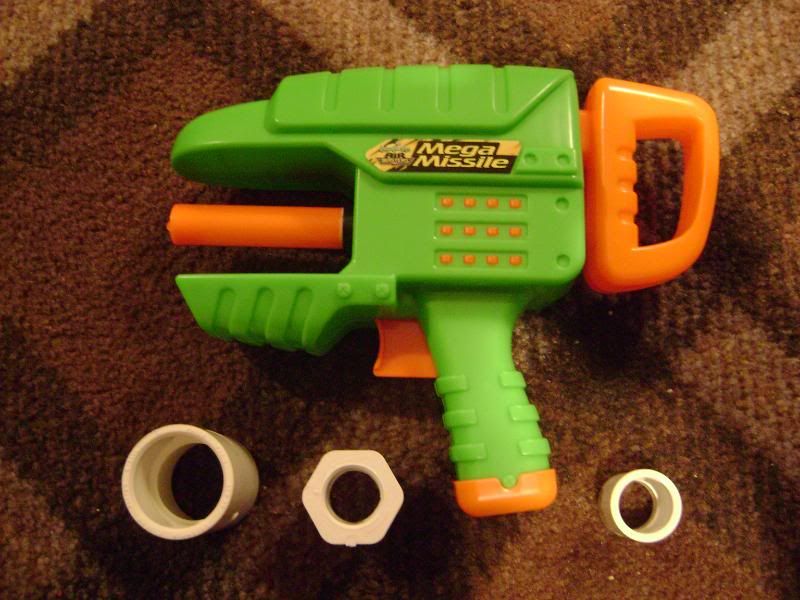 Take that puppy apart and chop off the pump handle. Let's hope you got an adjustable OPRV, it makes things much more fun.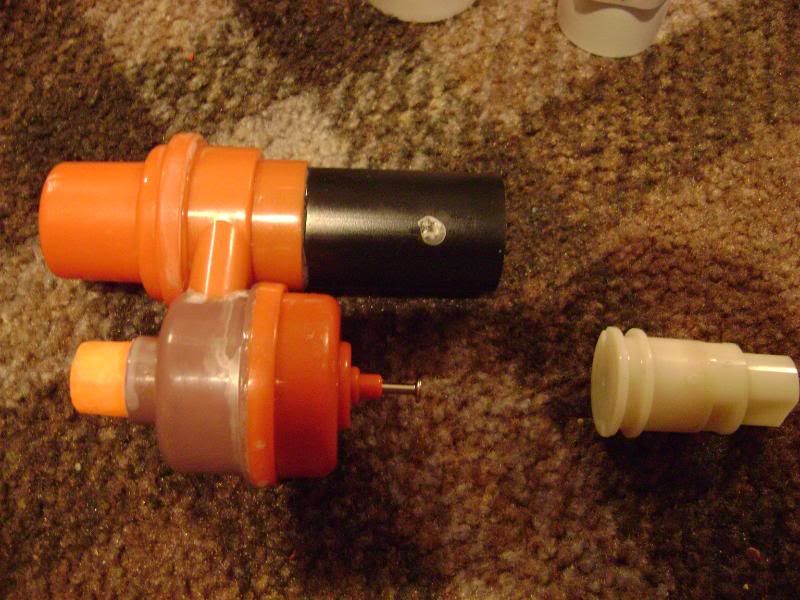 We need to take a little chunk out of the 1" coupler, so it clears the blast chamber of the tank.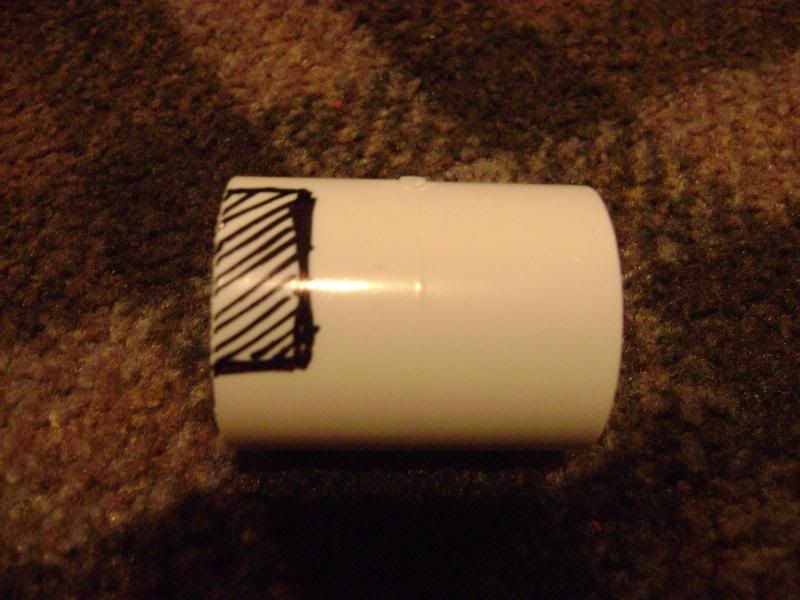 Here it is after shaving it down, being test-fit. You'll need a wrap or two of electrical tape for a snug fit: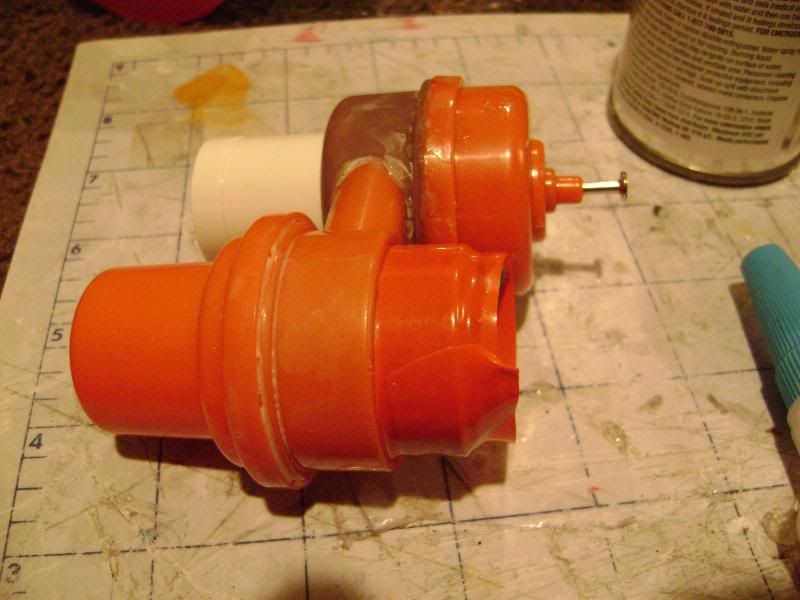 Chop off the rocket barrel and solvent weld the 3/4" to 1/2" bushing in place. Remove the check valve in the back of the MM tank(the little black rubber flapper) by cutting or twisting out the nubs that hold it in. Solvent weld the 1" coupler in place WELL.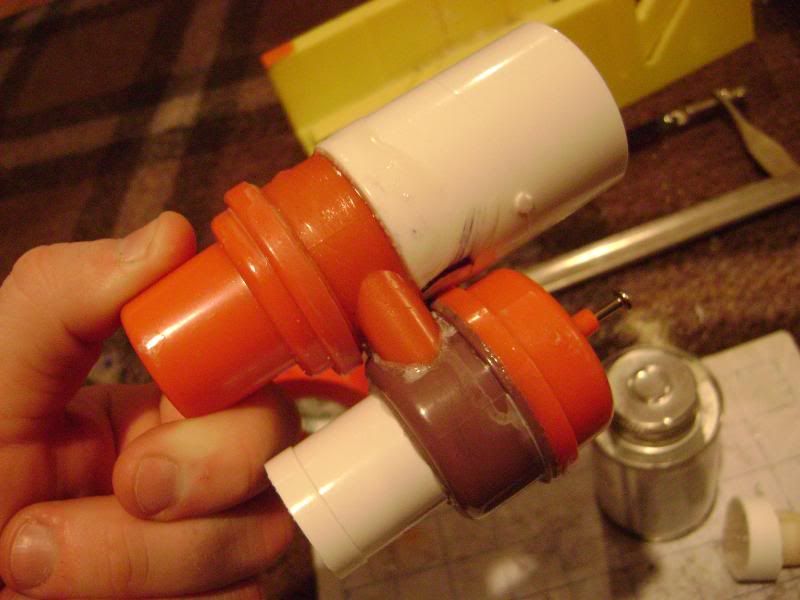 Build the OPRV assembly as shown in the SVT4B thread here:
http://nerfhaven.com...showtopic=20524
. Drill a hole for the tubing to enter the tank and solvent weld both the OPRV assembly and the vinyl tubing into the coupler as shown:
Congrats, you're done. With a tiny bit of trimming of the stock shell, this fits wonderfully in place making for a tiny primary that loves hoppers.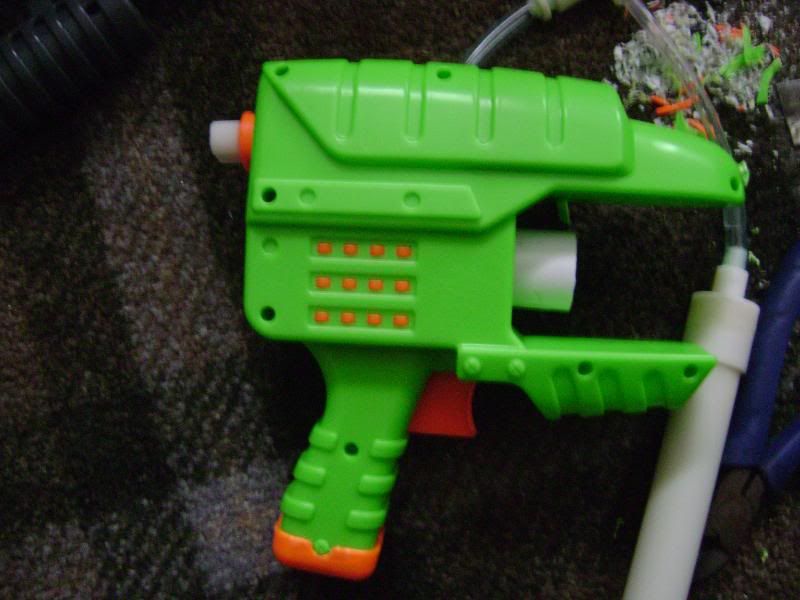 Hang in there for part two, how to make this tank and a MS shell/pump into your favorite air blaster!
Edited by BrokenSVT, 22 February 2011 - 07:45 PM.