Here is yet another bizzare, yet useful accessory for your blaster: the Flip-up "Grenade" sight. You basically take a Nerf Recon's flip up sight, remove the orange piece, and then drill holes at specific hash marks on either side, using a 1/16 inch drill bit (Do it by hand, the hash marks are aligned, so if your holes are aligned, the crossbars will be too) Drill your holes so that the open space is divided into three spaces, then enlarge your holes with a 5/64 drill bit (Again, by hand) The crossbars are made of the stripped jacketing from 20-gauge wire. (If you make them too long, it's OK, just Krazy-Glue them in place, then trim the excess) After the glue dries, then use a length of electrical tape 1/2 an inch long, and place it so that it "sandwiches" the new crossbar. Cut your noches, and you're done.
Here are some photos:
Folded:
Open 3Quarter:
Open Side:
For best results, attach it to an "Alpha Trooper" or a "Furyfire" As seen below.
Attached Rear: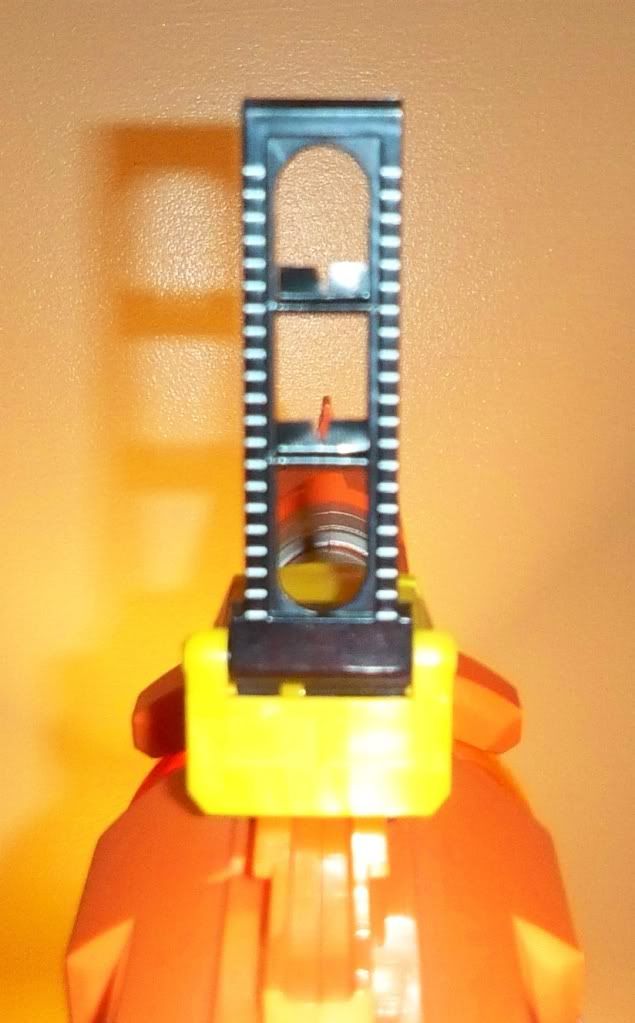 Attached Side: