Link to smg firing disconnected using magstrike parts. One shows operation, other shows it firing from a different angle
http://www.youtube.com/watch?v=C4Sg5khc_Hc
Finally im validated, and just in time for my latest and greatest project:
Presenting... "Project LSD"
(praying the pictures show up)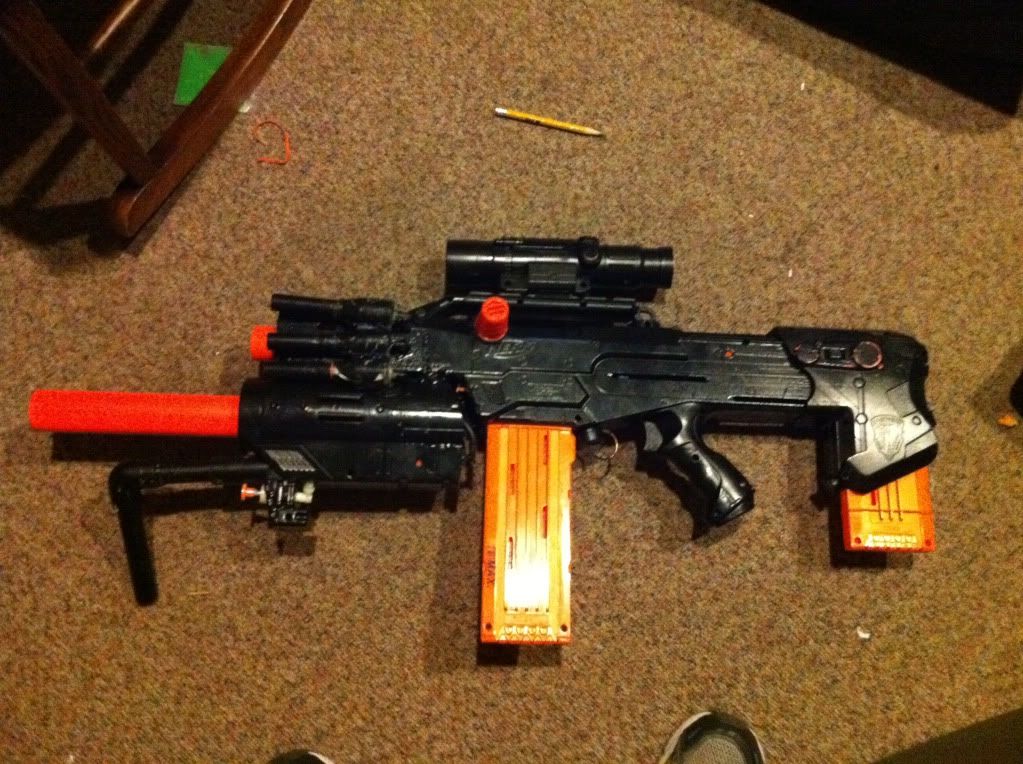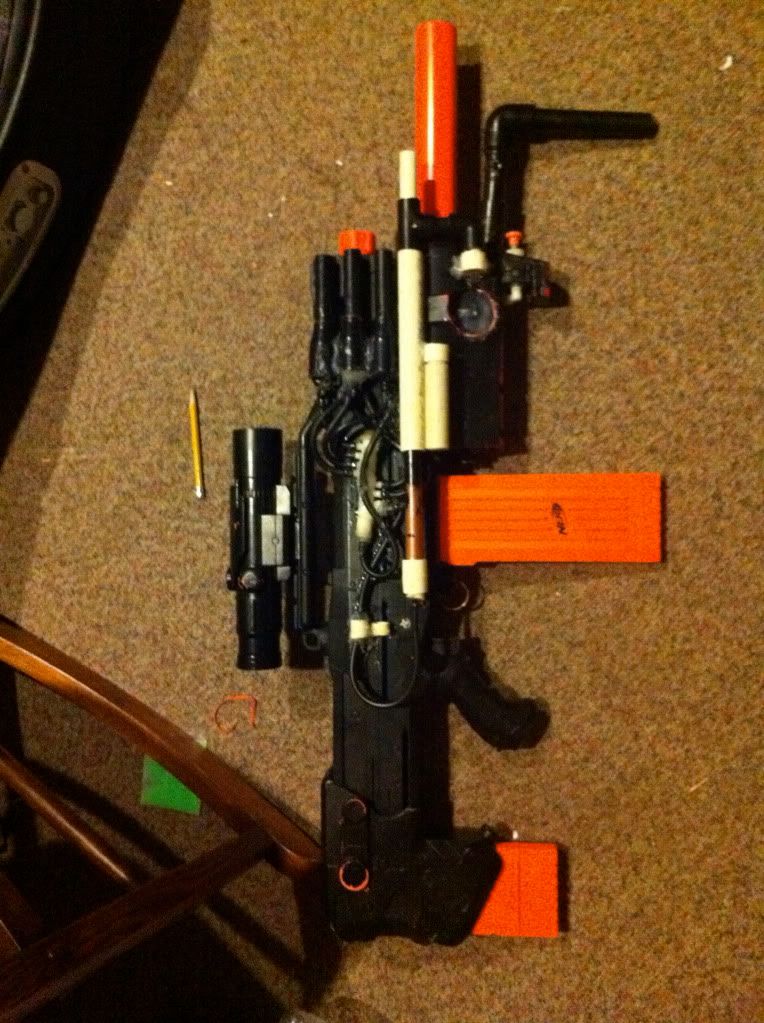 Tada
This mod was based off of a good friend of mine named SGT MIK. You can find his his mod on youtube. search "intergrated titan" spelled that way and you will find it
it took a year of work and its finally done
I would show inside pictures, but sadly, in order for the hornet tanks to work properly they had to be epoxyed, which makes the shell unopenable
So lets start off with the longshot part of it. Basic mods; AR removal, Stretched longshot and nf spring inside it, with padding, and all locks removed. it gets typical double springed ls ranges. I did his bolt relocation mod. Not only does it protect you from broken boltsleds, but it is way more comfortable to hold and eaiisier to prime.
Onto the secondary weapon, the titan. The undermounted titan is powered by the L shaped pump, and is triggered by the keyring in front of the trigger. Just like Mik's, i cut a slit for it to slide into.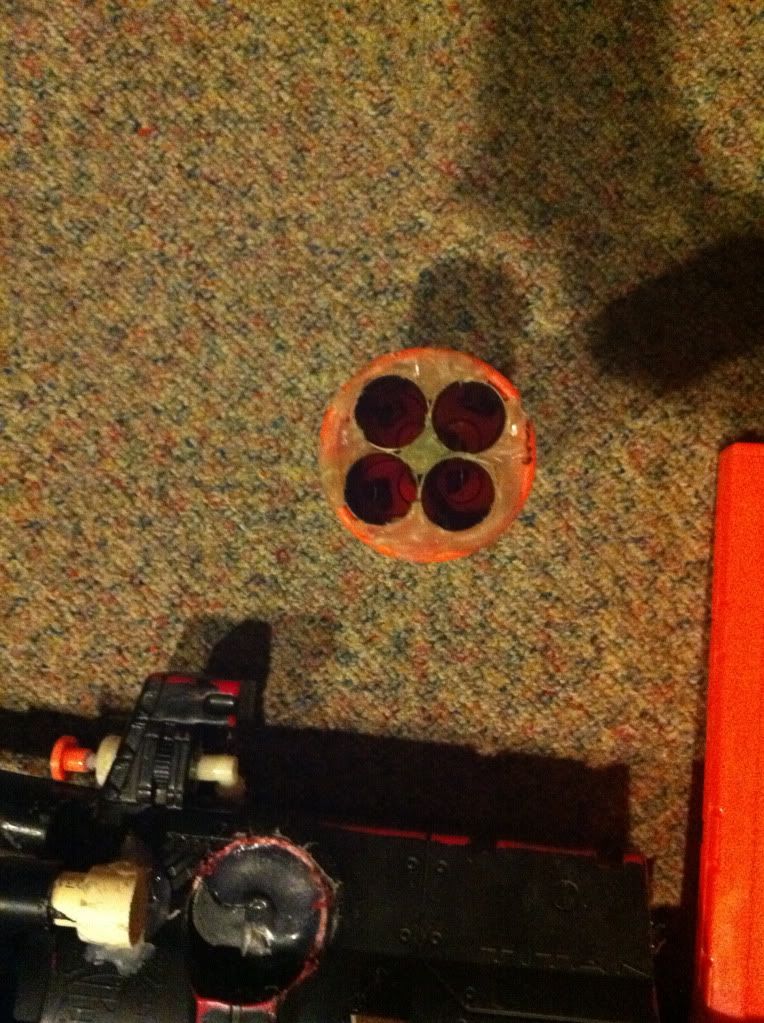 I have added 4 6" brass barrels, making the undermounted rocketlauncher double as a 4 to 8 streamline dart or a 8 to 16 stefan shotgun. yea, thats alot of darts. i have also coublered the front of it, so you can add any cpvc barrels you want. this is a custom one i made for all you bbb fans
it is the perfect size for both a single dart of any kind or a bbb arrow. how fun. and it fits on this cute little coupler here. i also added a 2 in 1 rscb rail i call an ARSCB. ill get to that later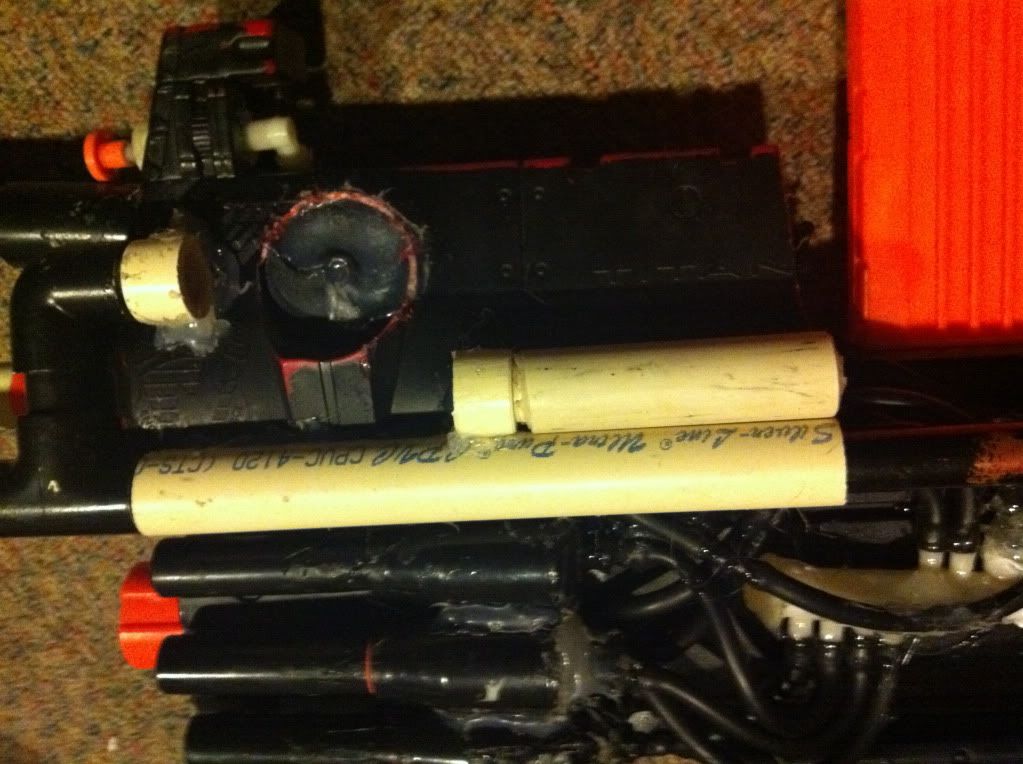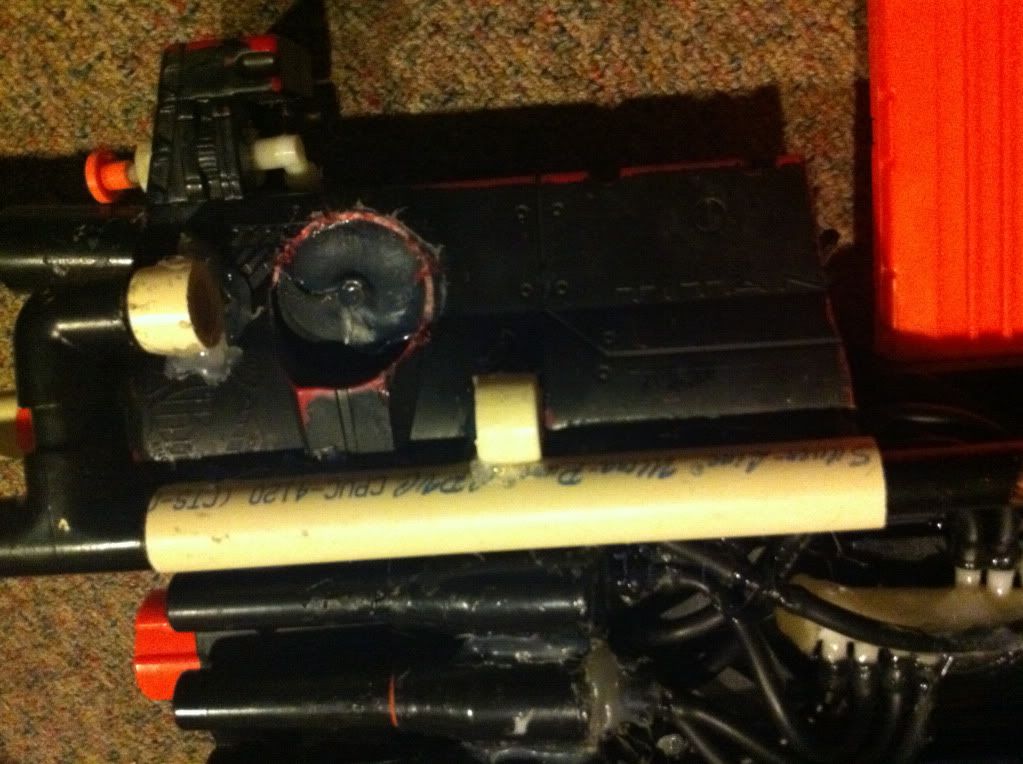 now we move onto the hornet tanks. The titan pump actouly has 2 output ports on it, so i hooked the hornet manifold directly up to it. Due to some law of physics, the air always goes to whichever tank has less air, wether it be a titan tank or a hornet tank. the hornet tanks then go back to the blast button here. (you can see the keyring here too)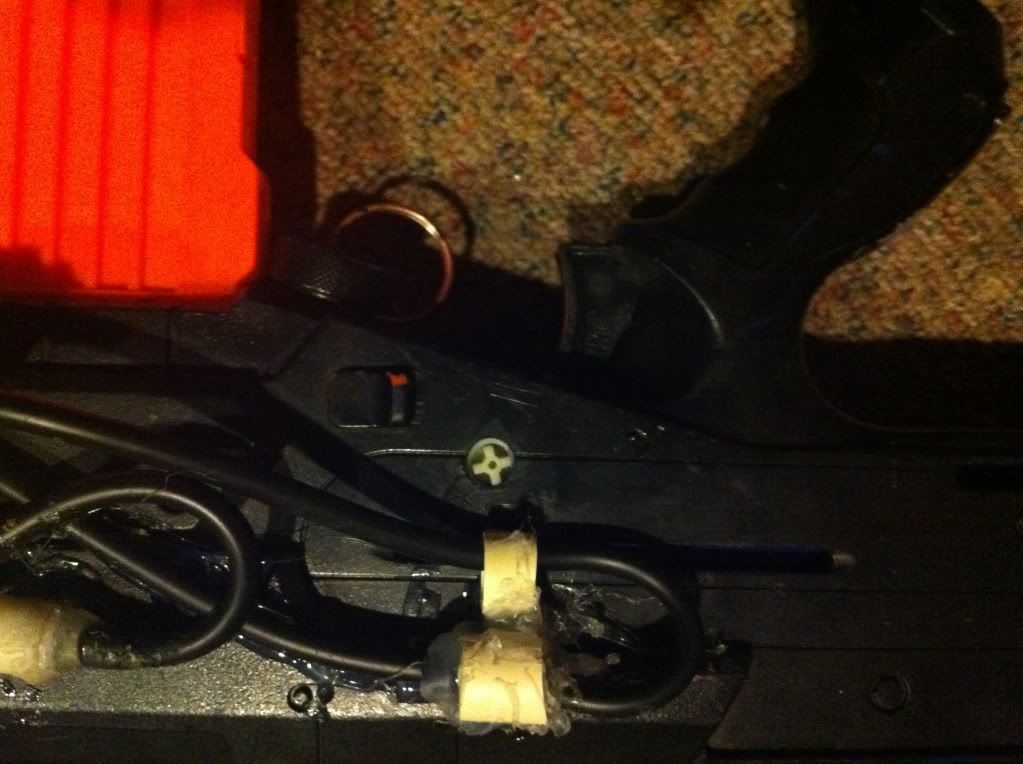 Both air restrictors have been removed, and im considering a cpvc barrel replacement
Last but not least is the homemade SMG. I descovered it on accident when i hooked a magstrike up to the back of an rscb clip. to my shock, the darts came wizzing out at a higher rof than a magstrike. I connected a hose from the other hose hole in the titan tank to a rf20 trigger, which was placed where the sight on the titan was. A perfect fit. The hose went from there to the back of the rscb clip. It now functioned as both a standard rscb clip and an automatic rscb (arscb) without any modification.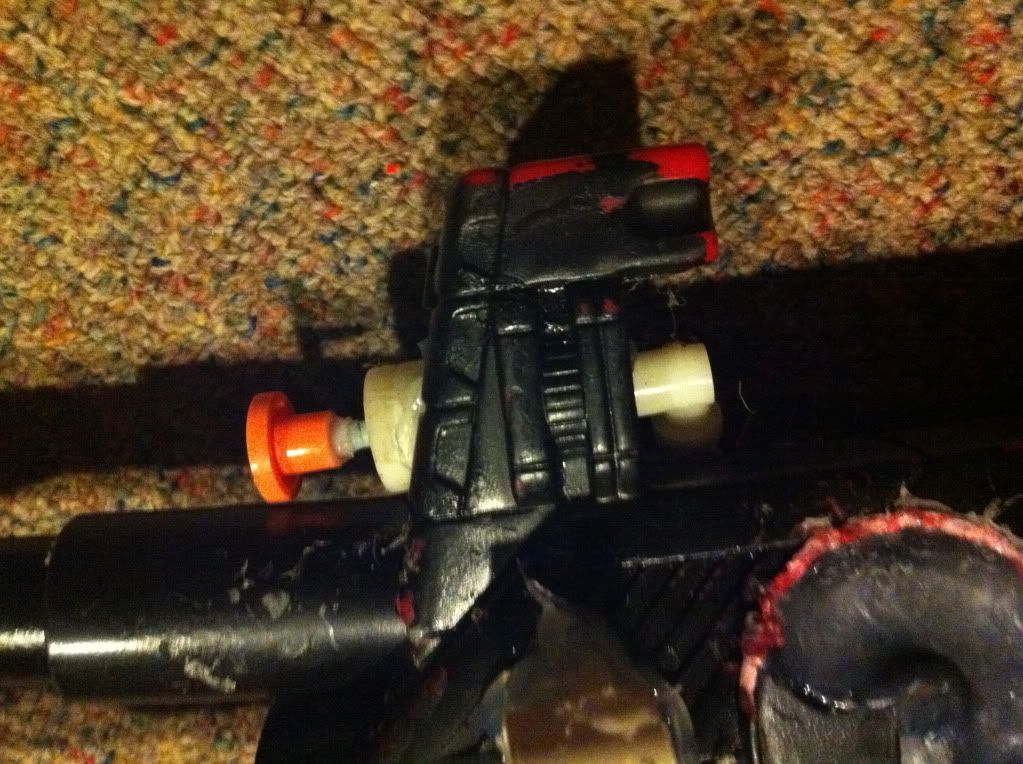 The rscb clip is removable, and the cap on the bottom front side of the titan tank seals it, so it can still be used as a SMG even when in the inactive state. when it is plugged into the titans coupler, it will work as a standard rscb too.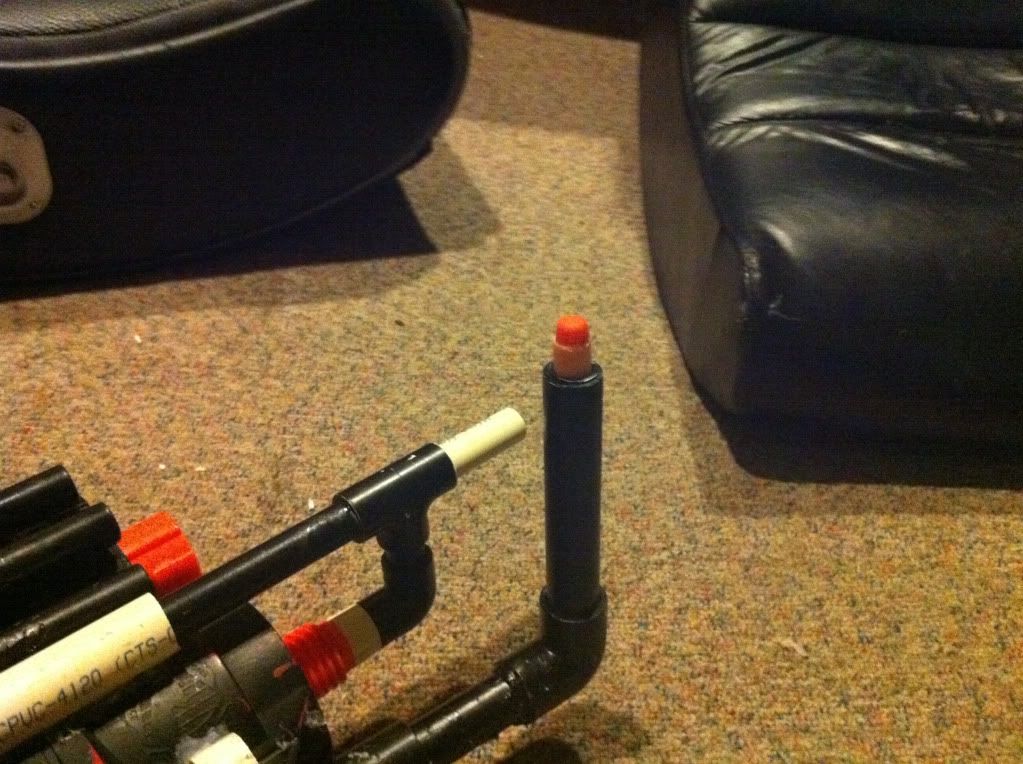 the rscb in its active state. i put a crayola marker in the handle so it holds a dart. kinda handy. The reverse rail on the side of the titan is still there, so if i feel the need to have another gun, i can do that.
looking at the front of the gun (and my foot). i misplaced a hornet barrel. ill find it eventully. the tank is croked in the pic, but i fixed it after i took the pic.
So this is my first post. Thanks to SGT MIK for his help
questions? comments? concerns? Flames? Spell check corrections due to dyslexicness?
Edited by Dyxlesic, 14 December 2010 - 06:50 PM.