Inline clips. They're efficient and work with even low-volume pistols, and I've made an inline speedloader. The only drawback is their cumbersome length when using long barrels and large clips.
Multiple barrels make length not a problem.
It's also useful for zombie-slaying.
Pretty simple stuff.
Materials.
1 1/4" PVC Coupler
1 1/4" PVC (1.5" or so)
1" PVC (1" or so)
1/2" PVC
1/2" CPVC
Hot Glue
CA Glue
Space Filler (foam is nice)
A file/Dremel with grinding attachment/5/8" spade bit is also needed.
I started with a 1 1/4" straight coupler, and jammed three 1" stubs of PVC into it. If they don't fit, make them fit. I cut slots out. Then cut that end of the coupler to 1/2" or so.
Also build the other end, nesting pieces of scrap PVC to fit it. Glue with CA glue. Keep the two parts separate.
Barrel sealing using foam and hot glue. Epoxy to hold it together.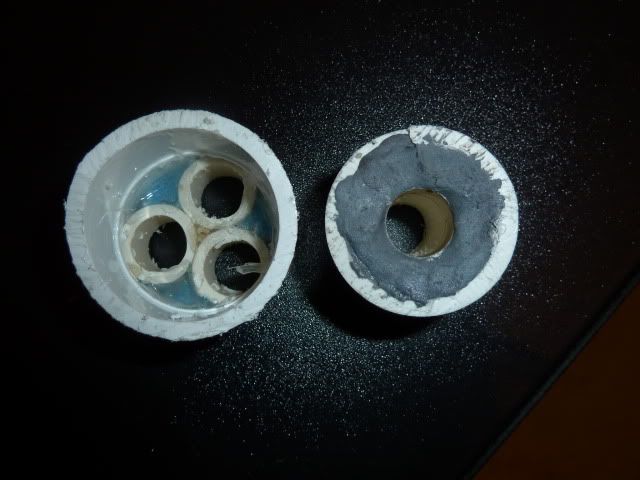 Then drill/grind out the 1/2" PVC so 1/2" CPVC fits in it like a coupler. Get three 1" stubs of CPVC and file it out until darts can be pushed through with minimal resistance. They should be thinner than in the pic here. It will prevent darts from falling out when tilted.
Attach the two halves.
Make your PVC clips. Hammer your CPVC stubs about 1/2" in to the PVC.
And go shoot zombies. I can't test it for realz because the most powerful blaster I have is a weakened SNAPistol.
Normal range: 45'.
Test with single barrel: 25'. I think there's an air leak somewhere.
Also looking back on this, it's basically a PVC shotgun attachment with an inline. ._.
Edited by Darksircam, 12 October 2010 - 11:37 PM.