So, I had a singled LS laying around and I wanted to do something with it. I wanted to keep it singled but I had the idea to use the boltsled. I didn't want to deal with the bolt-nub breaking off though so I tried a different approach. I couldn't figure out how to resize the pictures but all the thumbnails are links to a larger picture.
What you'll need:
1/2" CPVC
One 1/2" CPVC tee
One 1/2" PVC coupler
Hot glue/gun
Dremel (recommended)
Pipe cutter (recommended)
Writing Utensil
Open up your gun and take out everything but what you see in the picture. You will also need the boltsled which isn't pictured because the gun was previously singled.
Cut the original barrel off, the one with the aforementioned "nub" and widen the whole a bit so the CPVC fits nicely. Cut a five inch piece and hot glue it in. Keep the o-ring from the original barrel and slide it on the CPVC.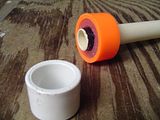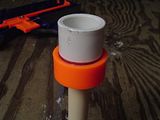 Now take the 1/2" PVC coupler and cut that in half. Place it on like in the pictures. Mine doesn't need glue, yours might, I don't know. You need this in order to get the required draw to prime the gun. You can see what I mean if you try this without it.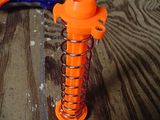 I also threw on a BBB spring.
When you assemble the plunger tube, it should look like this.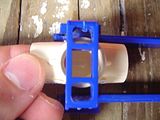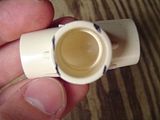 Now take you CPVC tee and hold it underneath the boltsled. Trace the boltsled on the tee like so. I off-centered mine so there would be more CPVC supporting the back.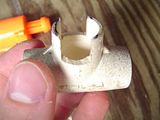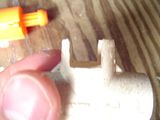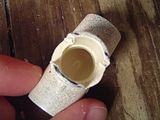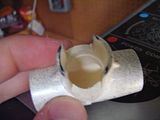 Now Dremel it out like so. In the last picture you can see that I left a few eighths of an inch before the retaining CPVC retaining wall. You want this.
Picture limit. Please don't post.
Edited by ChaosRaisin, 21 August 2010 - 07:48 PM.