My full-size bow is a lot of fun, but it's...well...big. My daughter wanted a bow, too, so I thought I would use my crossbow setup as a basic, smaller bow (and yeah, I realized after posting that the SNAP Crossbow is actually the SNAP-7....so, this is the SNAP-7 Microbow).

I thought I would take some pics of building the front assembly, and basic construction. I used a drill press for a lot of operations, but a Dremel could be called into service, too.

Parts list:
.75" tee
1.25" -> .5" reducing bushing
1.25" coupler
1" plug
.5" CPVC endcaps x2
.5" CPVC elbow
.5" -> .75" CPVC coupler
.5" CPVC
.5" PVC (an inch)
.75" PVC (an inch)
.75" PVC Endcap
1.5" rubber fender washer
Hardware for attaching rubber washer (#6 finishing washer and a nut and bolt. I just used a #6 pan head wood screw)
1.25" PVC
1/16" steel cable
Crimp style cable anchors, or 4 U-bolts for 1/16" cable


Bore out the support ribs on the 1.25" -> .5" reducing bushing. Go deep, since this is where the 3/4" tee will seat.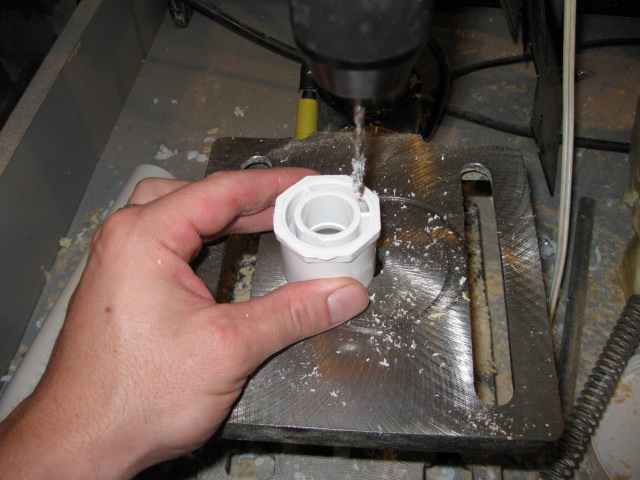 Drill a 7/8" hole about a half inch in a 3/4" tee. You want the ends of the tee and the elbow to be flush, so you can measure off the elbow. Be sure to center it. I like Forstner bits, but a spade bit would work, too.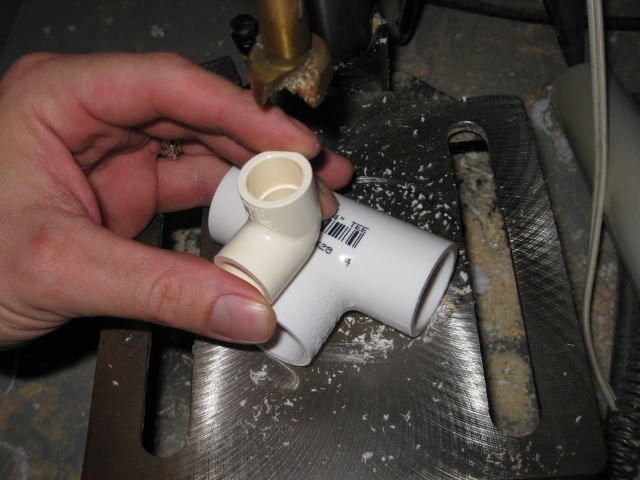 Next, it's getting the elbow into the hole. This requires a rubber mallet and a bit of wiggling. Do it from the big hole, and not the hole you just drilled.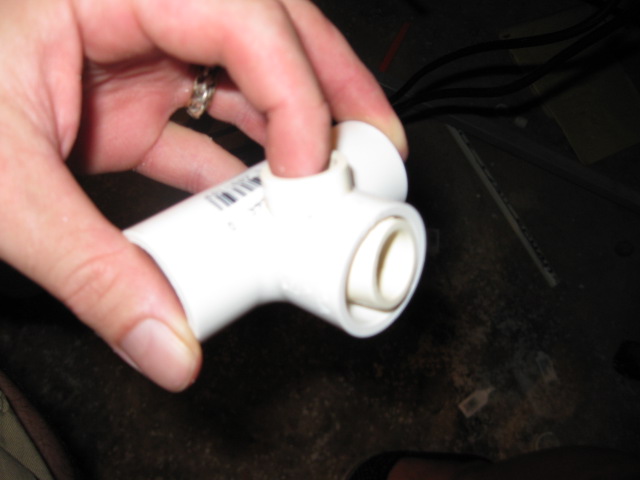 Time for the rubber mallet again. The tee should seat into the 1.25" reducing bushing with a lot of force. Depending on your CPVC, you may need to grind out the top 1/4" or so of the reducing bushing, to let the CPVC get an angle in. You may need to tap on the elbow occasionally, to help force it in. When you're done, the CPVC will have seated into the bushing. You shouldn't need to use anything else to seal it. The front assembly is pretty much done.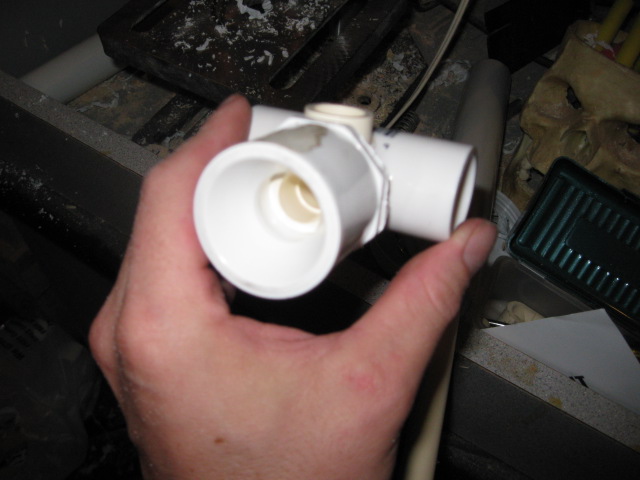 The hard part is done. You can figure the plunger chamber and pluger shaft length based off of how long you want the draw length to be. Plunger shaft + plunger chamber = full draw length. Like on a real bow, you'll get best accuracy and power if you can draw your hand back to your cheek. Experiment with pieces that are a little long, and cut them down to size.

The plunger is really, really basic. 1/2" CPVC plunger shaft with a stub of 1/2" PVC, a stub of 3/4" PVC over that (ground out slightly), and hammered on. A standard plungerhead pops on the end.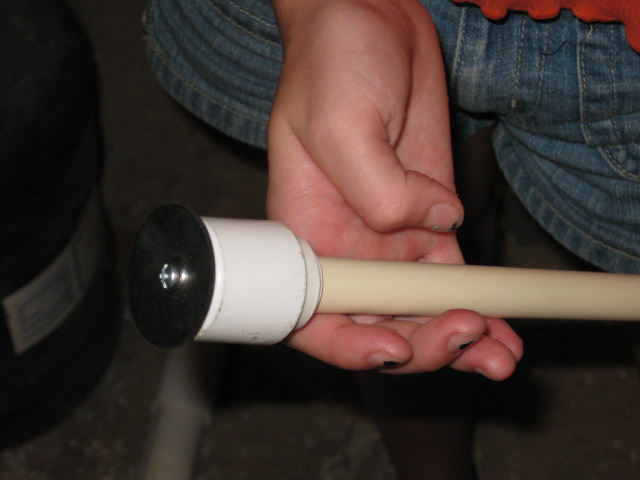 The 1/2" to 3/4" CPVC couplers need to be bored out to let the CPVC arms slide through.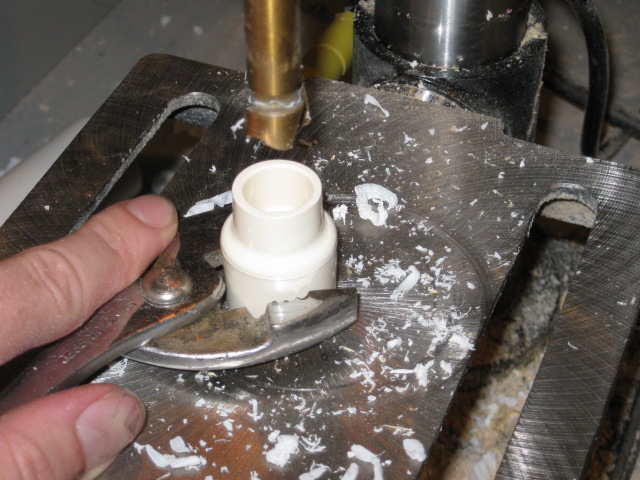 When that's done, get the rubber mallet again, and pound them into the sides of the tee. You can now twist the 1/2" CPVC through. I found that cutting an end at an angle makes it easier to get through the other side of the tee. I shoved it through until I had an arm of a decent length, and then cut off the other to the same size. These arms are 19".

The plunger tube is basic SNAP. I used a 1" plug at the end, drilled for the plunger rod.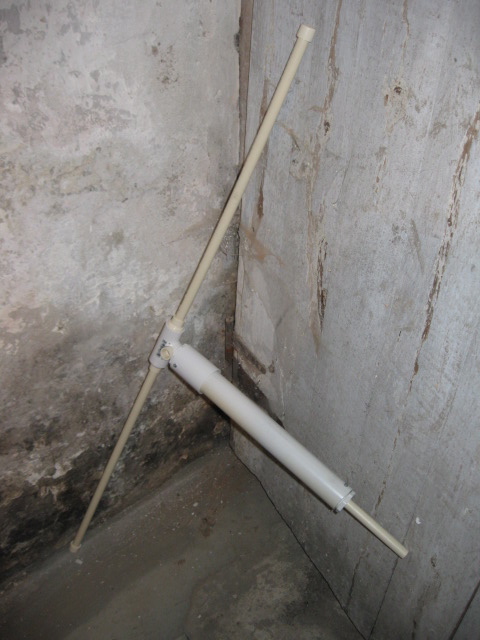 I capped each arm with endcaps, for a little more structural integrity. Drill a hole for one end of the bowstring, and saw a notch for the other, at about a 45 degree angle. (I like doing that so I can easily unstring the bow). On this one, I used a CPVC tee at the end of the plunger rod. Supa comfortable...I'll be addding that to my bow. I used aluminum crimp cable anchors this time, since I have a feel for how long the string needs to be, and won't need to adjust it. The string is 1/16" steel cable.

The arms seem to get the best amount of spring when they're bent about halfway of the length of the plunger tube. Get the string threaded through the lower arm and the plunger rod, and bend it to get a feel for how long the string needs to be. Make the second loop in the string, then bend it up.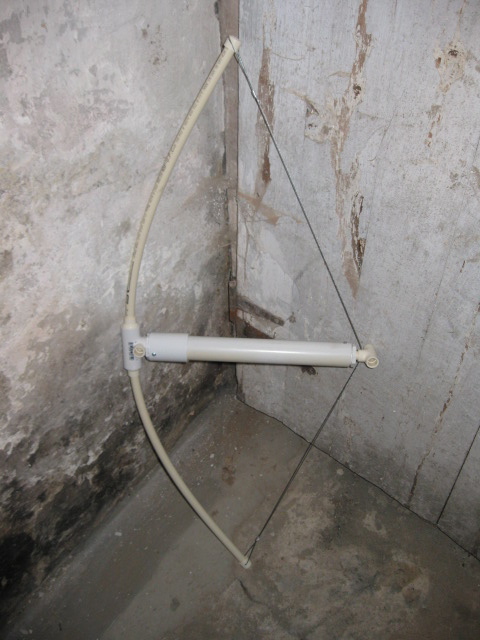 Done. I tossed a quick RSCB on it, and did some quick range testing (with a .5" CPVC to .5" PVC adapter stub). The air comes out at the side, so you may need another tee to or elbow to get things working.

It gets 75-85 feet, about 20 feet less than my full size bow. Not bad for a springer that my daughter can actually draw.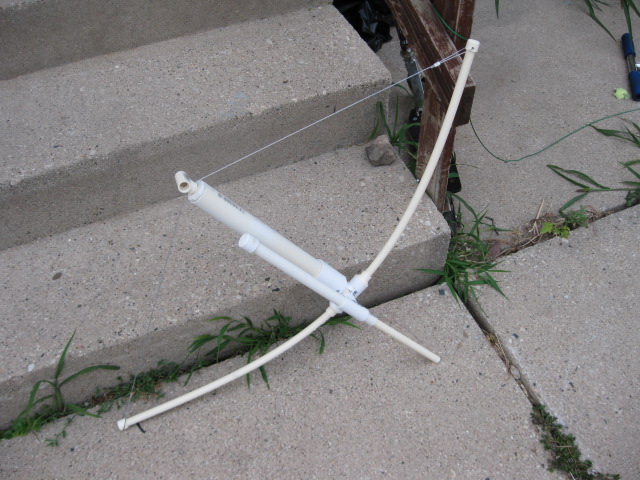 It's amusing how much smaller this one is than my large bow, and gets nearly as much range. My large bow gets ~100-105 or so, but is big and harder to draw. The small bow is much easier to run with, and has a silky smooth draw. I may need to make one for myself.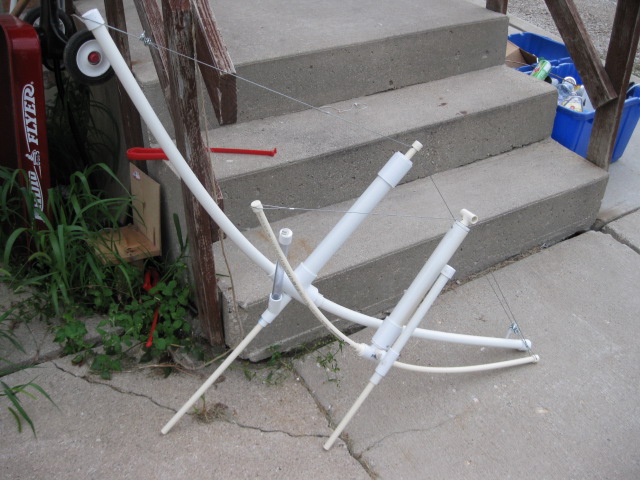 Edited by Aeromech, 23 November 2015 - 03:20 AM.