This is my first writeup. Neither the mods nor the guns are anything new, but I do like the way this system works a lot. It does your integrations for you in a rather practical and effective way. I like being able to have a singled long range weapon backed up by an undermounted semi-auto gun that needs no priming. The whole thing is quite comfortable to hold.
Since these mods aren't original, I take no credit for any of them, though I didn't take the time to find who first did them all. Thanks to all you innovators.
As a preface, these mods are for stock darts because that's all that's allowed at my war, and our local HvZ. These are more for fun than for power.
Let's start with the S-n-i-p-e Blast.
http://www.buzzbeeto...ters/56700.html
A simple cock-and-shoot blaster, this is an A-type blaster, meaning it slots in neatly on the top of your system. All I did was remove the air restrictor.
Open her up. Here's the internals.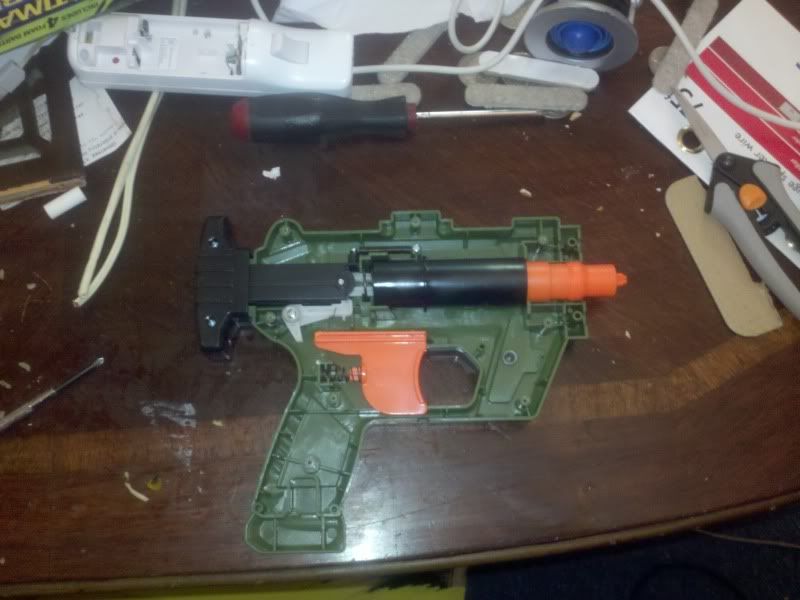 Not too exciting. In that little plunger tube is the same sort of mechanism that powers the Tek 6, 10, Belt Blaster, and basically every other Buzzbee springer. You could likely add a spring, but I didn't think it would be worth it.
You can take a drill to the center post from behind, or just do what I did and tap the screwdriver you opened it with through the post from behind using a hammer.
Replace the PT and reassemble. I didn't rebarrel. Fit isn't perfect with stock darts, but it's better than other Buzzbee guns. It's akin to a shell from the Doubleshot, darts won't likely fall out unless jostled. Interestingly, the front of the PT fits quite snugly into a 1/2" CPVC coupler, in case you care at all.
Next, the Missile Blast.
http://www.buzzbeeto...ters/56400.html
This is a B-type blaster. You can mount stuff on top or underneath. I sort of want to get 4 or 5 just to have an absurd looking stack of them for no reason.
The light up missiles are actually pretty cool. They light up in flight, not on impact, and I can't get them to light up by throwing them or anything. They're fairly bright, even in a lit room. I'm trying to think up an interesting night game or scenario game with them, suggestions welcome.
*edit* There's a pressure switch on the inside of the missile, so when you load it on the arm to fire, it depresses, and the light goes on when released. Clever, Buzzbee. Clever.
Given the identical performance claims and the size of this thing, I expected to find an old-style BBBB tank, or at least the smaller tank they've been putting in Berserkers lately. Not so.
http://www.buzzbeeto...ters/56400.html
This one's a bit blurry, sorry.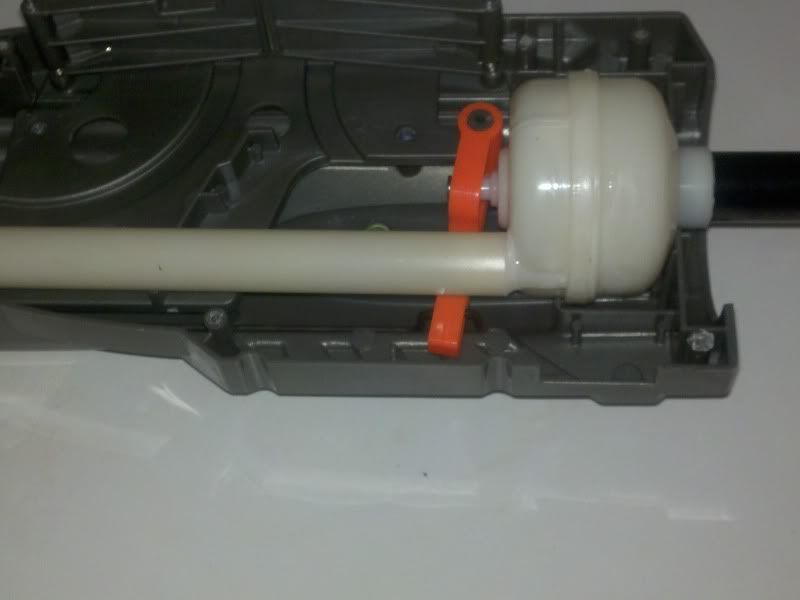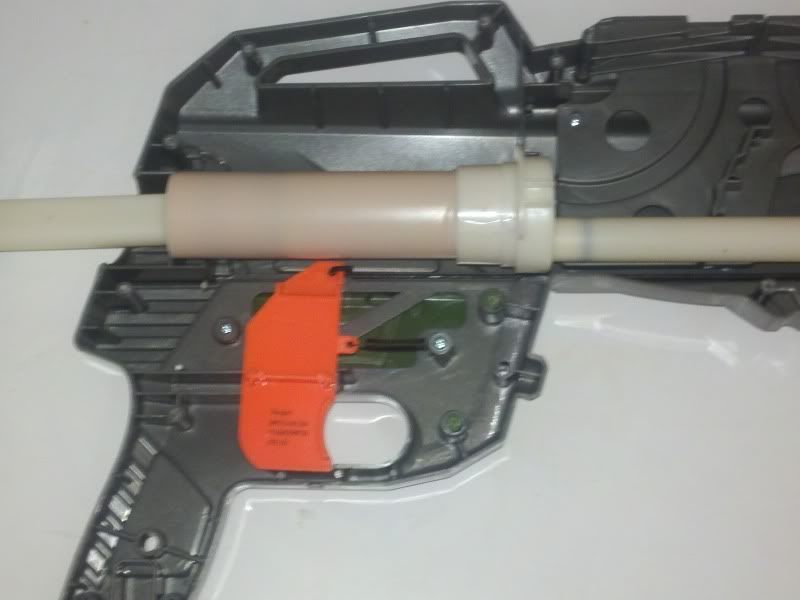 Looks like a MM tank attached to a BBBB pump via a solid connecting rod. The connections seemed weak, but airtight. Nevertheless, I wrapped them in sillicone tape to make sure the seal was good (not pictured).
Mod this like you would any other BBBB or MM tank- I'd reccomend a standard sawing-off of the barrel and adding a 1/2 inch PVC coupler over top.
To fit the coupler, you'll have to dremel out the sides round the opening as shown- start maybe a dremel-bit's width outside the two ridges that border the valve. I'm impatient, you'll hopefully cut neater than I.
My roommate tripped over this shortly after its completion, but a finished product picture wouldn't help that much anyway. I made this: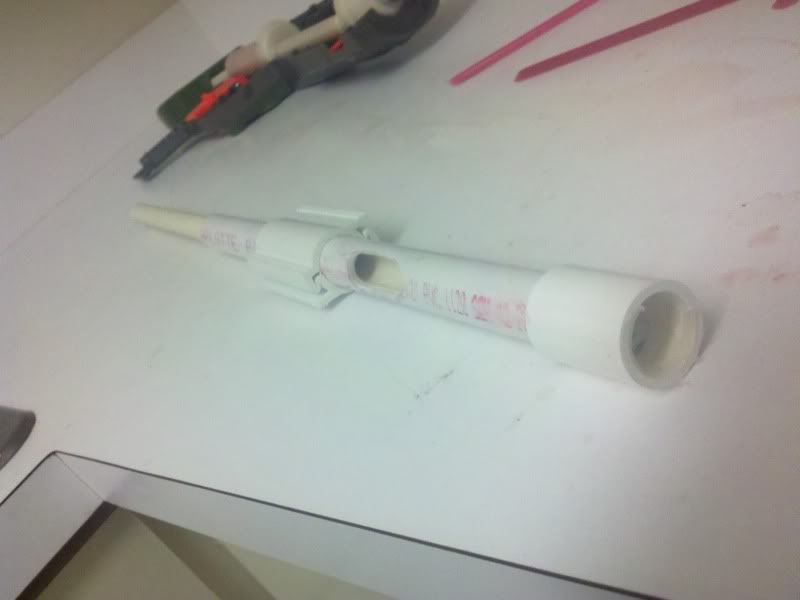 It's 1/2" CPVC jammed inside 1/2" PVC, PVC welded into the 1/2" coupler, then snap-fix breeched.
http://nerfhaven.com...668&hl=snap-fix
If you're going to do this with CPVC and stock darts, take the time with a dremel or knife to smooth out a conical shape to make dart loading easier. It's a tight fit. Streamlines only, of course.
Nothing fancy, but like I said, stock darts, and I don't want/need too much power. There's about a foot of barrel in front of the breech and that's probably getting shortened when I start testing. If you intend to keep that orange cone thing like I did, make sure you put a breech sufficiently far forward so it clears. I like the look of it, plus I'll later be adding pool noodle in there to stabilize the barrel and protect the coupler.
Last, but not least, the Rapid Blast.
http://www.buzzbeeto...ters/56600.html
This is a much cooler and more comfortable-in-the-hand reshell of the Tommy 12.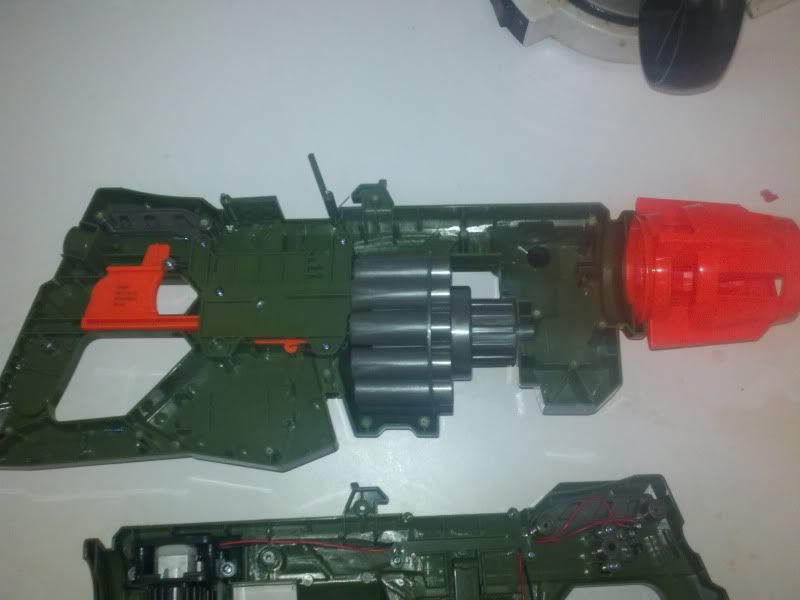 Due to the reshell, you can't just saw off the handle to expose the correct wires like in the Tommy-xx. It's still quite simple, though.
Cut these two wires near where the battery terminals are, discarding the attached capacitor. Color match a 9v battery terminal's wires and splice them to the Rapid Blast's using your preferred method. Mis-matching positive and negative leads will not yield desirable results. If you pull out the spring pieces that attach to the old batteries, you'll see youve got a nice gap already there to shove the 9v connector through. This allows you to keep the battery in the compartment where the old ones were. Add some sort of padding so it doesn't rattle when you run.
So there you have it. You'll end up with a breeched long range weapon, undermounted 12-shot backup to cover yourself, and a crappy, but convenient and well placed sidearm to top it off. The guns stick together when you run, and I find it fairly easy and ergonomic to hold the whole thing and to operate each individual gun. The power switch to the Rapid Blast is a thumb's twitch away, so you don't have to keep it on.
All these mods should be simple enough for any beginner. These are clones of other Buzzbee guns, so the mods for the parent gun ought to work fine too. This system makes a great crash course in modding different types of guns.
Edited by sllewgh, 03 August 2010 - 02:11 AM.