Hi well im new to nerfhaven. Well like the title says i made a night finder gun blade (L.A.R.P. style). If you do not know what larp is its live action role playing where you use foam swords to fight, and i combined that technic of foam blacksmithing with Nerf guns and this is my awsome out come i hope you like.
TOOLS:
-Electric tape or any tape of your own choosing
-Hot glue (lots of hot glue)
-1/2 inch pipe (mine is thin hollow metal)
-"optional" small piece of 3/4 pipe (mine CPVC)
-scissors or blades
-"optional" ruler
-Camp pad foam (Can be found at walmart "$5.88" in the sporting goods section;its for camping duh)
-nerf gun
-sharpie
-sand paper
-adhesive spray (costs about 10 bucks at Walmart)
-skill time and lots of patience
here is my night finder i started with.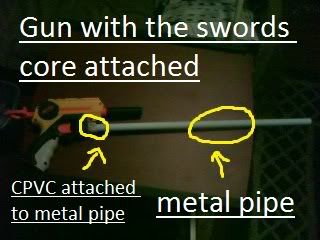 Here i attached the hollow metal pipe to the botttom of the night finder were the laser used to be with alot of hot glue to make sure it stays strong since this is the core of the sword. I also attached a peice of 3/4 inch cpvc to the end so it would fit better.
Here i started to hot glue the first peice of the skeleton of the sword from the camp foam (cut out the peice from the camp foam). Of course you can make it look however you want this is just my design.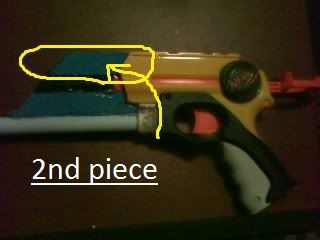 Again here i hot glued the second peice of the skeleton on.
Here finaly i added the last peice of the skeleton on to the core.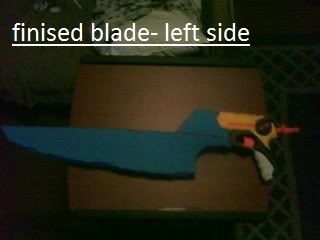 Here your going to want to cut out your left and right sides of your blade from the foam, and take out the adhesive spray not hot glue and spray the skeleton lighty then spray the side of the cut out that will be touching that side, and let them set aside not together yet, and let the sprayed sides get nice and dapy for about 5 minutes then stick the two sides together and repeat for the other side.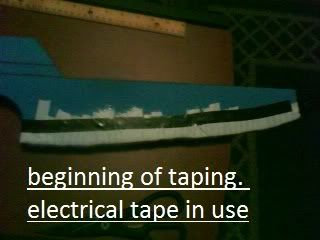 Now begin to tape up your blade but dont tape to tight so when you hit someone with it it wont really hurt but tight enough so it keeps it strong. You can tape however you want as you can mabye see im going with a Bleach theme.
And then your done there is my gun blade. I also have a maverick gunblade made in kinda the same way. Yes the gun still shoots, its soft yet as strong as it can get, and the sword is safe to hit someone with and is really fun as long as you did everything right. But there really is no way to mess up that bad and it isnt as hard as it seems. I hoped you enjoyed my mod and please leave your comments and questions. thanks.
Edited by ABombANation9, 11 February 2010 - 03:40 PM.