Alright, so after being validated a few days ago I guess, I just looked up near my controls to find the "re-send validation" thing was gone, I decided to post something to "contribute" to the NIC here. Anyway, I picked up this neat little blaster at Goodwill last week, and planned to modify it. It was in just about perfect condition, the original stickers and paint still had that glossy look, but the ammo holders were gone and no ammo. Nevertheless, I bought it for two dollars. Keep in mind while reading, this really isn't much of a mod, rather than a showcase of the NB-1 Missle Launcher, since I've found very little on it when searching.
Without further rambling, I'll get on with this "mod".
Materials:
-Your Blaster.
-6 inches of OMC PETG (Thickwall)
-Electrical Tape
Just from that list you can tell it's going to be the hardest mod ever.
Honestly, I love this thing. It may suck ass, it may be wierd looking, but that's exactly it, it's a misfit--- like me.
Notice the tiny air output, if you can even see that. Sorry for the blurry pics occasionally, my phone has a good camera in it, but it's hard to steady due to its round shape.
So let's get started. First you're going to want to cut off that long black "barrel" right at the nub. When you're done, it'll look something like this:
Next you're gonna want to de-burr that and widen the air output hole just a bit.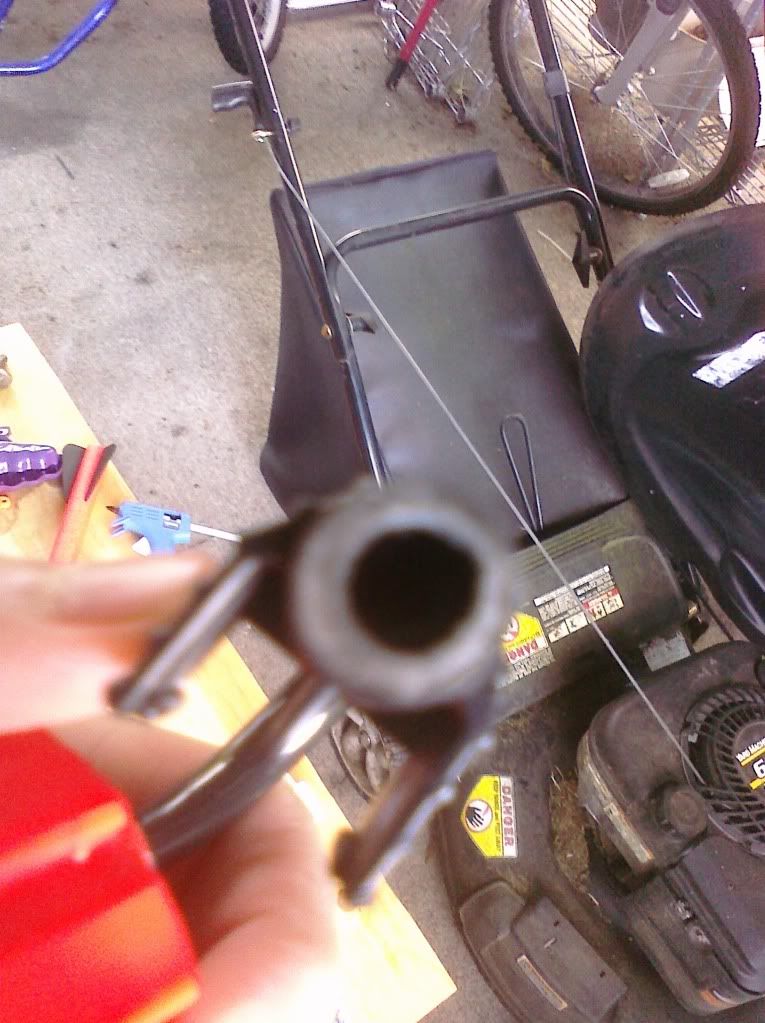 After widening that as much as you want to, next we're going to take the black piece that has the hose connected to it off of the main shell, (don't worry, it comes right off, just wiggle it around and pull it off) and wrap it with some e-tape.
As you can see so far, this is pretty self-explanatory. Just wrap enough e-tape around it until your desired barrel material (PETG or Brass would be best, it wouldn't build up enough pressure to launch a dart out of CPVC) fits on there snugly.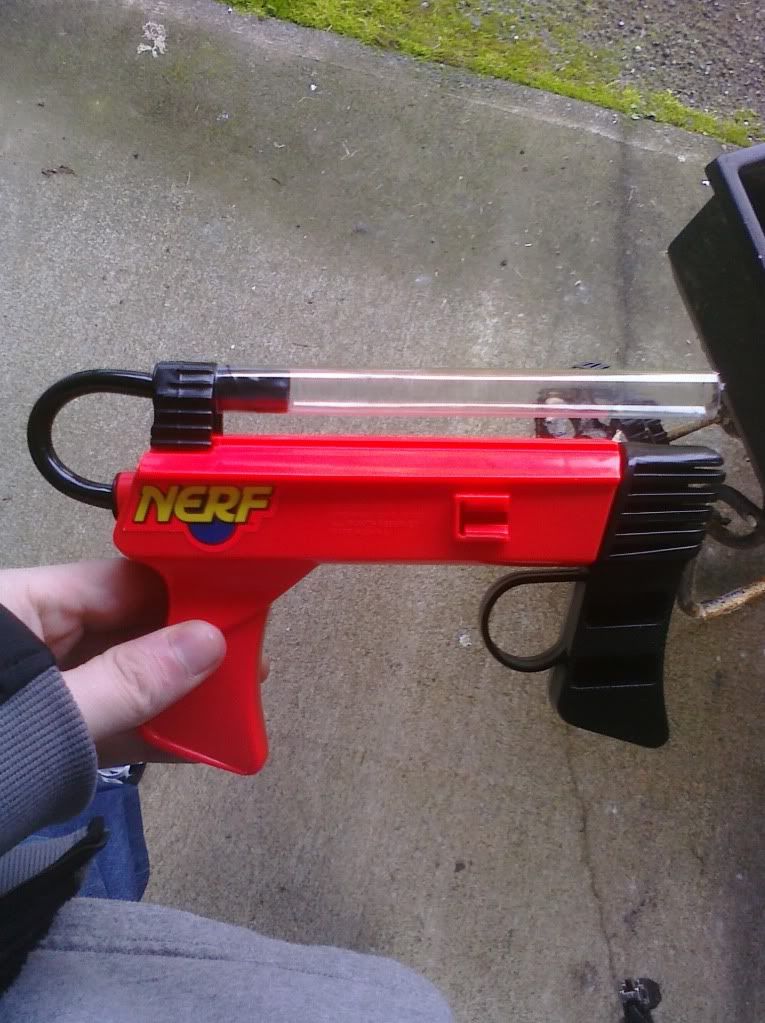 Then you're done! In this mod I wanted to keep as much of the stock look as possible, which is why I used PETG. Make sure to use a loose (but not too loose) fitting barrel material, since this gun really doesn't build up any pressure at all, to be honest and could'nt launch a dart out of CPVC.
Q and A:
Q: How do you even use this blaster, I've never even seen it before.
A: You pull the black handled pump out, and just push it back as fast as you can for the most part, to fire the dart / arrow.
Q: What else could you do besides this barrel replacement?
A: Not much, sadly. You could possibly overhaul this thing (lol) by taking off the black hose and the port it connect to and put a barrel straight on that, so the air isn't directed through a hose. You'd have to fire it backwards though, which would be kind of awkward, even more so than this blaster is already. An idea I also had was to take maybe two rather powerful extension springs, hook them on maybe where the ammo holders would be, and to the pump as well, so you can add a bit of accuracy.
Q: Where are the screws?
A: There acually are none on this blaster, the shell is just glued together, I guess.
Q: Why the hell did you even bother to mod this?
A: I was bored, and for shits and giggles.
To anyone who sees this at a Thrift Store or Garage sale, I'd say buy it. It's really a fun and nostalgic blaster if anything, especially if you can get it for under $10 or so. And as far as ranges go, I'm not going to bother measuring. I'd say maybe 8 feet. Yeah, really.
Edited by Broderick, 31 January 2010 - 08:19 PM.