I recently brought home a new Berserker from Target with the intention of making my own Daikaiju with an eye-sodomizing red and white paintjob...
But when I opened it up, I was mortified to see a grossly smaller tank inside. Looks to be the
size of the Mega Missile tank
, roughly. The shell was also different from my old Berserker (featuring the BBBB tank) to accomodate.
Did I just completely get ripped off? Is there just a batch of these out there? Or are the days of the BBBB Berserker over? Buyer beware if you go out and get one, certainly at least from Target.
**Edit: Clearly not a MM tank, I'm clearly an idiot. Still, it's a bit less than half the size of the BBBB tank. Also, now with pix.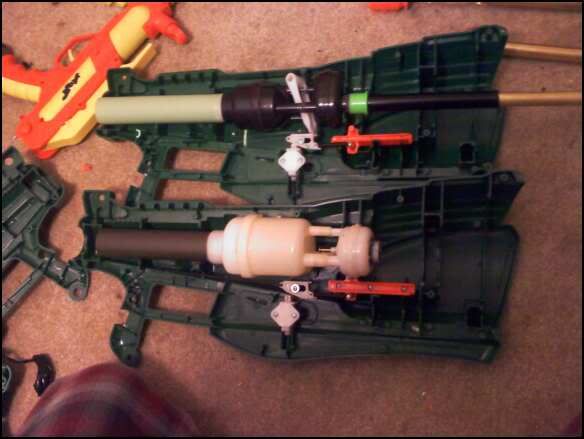 Sorry, should have known better than to post without pics in the first place. Also, sorry about the crappy quality, all I have available is my phone. One pic shows the new Berserker on top next to the old one on the bottom. The other is a closer look at the tank. Right behind the air tank is an additional wall in the shell not present in the old one. I've already removed it so I can add a proper BBBB tank, but you can see where it was right below the back end of the air tank.
Haven't exactly range tested the newer tank, but it's definitely weaker. I can feel it shooting air at my hand, or just front loading a dart into either one by comparison.
***ANOTHER EDIT****
Don't be fooled! Watch for these differences between the old and new packaging when purchasing this blaster.
Old berserker: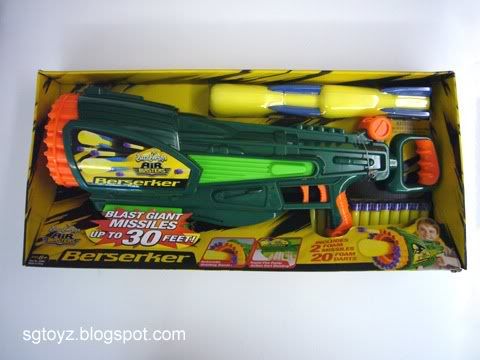 New Berserker: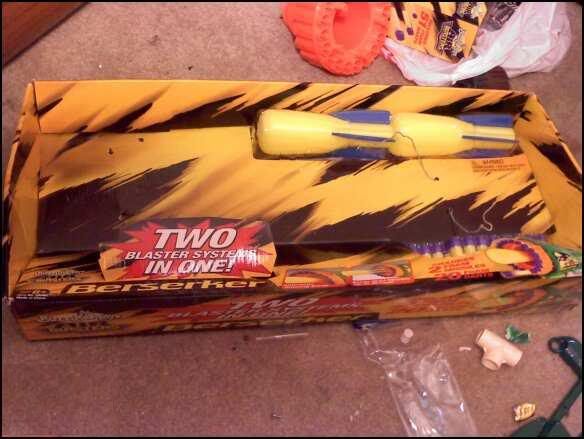 The new box clearly advertises "2 Blasters in one!" where the old proclaimed "Shoots missiles 30 ft.!"
Edited by sllewgh, 24 January 2010 - 11:04 PM.