Does anyone know what this blaster is?
It's like a mini shotgun. There's a pink priming handle, light at the top front, and I think it shoots megas.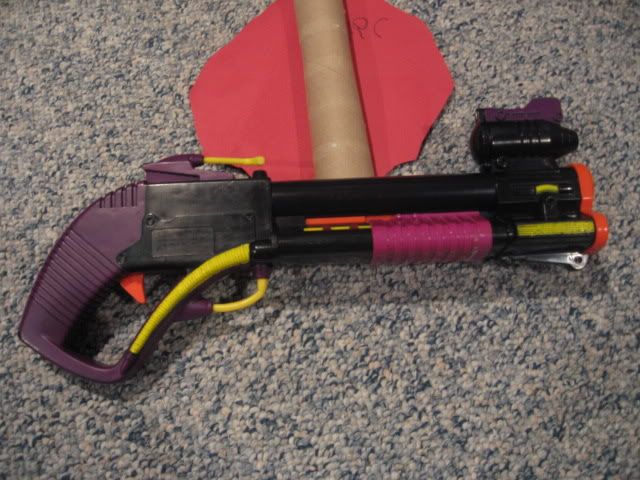 On the shell:
1993
TYCO
PLAYTIME, INC.
MADE IN CHINA
The only thing I could find was that
Tyco
acquired Playtime in Jan of 1991. Also, Playtime in Dec of 1991 acquired Helm Toys, but there isn't much on that company to search through.
Playtime also made some water toy guns:
(excerpt taken from here:
link
)
The first sample is called "The Ripper," model number 3020. This water gun is approximately twenty (20) inches long. The water gun is predominantly bright green. There are orange paw designs overlaying the green. The trigger, side hand grips, water magazine, and pump action portions are purple. "Made in China" is imprinted on the gun just above the magazine opening. The markings on this gun comply with the regulations.
The second sample is called "AK Centerfire," model ASST. 3021. This water gun is shaped like a machine gun and is approximately twelve inches long and seven inches high. The plastic magazine cartridges are black and there is a black ring where the barrel extends from the main body of the toy gun. The predominant color of this water gun is red with flashes of blue. We conclude that the predominant red color is not bright; therefore, this toy gun fails to comply with the regulations.
The last sample is the "Water Hawk," model ASST 3022. The size of this water gun is similar to the AK Centerfire above. The magazine cartridge is bright green. The predominant color is blue with red diamond shaped designs on the sides. We conclude that the predominant blue color is not sufficiently bright and fails to comply.
Here are some internal pictures:
Overview:
Close up of catch system: (I couldn't find any compression springs in the catch system. It was just the big torsion spring underneath the catch)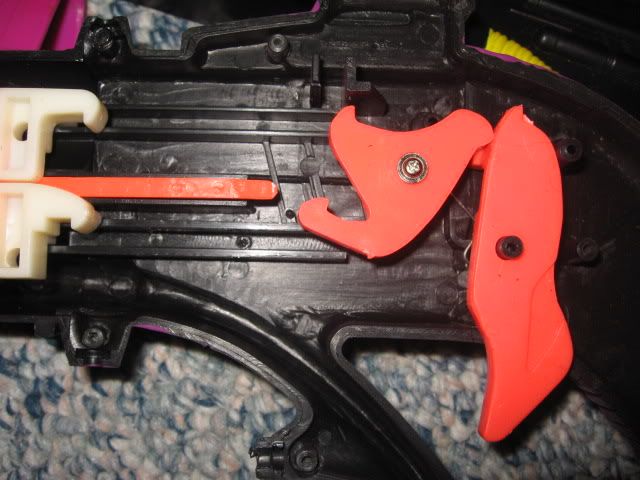 Plungers: (these are completely closed on both ends, but seems easy enough to pop off. They are 4 3/4" in length and just a hair under 1" in diameter)
Inside the Plunger: (The plunger cap is the orange disk, clear plunger head, black disk. This assembly was screwed into the plunger rod. I was able to remove the front by scoring joint with a knife and wiggle it until it pops off)
Exterior:
There are two sizes of screws all around the blaster. There are two screws in the side of the orange cap that I missed as well. The pink priming handle is attached to the rod by two pins.
Front without light setup: (There is about 1 15/16" from the plunger to the front of the shell)
Front light setup: (requires two AA batteries)
Let me know if you need any more pictures.
Edited by popatachi, 17 November 2009 - 08:17 AM.