Okay all,
First post of a mod here. I decided to start out (finally) with a little something I cooked up after my Frakenfinder broke and I acquired some FF internals from a friend. I wanted to retain the NF's feel but replace the non-working effect of the gun with one that, well, worked!
Disclaimer:
DO NOT COMPLAIN ABOUT PIC SIZE! My computer has not been letting me resize them. (begin sarcasm) Sorry for any hurt that it may cause ot your fragile, delicate eyes (end sarcasm).
MATERIALS/TOOLS:
-NF shell
-NF plunger
-NF trigger and trigger spring
-NF catch and a catch spring of some sort
-Spring:I used an FF spring
-Firefly plunger tube
-FF plunger head
-E-tape
-1/2" CPVC
-A handle to prime the gun (my NF plunger didn't have the handle)
-copious amounts of hot glue!
And without further adieu, I dub thee Firefinder.
Full body detail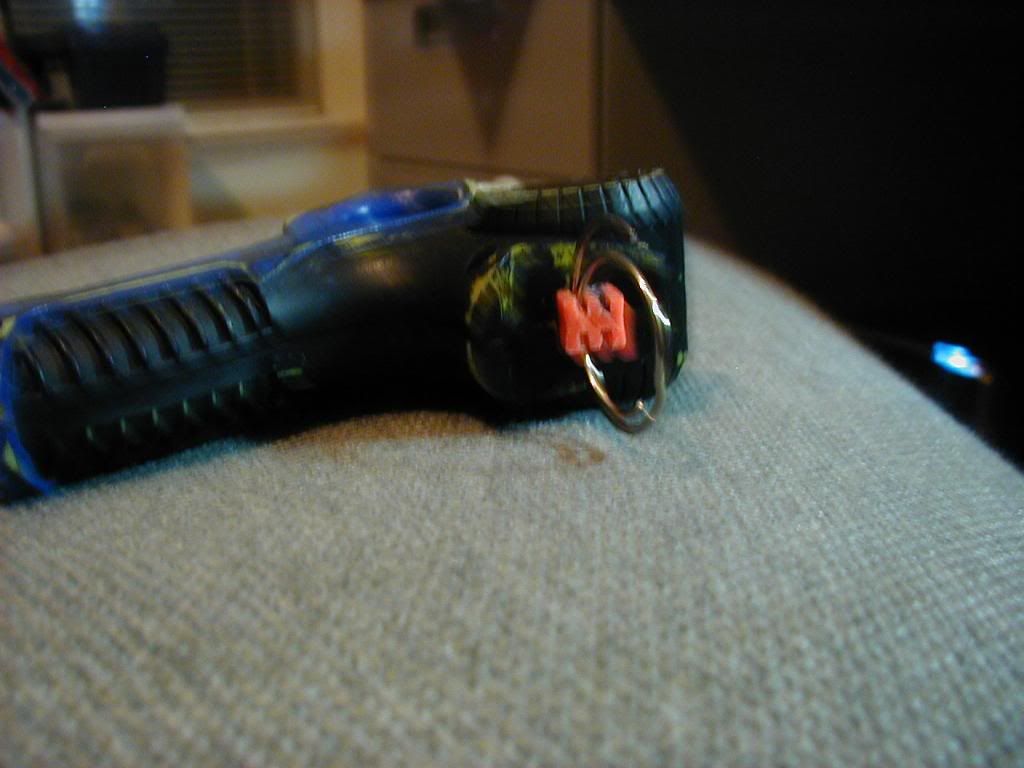 my NF plunger had no handle: I imprivised with a keyring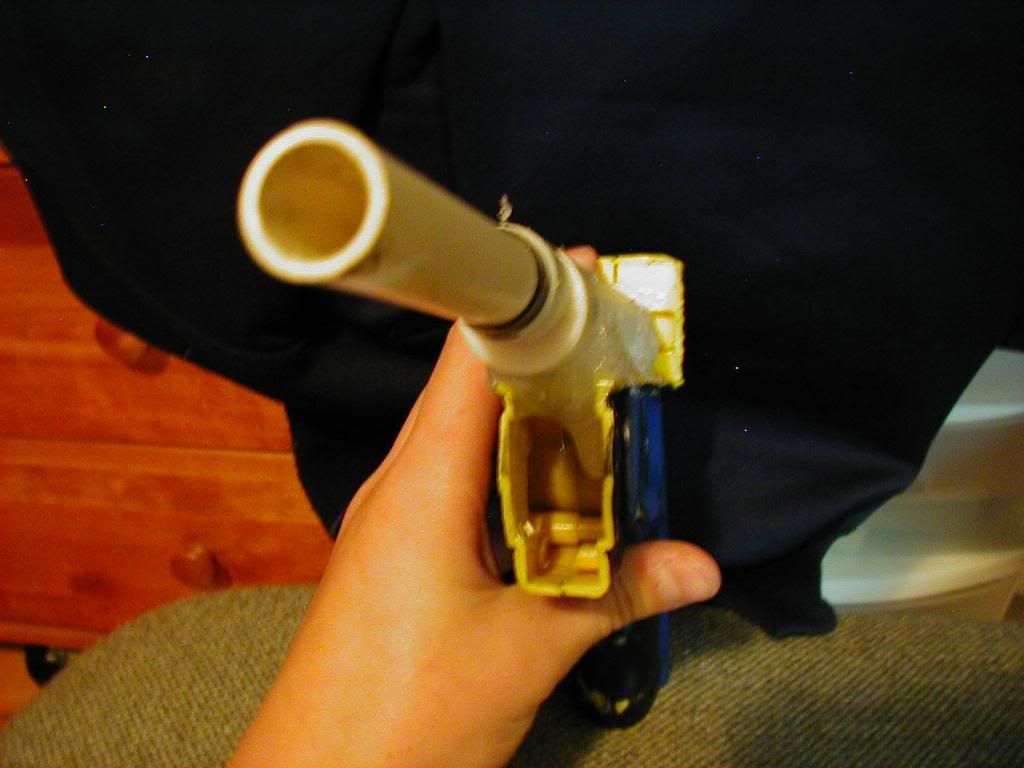 Barrel/front detail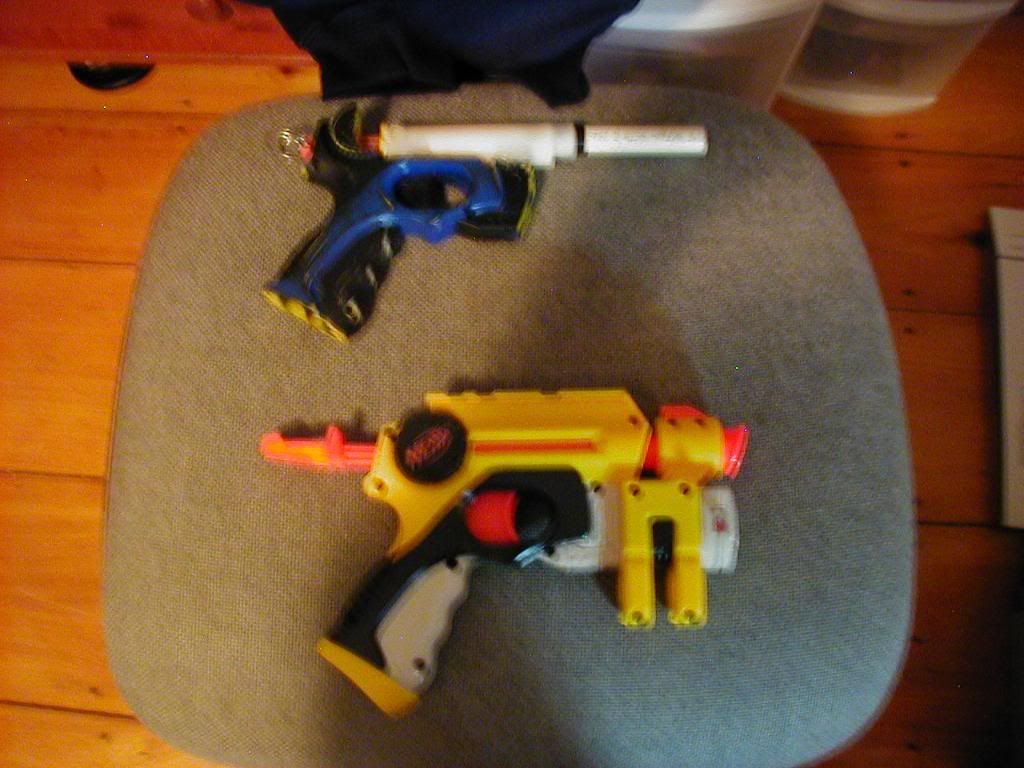 Size comparison with a bone-stock NF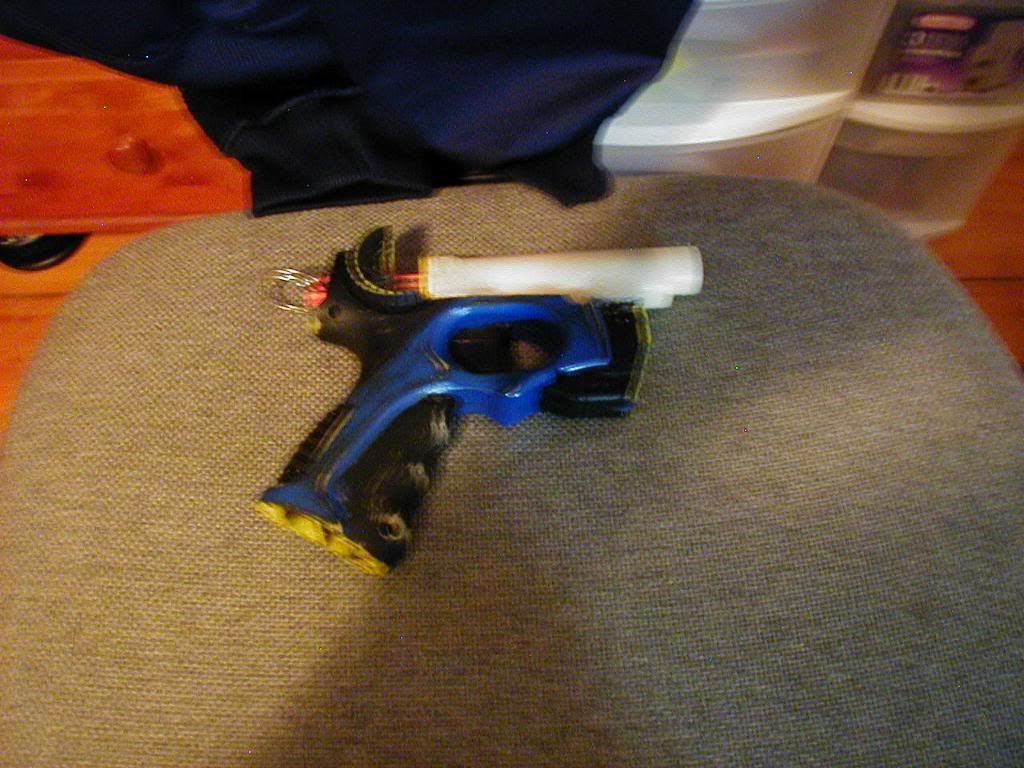 Without barrel
The barrel is 3 1/2" of 1/2" CPVC witha few wraps of etape around the but. It'll also take Crayolas with some Etape on them. This wil decrease range a but though. It is important to leave that space between the NF shell and the but of the plunger tube because otherwise the plunger doesn't have enough space to travel and generate the air necessary to propel a dart. The darts must be twisted into the barrel which, in my opinion, is the only negative side to this gun. The FF plunger is attached to shell with a screw in the fornt screw hole that a normal NF plunger would noramlly utilize and LOTS of hot glue. Also, the yellow piece that covers the but of the FF plunger tube MUST be glued/taped onto the tube. This prevents it from flying of the tube and losing all of the power.
THOUGHTS and RANGES:
YES: this gun needs a paint job
YES: I will post pics of said PJ when I actually get around to it
YES: this gun badly needs some cosmetic work
I also plan to "silence" it using some FBR/caulk saver
Ranges: really depends on the dart
Good stefan-50-65
Streamline-45-52
Whistler (sonic micro)- 46-57
Questions? Comments? Flames?
Bring 'em!
Whisper...