When:
November 14, 2009 10:00 am - 4:00 pm
Where:
Centennial Park
9400 S Oak Park Ave
Oak Lawn, IL 60453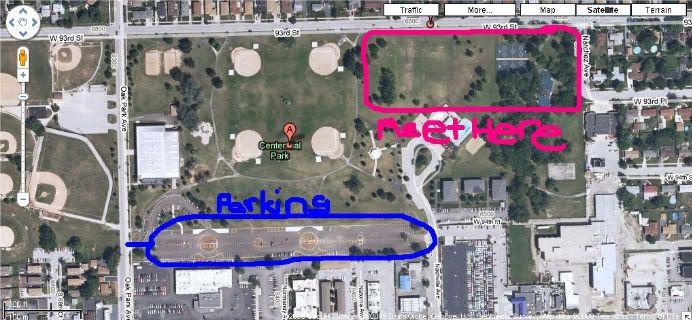 (It's the same pic from last time, we'll meet by the park where we last Nerfed)
It's an awesomely large park with open fields and wooded areas for Nerfy goodness. It's in the heart of Oak Lawn, IL. We'll plan on meeting by the playground. I'll gladly give my number to anyone who wants it to ensure an easy meetup.
This time we'll be bringing obstacles a plenty as well as cardboard boxes. Anything you can bring will be great.
Who's Attending:
Snake51886 + 5
Buns
Demon Lord + "friends"
Liter
Kane + Napervillians (if they exist anymore)
AnyaSeijin
Merz
Dan the Vulcan Man!
boarder07 (NerfHQ)
Ryan McNumbers
Zorn
Ice9
Maybes:
Unable to Attend due to sand in the Mangina:
Noodleownz
Relevant Information: The last Showdowns went splendidly, let's keep it up
Here's what to bring:
- A few guns; at least one primary, it'll be chilly so expect breakage. It's always good to have a backup
- Ammo, and a fair amount of it. If you forget you'll have to beg or worse...
- Eye Protection, you don't bring any, you can't play
- LUNCH AND DRINKS
- The only shields that will be permitted are Manta Rays and Crossfire Shields
- The ONLY melee weapons allowed are Nerf Brand weapons, end of discussion
Here's what you shouldn't bring:
- The same rules apply here as they have in the past. If you don't know by now check the other CS threads or PM me.
- Hopper Clips are officially banned
- If you shoot someone with a 100ft+ gun at <20ft, you take a hit as well
Since we've had a problem with jump-ins in the past, they are not allowed. They can watch if they want, but CANNOT PARTICIPATE. I have spoken.
Questions? Comments? Post in the thread, if it's of a personal matter PM me.
Edited by Snake51886, 15 November 2009 - 11:44 PM.