When priming the raider, the darts tend to sit up in front of the bolt. People have found that if they push their darts into the bolt manually, the dart will fly further.
This is because the dart tooth starts to move down when it is in contact with the bolt sled. There is a small arm at the bottom that pushes the dart tooth down. If you trim these two pieces down, they won't make contact until the priming sequence is near the end and pushes the dart further into the bolt rather than having it half in the bolt, half in the chamber.
Hopefully this picture will help.
This is the dart tooth and the arm on the bolt sled.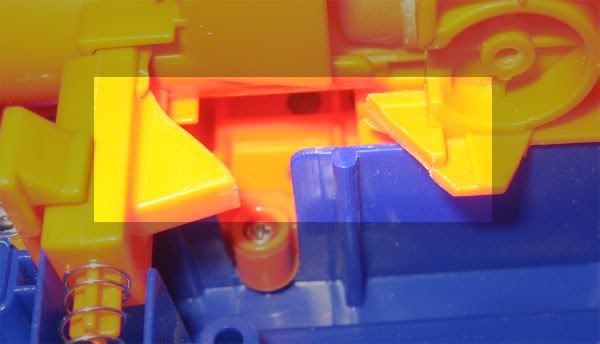 For reference, here is a picture from the raider over haul thread (thanks SPV999).
One thing to note, be careful how much you trim off the dart tooth. Trimming too much or at too steep an angle won't allow the top of the dart tooth to clear the bottom of the chamber tube. In my modification, the top is just about flush with the chamber. So make sure to try and keep the same angles.
Enjoy!