I was bored yesterday and decided to take advantage of the Maverick's "N-Strike tactical rail". I've searched, and not found anyone else who's done this type of mod, so here it is: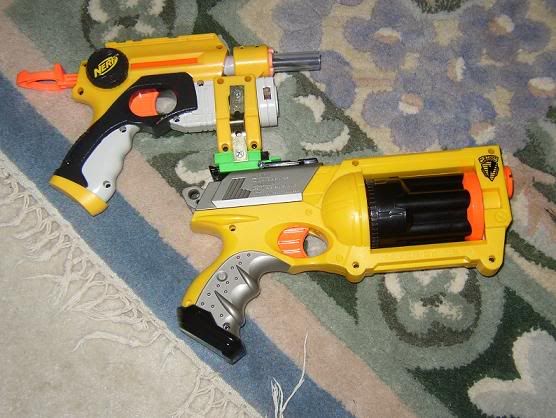 The female tactical rail adapter is from a strikefire (crossfire), and is attached with a couple spare parts i had laying around. Namely, a strip of PVC on the side you can't see, and an L-bracket flattened out with the help of pliers.
In order to keep the Maverick from falling off easily, there's a screw in the rail that blocks the sliding of the adapter.
Ranges are normal.
Mods on NF:
Spring replacement
Pet Store PETG barrel replacement
Mods on Maverick:
Slip mechanism glued
4 Pennies behind spring
Note: For those people who will rant on and on about how mavericks suck, I nerf indoors. 30' with stock darts is plenty.
Edited by rbtying, 19 August 2009 - 02:29 AM.