At the end of SCANO 2 I was given an eagle eye from Forsaken_Angel24, I do believe these guns are overlooked for potential.
Things you will need:
E-tape
Pipe cutters
4-5" of PETG
1" of 17/32nds brass
Epoxy or plumber's goop
First open up the gun, The priming handle has 3 prongs holding it in place, get a small flat-head screw driver and bend the prongs back enough to take the priming handle off.
The gun should look like this:
Second, remove the plunger/barrel assembly and mark 1/4" from the base of the barrel
Third, get your pipe cutters and cut the barrel off at that mark
Fourth, Get your stub of 17/32nds brass and wrap it in e-tape 3 1/2 times leaving 1/2" of the brass exposed.
Fifth, test fit the stub of brass on the end of the plunger tube
Sixth, Epoxy/goop the stub in
Seventh, Slide the original barrel over the stub of brass
Eighth, get your PETG and wrap e-tape around it 4-5 times 3/4" from one end
Nineth, once everything is dry shove the PETG down the original barrel making sure the 17/32nd's brass is nested in the end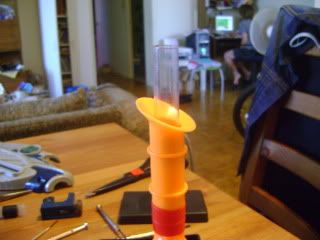 Tenth, Wrap e-tape around the cut you made in the original barrel and fit everything in the shell as it was originally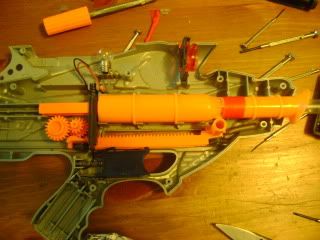 Finally re-assemble the gun. It should be shooting around 50-60 feet consistantly.Reward yourself with a can of Vanilla Coke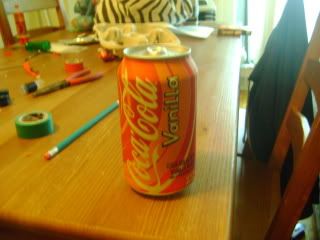 I may do a spring replacement on this gun in the future, there is so much potential in this gun that no one has bothered to document.
Questions?, Comments?, Flames?, Other beverage suggestions?,