Well, I first have to say that if it weren't for the contest ending tonight, I would never post this. It's not up to my standards for my own work, but it is still functional and will hopefully get people a start for obtaining a Splitfire without shelling out $70+ nowadays.
The original idea came for this when I made the Boltok pistol. I figured that if one tank in an NF shell was good, two would be better. Also, because of new pump placement, I figured I could use two full-sized pumps instead of one shortened one.
Here's a little pro and con list for this gun vs. the SF:
Pros:
Way cheaper
Longer range
Less pumps
Cons:
You have to build it
Takes up two AT2k tanks
Materials:
1 Nitefinder
2 AT2k tanks and pumps
1' 9/16" brass
~6" 19/32" brass
Epoxy putty
Some sort of super glue
Hot glue
The best place to start is probably with the NF shell. You need to make room for all the tubing and the tanks. It's a fairly tight fit to get everything in, but it can be done without too much hassle. I'll try to let the pics speak for themselves as to what has to go in order to everything to fit.
Here's the stock shell: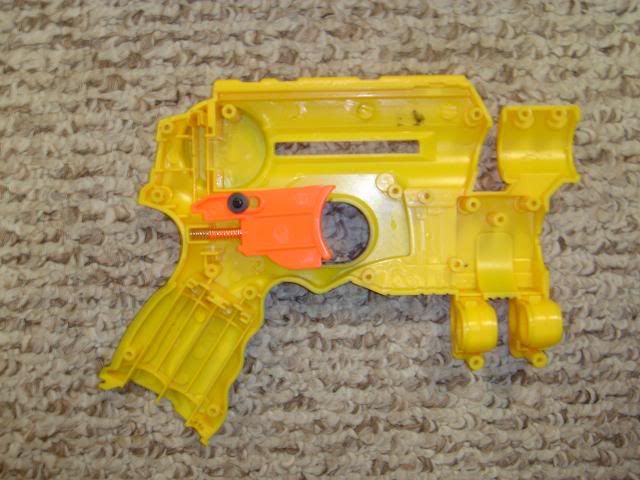 Now, cut out the little posts sticking up inside the "laser":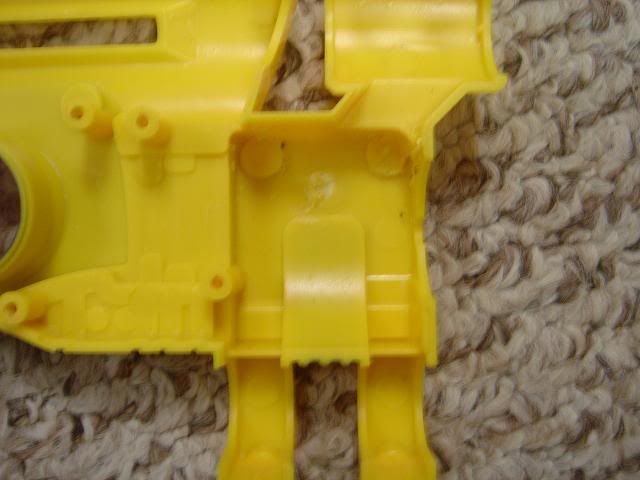 After that, cut out this area for the top tank: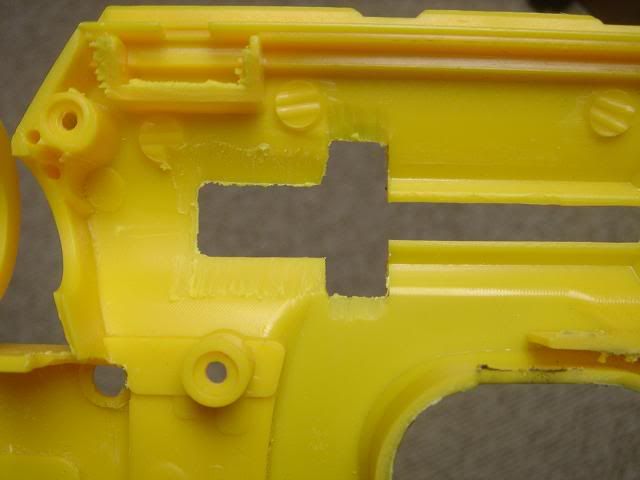 You also need to remove some stuff in these areas in order to get the tubing where it needs to go: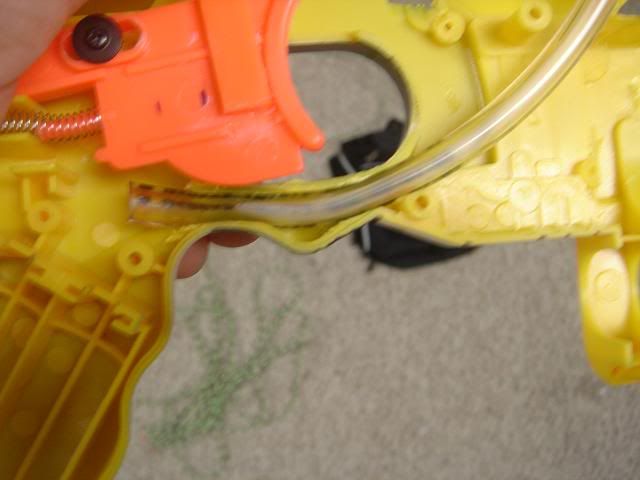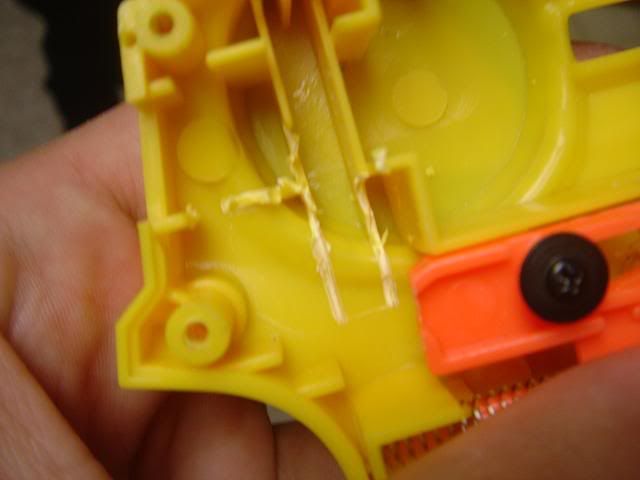 You can also remove the Nstrike rail completely. I forgot to take a picture of this, but you just have to cut straight across the top. You'll be able to tell in the pics where the pumps are attached.
Once you get all the stuff done on the shell, you can start on the triggers.
The trigger on the bottom tank is going to be a keyring on the pin of the tank. To do this, just bend it down about ½" from the back of the pin: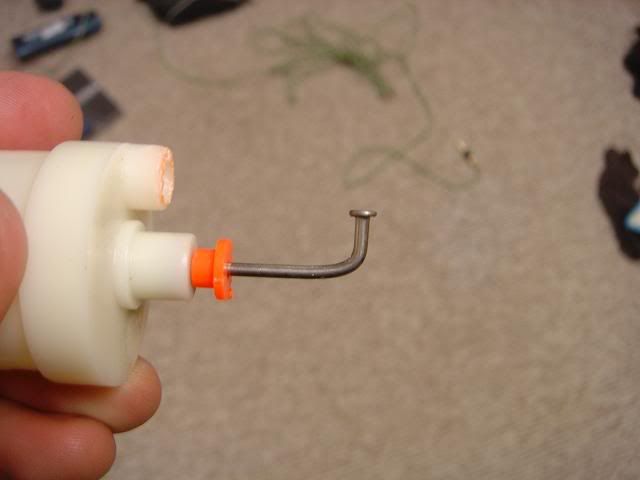 Now, just split the ring a bit and put it over the pin. Make sure that the ring is about 1/8" away from the NF trigger when it's epoxied into place.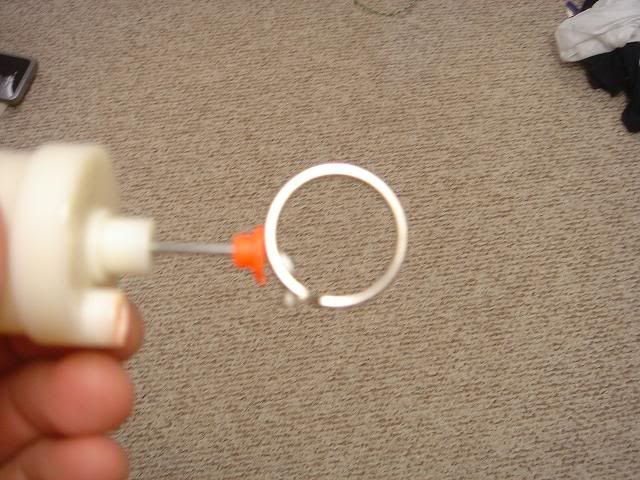 Now move onto the other trigger. This tank will fire from the original NF trigger. To do this, you need a part from the LS front gun: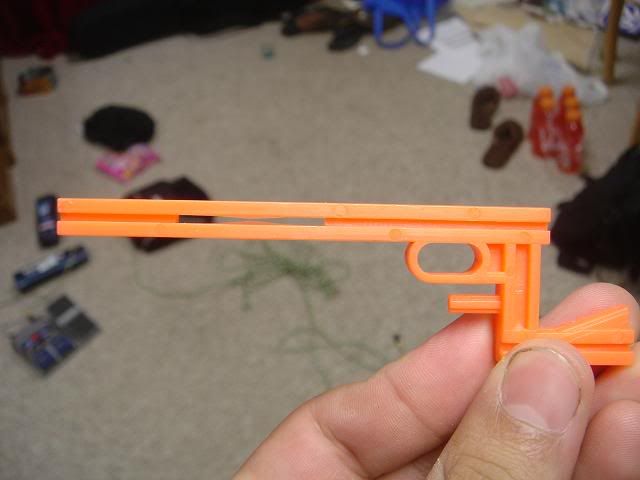 It could be replaced with a different piece, but this is the easiest thing to use. Once you have the piece, cut it like so: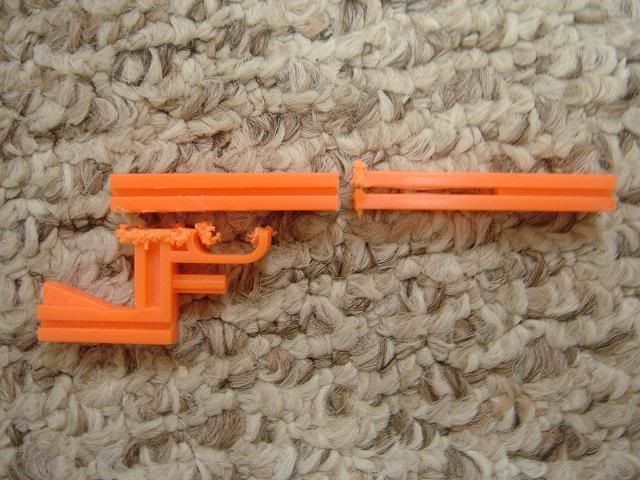 Take the top left piece from that pic and cut a slit in it about halfway up and wide enough for the NF trigger to slip into You'll also have to cut out a slit in the top of that piece that'll go around the tank pin: