Before we get started, I am fully aware that there is a Paint Job and Modification picture thread, but being the attention whore that I am, and this begin a cosmetic mod I have never seen done before, I felt it deserved its own thread. If you feel otherwise, there is no need for flaming, just let me know for next time.
Anyways! What is this you might ask yourself???
Well with the lights on, I unveil my latest work of much bloodshed, "The Predator"!
This is in my opinion the sexiest gun I have ever seen. its massive and SCARY. Its a Titan with a CPVC barrel running down the inside of a LSFG attached to the front of the gun upside down. I did it upside down because the barrel lined up that way, it looked more natural, and it put all the screws on the same side due to the fact that the Titan screws seem to be on the opposite side from most guns. It also made it easier to integrate the SM3000 tank to the underside.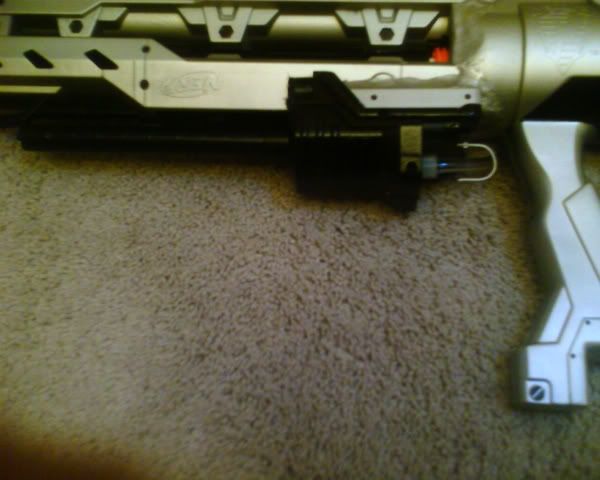 I hid it underneath the cocking handle of the LSFG, couplered it, and put the trigger out the back to the second handle making it VERY easy to fire. I have no internal pictures, but what I did becomes very obvious in this picture:
What I did was route the hose out the side where the pressure gauge was. I connected it to the same spot where the pressure gauge was so the pressure in the SM3K tank is virtually the same pressure as the titan itself except for the small hose and the small release valve hindering the air. The SM3K takes no extra pumps and only shoots about 30-40 feet less than the titan which gets normal 150'+ ranges.
In this picture you can also see the epoxy putty used to attach the two gun halves together. It could be cleaner, but I'm happy with it.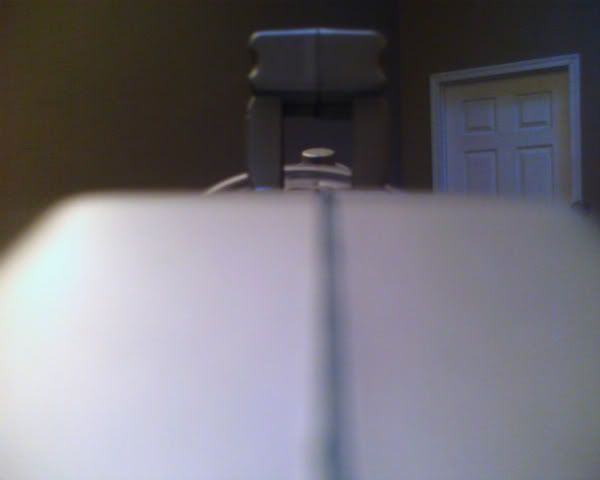 This is the view down the sight now and I think it makes the gun VERY easy to aim. I was able to shoot the propane tank on my grill from about 120' away in under 3 shots, all three landed withing 5 feet.
This is it's matching sidearm, a second generation nightfinder with an inline clip on top, gets about 50' with the stock spring and holds 4 darts.
This gun is pretty darn massive, with the pump out I measured it at 40 inches long, however it isn't any harder to wield than any other titan. I love this gun and its absolutely terrifying to look down the barrel of. Trust me, I loaned it out in a war and about pissed my self running.
So, let me know what you think, questions, comments, suggestions?