Most of the credit for this goes to Daniel Beaver. He was the first one who theorized that a Reactor could benefit from having an inline clip on it. He said that a while ago, but today when we met up to do a trade, I was reminded of the idea. I figured I would have nothing to lose since the reactor I was using had a nearly destroyed ball-sealing piece (the black thing at the front), so it could hardly even shoot balls. So I present the result: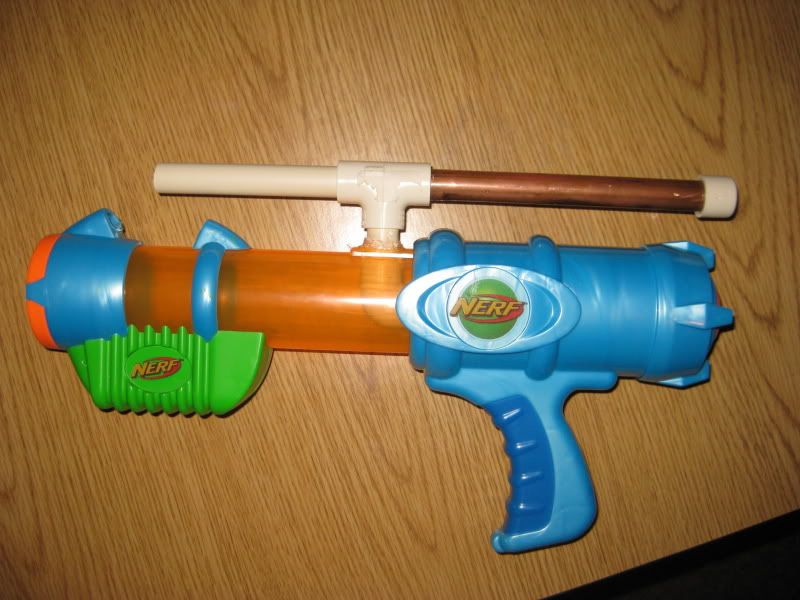 Here's a look down the tube:
It's a pretty simple setup. A piece of CPVC runs from the back of the orange tube until it reaches the elbow. The elbow then directs the flow of air upward. There is a hole drilled for another piece of CPVC, which connects the elbow to the tee. I plan to shorten the connecting piece of CPVC so that the assembly doesn't stick out so much. The rest is just a regular inline set-up. The barrel is 4" long and has a loosish fit on my darts. I think a longer barrel may work better, I'm going to do some tests soon. I will also get a longer copper tube so it can hold more darts (it holds 4 right now).
Ranges: I will test the gun outside tomorrow, when I have better stefans. Just estimating by the force it shoots across my house, I'd say it shoots about 50-62 feet flat. Considering the ROF, I think this is quite good.
Edited by venom213, 21 March 2009 - 11:19 PM.