Ok, sadly, no writeup or anything, I just had a weird idea like I always go. I was looking at Groove's old Guru, and then after seeing venom use a guru knock off, I have seen that having two back up shots is a good idea, however they are always fired as a shotgun.
I love spring guns. I don't like pumping things, other then my SM1500 or AT2K but thats beside the point. I wanted something that could emulate the performance of the splitfire, but used only springs and a standard SNAP design. I also designed it to be used as a stand alone primary, but that may be easier said then done, seeing as how it would have to be big to get primary ranges. Here is the primary version. Still looking into springs and parts to make the undergun "pistol" thing
Ok, incase you need an explination on how it works, you pull forward on the aluminum rod with the key ring, and it will cock. When you fire, the spring will push the plunger rod toward the rear of the gun, and expel air from the back. If you need more assistance, look at either Carbon, or Galaxy (I think, please correct me if Im wrong)'s thread about the "reverse" plungers. They can explain it better then me.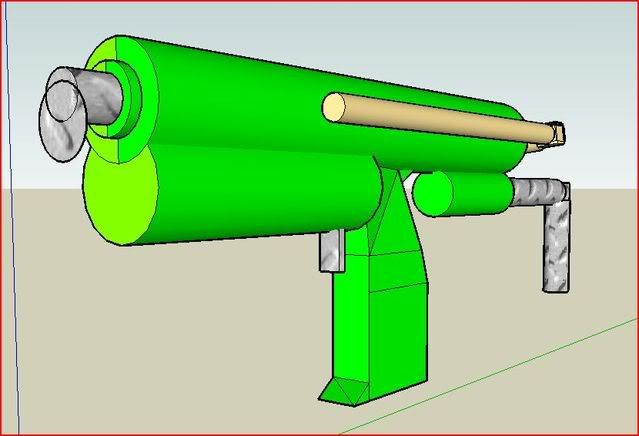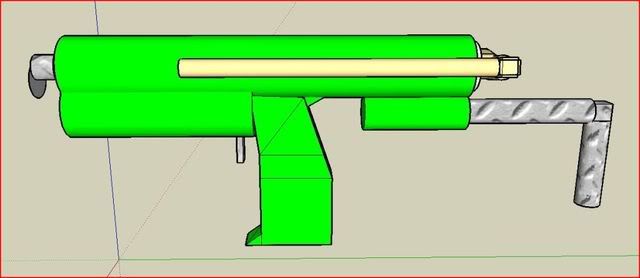 Simple, yes, but it would make a pleasing integration at a pistol size.
Comments, questions, flames, anything. I am looking for any input I can get on this, and yes, I agree with Langley, google sketchup is a bitch.
Edited by BustaNinja, 15 March 2009 - 10:21 PM.