Okay, lets hope this post works this time. Here it is-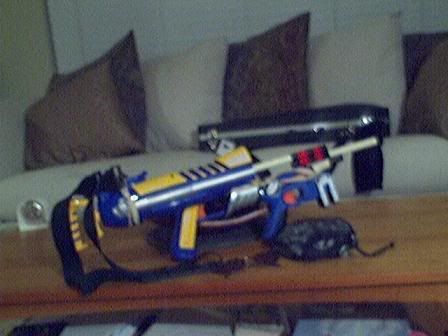 Its the first version with my equipment beside it. The whole thread is for contributions for a second version. Sorry the picture is bad, I will clarify for anybody. I am trying to get permission to use the family camera (don't discuss this, I got it)
The "Lover" is my proof of this-
a person who has a strong enjoyment or liking for something, (being Nerf)
The gun itself is a Big Blast, with an integrated NF into the front. I am willing to make one for you if you want (do not say "Who the in the hell of their right mind would want to buy that?"), as soon as I figure out a payment system.
The BBBB is Couplered (Ramrodding seems impractical, even for a long range gun), and the NF is also.
I wanted to make something like this because-
I wanted a multi-use primary
I enjoyed admiring the Guru
Who does not like integrations?
I reversed the formula of the Guru for this, described in this analogy (kind of).
Springer onto Airgun to Airgun onto Springer
Well, all considerations, flames, and comments are to be left here.
Edit- I am waiting for your comment, BustaNinja, based on yours in the failed thread.
Other things involving the "Lover" will be posted on the RVMVTVProduction site.
The InvAsian has succeeded.