Part 2 below
Part 3 below
I'm going to show you how to make your powerclip shoot off 2 magstrike magazines and increase range by about 10 ft.
Lets Begin.
The Magstrike mags are identical to the powerclip mags with the exception of 2 things
#1 the Magstrike has a belt clip on the side of the mag that must be taken off.
#2 The Magstrike mags have a longer base that must be reduced.
After messing around with the internals I accidently broke the Powerclips piston, thankfully I had a previous magstrike piston handy to use. For some reason the Magstrike piston is more air efficient. When the new piston was in its place I found that I was able to shoot off 2 clips with up to 65ft ranges.
21 pumps=2 mags. Thats pretty damn efficient.
(Do keep in mind that the Powerclips green advancing piece still must be used.)
Here is a partial video. My camera died on me when filming so it ends short. I'll remake the video with ranges and both mags firing this weekend.
(If you don't like the video at least like my suit.)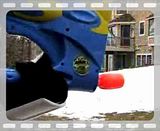 Edited by nerfnerd88, 18 February 2009 - 08:14 PM.