I've acquired four Hornets in the past year. I put them aside for later modding/integrations, but I couldn't figure out a simple way to replace the barrels well. Then, I saw Ice Nine's mod, and that motivated me to find a solution. Keep in mind, I made this mod for hornet tanks I was removing from the original hornet system, for integration purposes. Here's what to do:
I'm assuming your gun is opened up, the stock tubing is cut or has been ripped off the tanks or the firing part of the hornet, and the barrels are cut into two tank sections.
Cut the barrel right where the orange part starts. You can see the line where I cut below.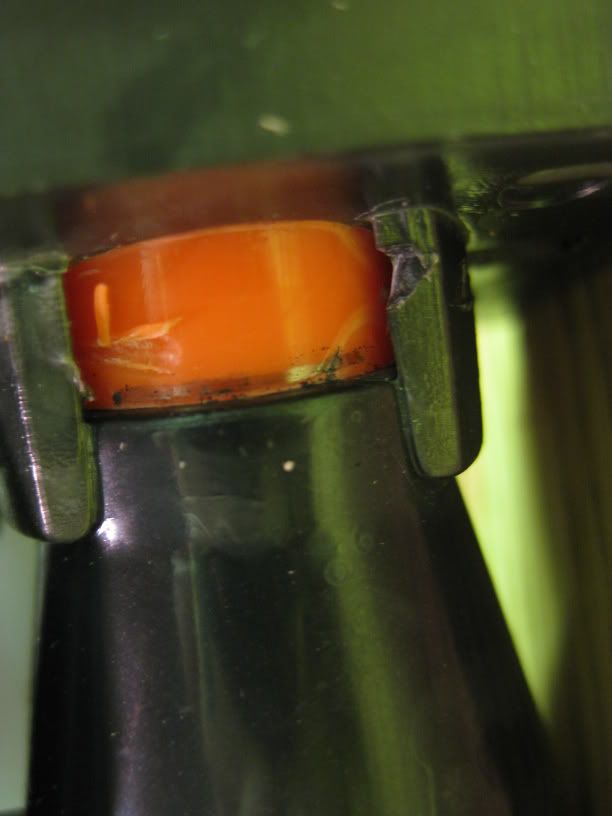 It should look like this. As you can see, I removed one of the pink, air restricting plates on one of the barrels. I was hesitant to do it to both because I fear it may start to leak. Does anyone know if it's okay to remove the pink part?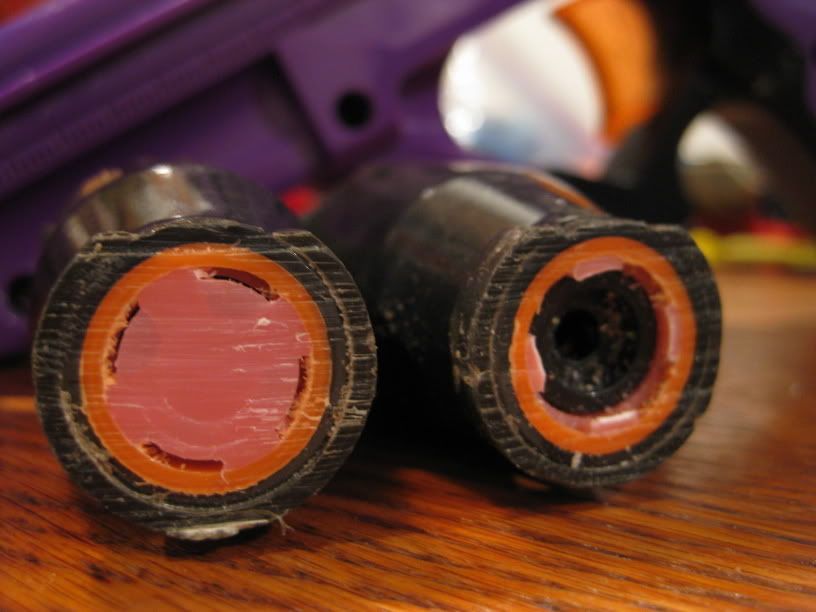 I figured out that 3/4" thinwall PVC fits very well over this piece.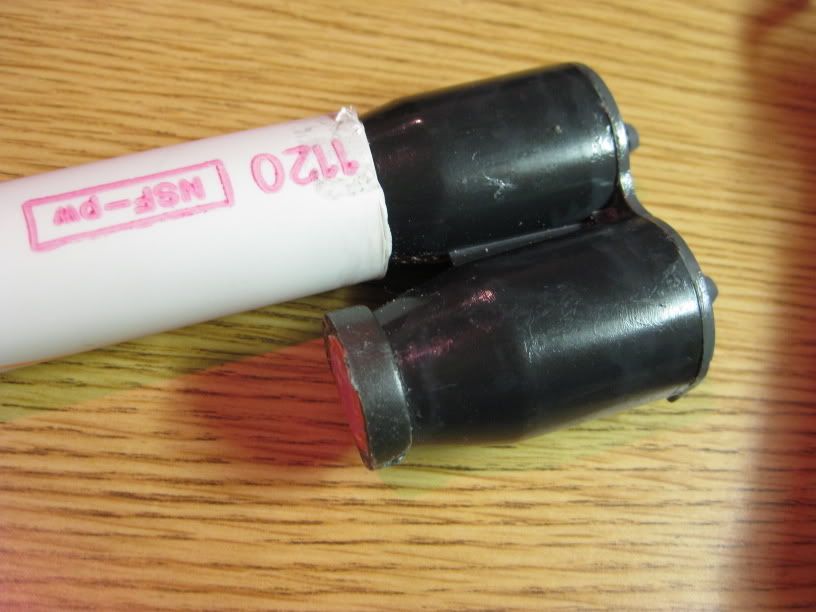 Slide the PVC over the tank as far is it will go without forcing it, and mark the tank at the end of the PVC.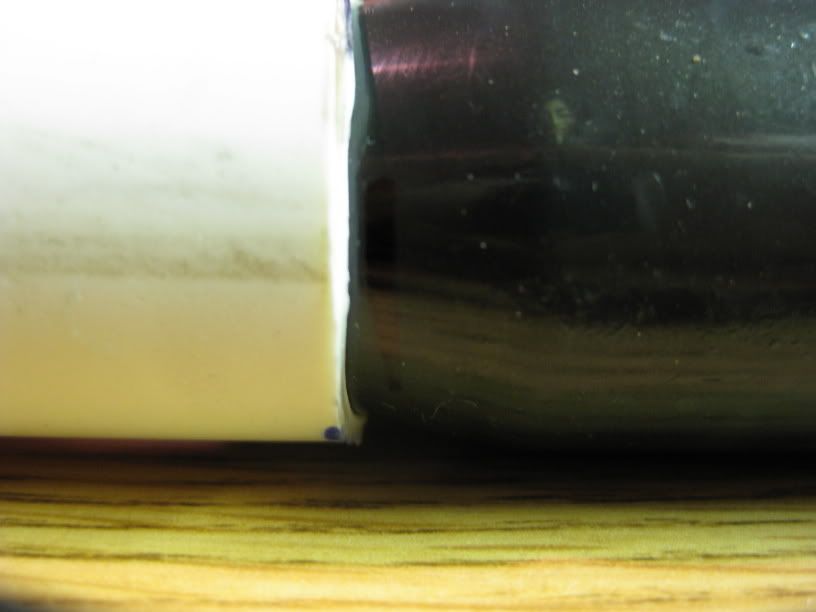 Pull off the PVC and line it up on the side of the tank with the mark. Put a mark on the PVC at the end point of the tank like this: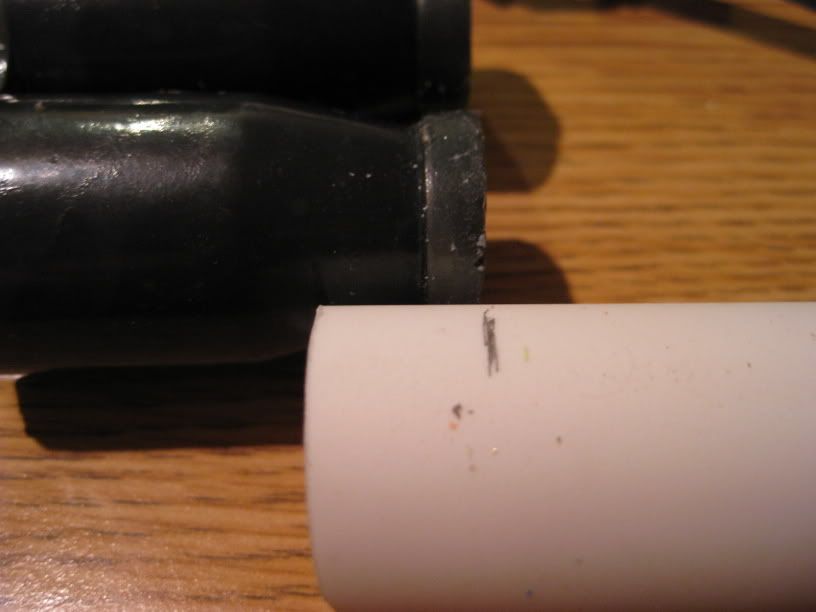 Measure 3/4" forward from the mark and put another mark there.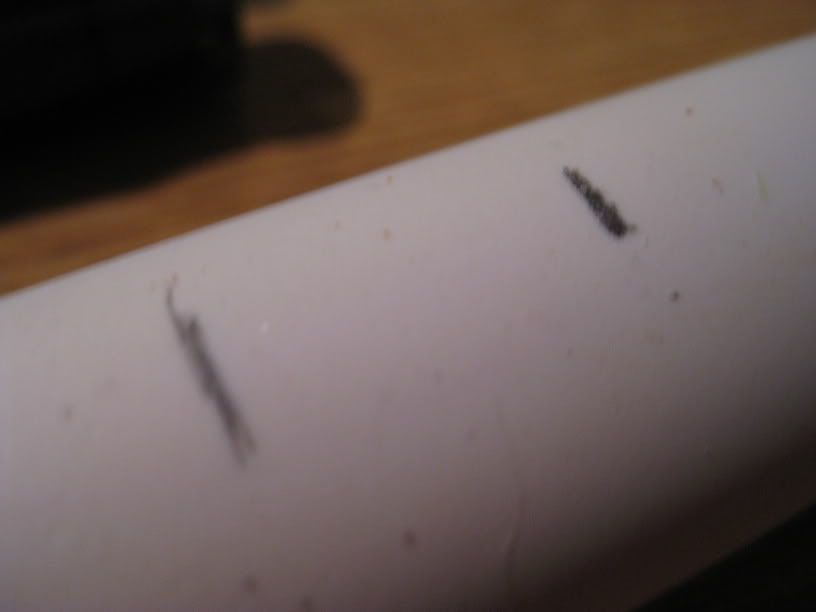 Now cut the PVC at the forwardmost mark on the PVC. It should measure out to be about 1 1/4" long. Glue the piece of the PVC onto the tank.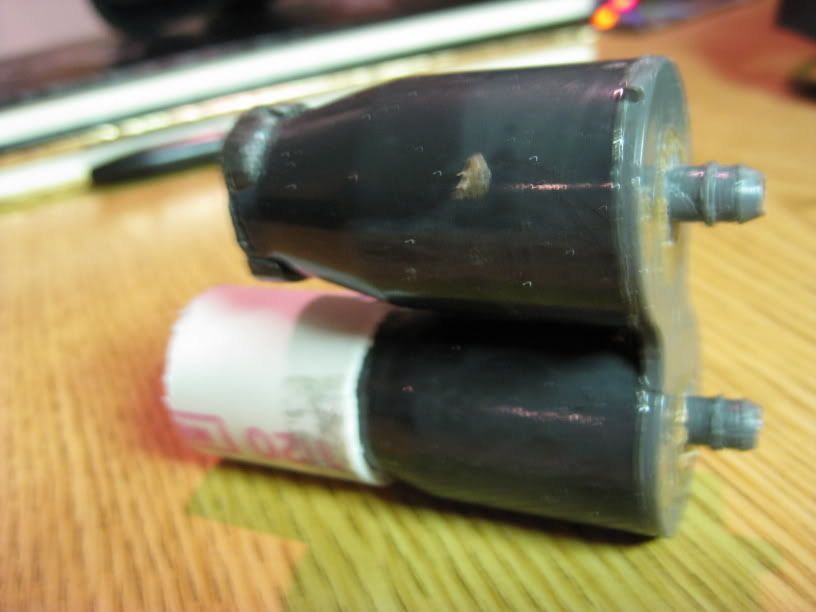 If your not using a CPVC coupler, you won't need to read further than the next picture. If your using a barrel that is nested inside 1/2" PVC (like brass or PETG), here's what to do. Take a 6" piece of your barrel material and nest it inside a 6" piece of PVC. Now wrap E-tape around one end of the barrel until it fits in the piece of PVC that's on the airtank. Now glue the barrel into the piece of PVC. It looks like this: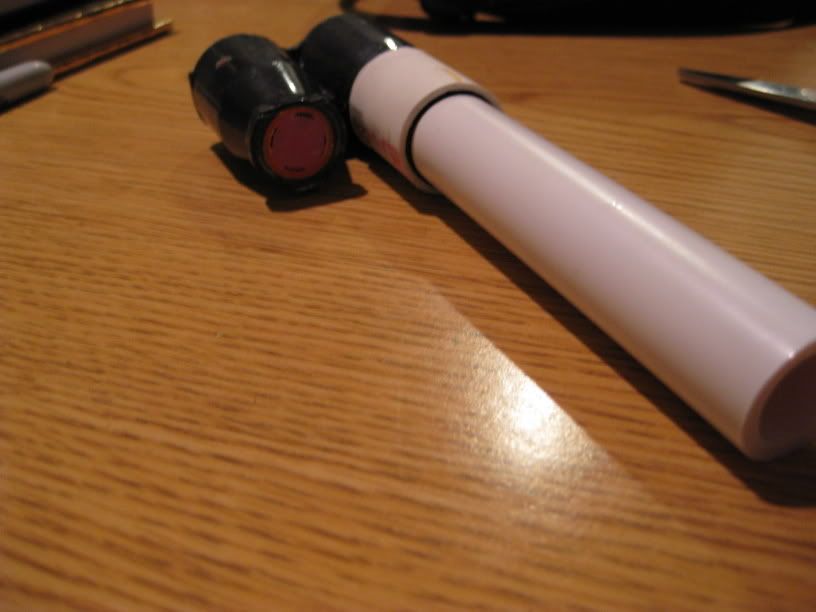 This is what to do if you plan to use a CPVC coupler: Wrap just 1 layer of E-tape around the CPVC coupler.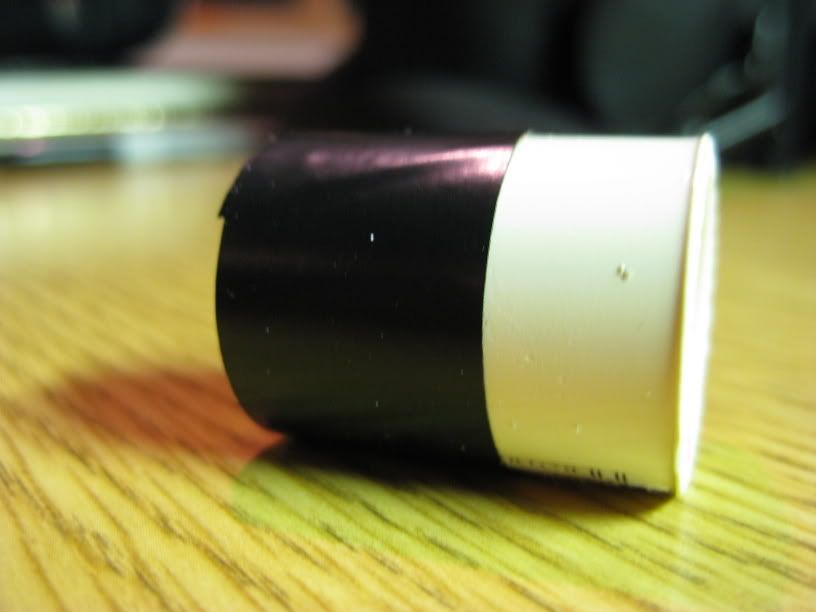 Now cut it down at the end of the E-tape, and remove the E-tape.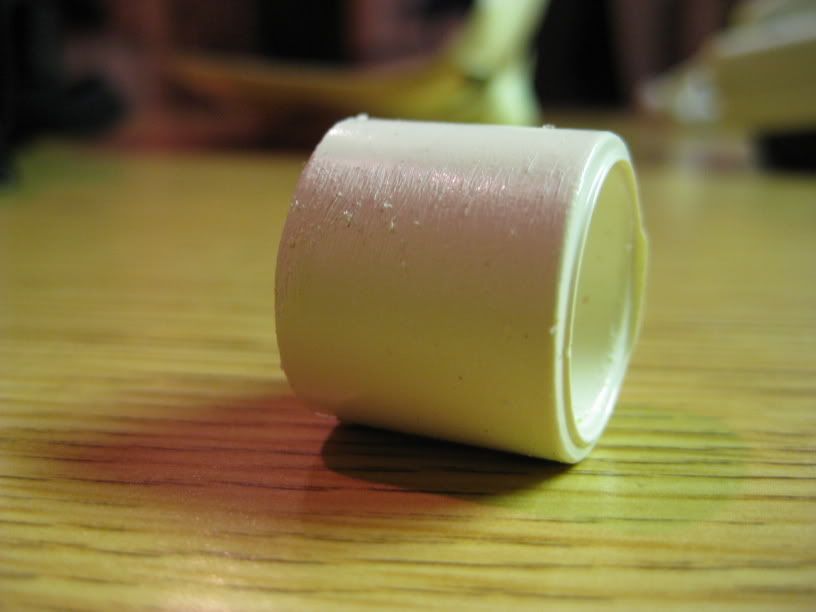 Wrap E-tape around the cut-down coupler until it fits into the PVC that's on the airtank.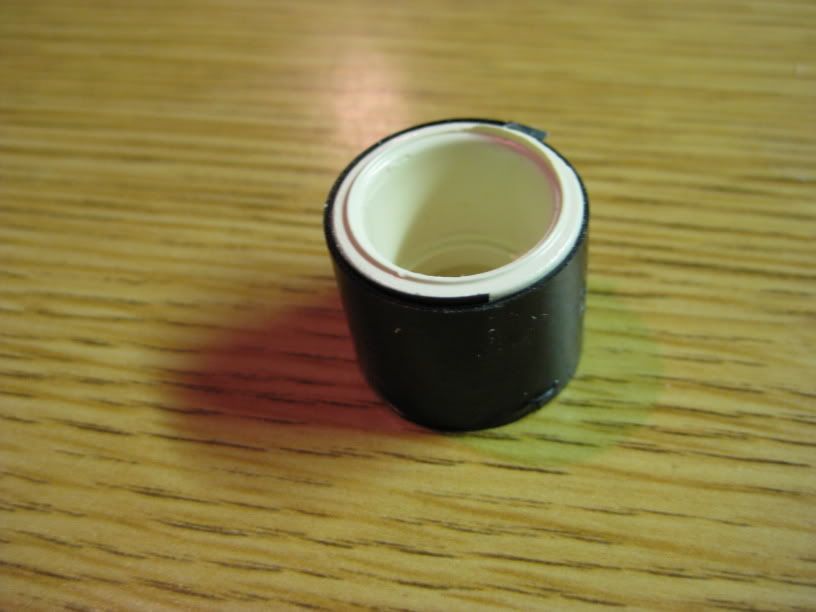 Glue it in place with something strong.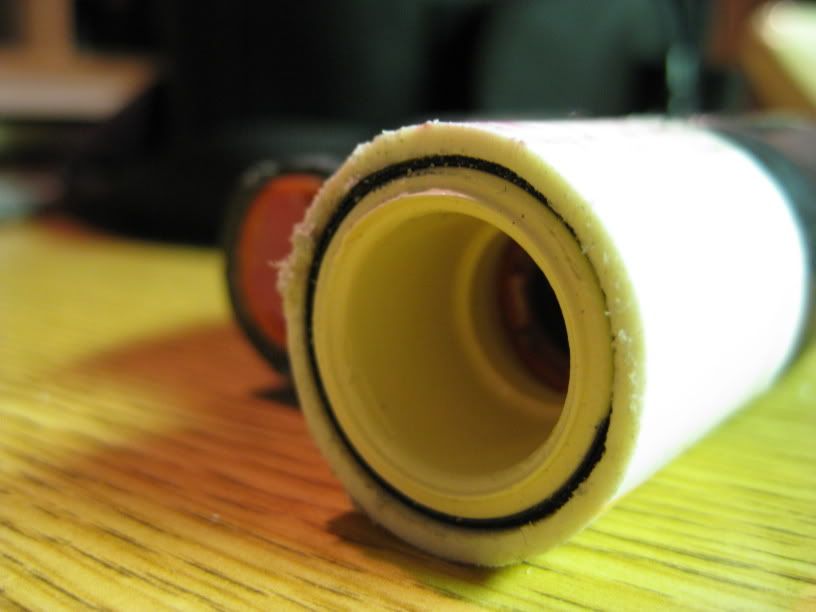 The final product:
Thus concludes this write-up.