So, I made my first Doomsayer at Christmas, and I recently had a kinda big problem. One of the barrels somehow scooted forward, and the etape curled under it, so I had to cut that out to be able to load the barrel, but because of all the goop and stuff, I couldn't get the barrel to move back without horribly damaging it. Since everything was gooped together, I destroyed most of the turret to get it apart, so I had to make a new one. This writeup gives a much easier way to put the tape on each barrel.
Instead of putting the tape around the bottom first, put the tape on the top first. The tape will go on about 7.2cm from the bottom of the barrel to the bottom of the tape, as so: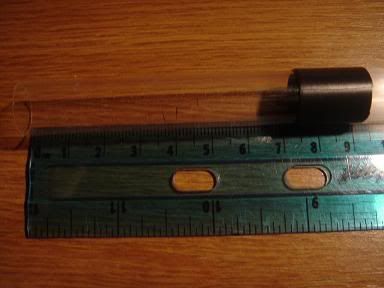 Next you need to put that barrel through the old barrel, and push it in as far as you can without too much effort: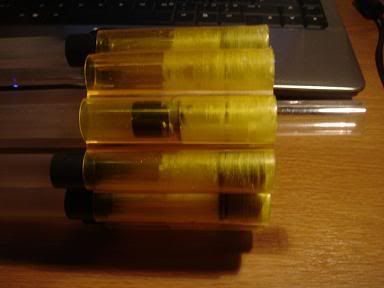 Next, you wrap tape around the part of the barrel that is sticking out of the bottom of the turret. This tape can be right next to the edge of the barrel, but because of what happened last time, I moved it up about 1/8":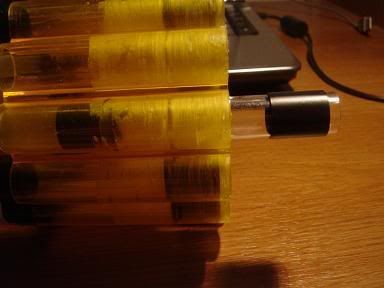 After that, just push the barrel back up to where the top tape is slightly sticking out of the top of the original barrel and repeat 11 times. This is much easier because forsaken originally put the bottom tape on before the top. That meant that you had to wrap tape through the barrels, which was quite time-consuming, especially for the final barrel. Here is also a pic of what is going in the middle of my Domsayer turret, and there are more pics and more info in my Domsayer thread, which I will update shortly.