(My apologies in advance for a lack of pics. My camera was acting very temperamental and I was short on time. As soon as I get a chance to get back home I will take lots of detail shots of the painted and assembled 'cat.)
I found a first-gen Firefly at the thrift store for $1, so I thought to myself, why not. I've always liked how the Firefly looks and how the stock feels in my bent arm, and for that price I just couldn't pass it up. It was in good working condition (though the outside screws were rusted and needed to be replaced, and the light didn't work; I yanked that out). Stock it was getting around 35-40 feet flat with just pegs and air restrictors removed. Not good at all, but I thought a barrel replacement might do it some justice.
Internals, minus ARs and posts: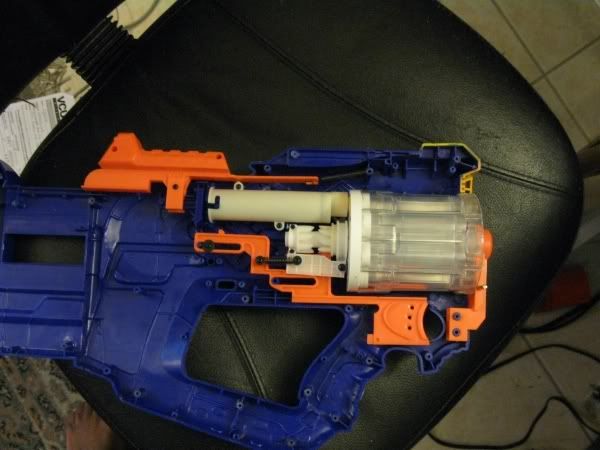 Modified Barrels: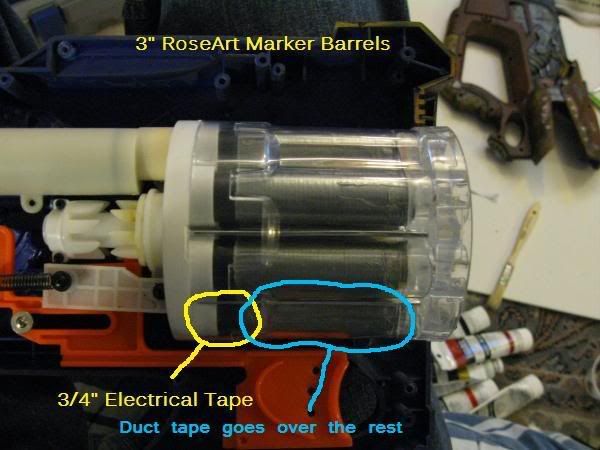 I got a pack of RoseArt markers from Target ($3 for a set of 12). I find them easier to work with than Crayolas because they don't have the dart-scarring ridges on the insides and they don't taper on the insides. They fit my foam quite well. The bottoms of the markers come off without cutting (You'll need pliers, a clamp, or a good set of teeth), and you can just toss the spongy reservoir inside, but you'll need to cut the tops of the markers off as well to form three-inch tubes. The tops of the marker tubes have ridges that will keep darts in place, but won't bruise or scar them during firing.
After sawing down the stock barrels, I wrapped electrical tape around the bases of the new RoseArt barrels until they fit firmly inside the holes of the base of the turret. (It's a solid white piece that attaches to the rest of the internals). They held fast and didn't rattle; I didn't need to glue them down. The difficult part, though, was getting them to fit neatly into the clear housing for the barrel stubs. I used my trusty Dremel rotary tool to clean out the spaces where the stock barrels used to be in order to get the new RoseArt barrels to fit cleanly. Truth be told, the duct tape was more cosmetic than anything. I had to peel it away in some places for the barrels to fit cleanly.
I also replaced the stock spring with a spring from a Tek 6 I gutted previously.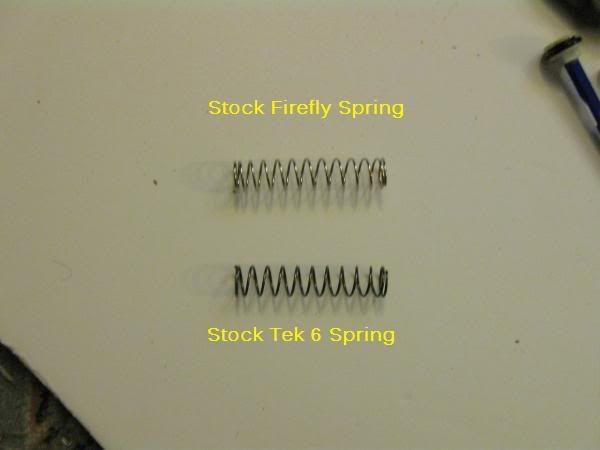 On to the painting...
After gutting the internals and sanding down the insignias on the outside of the shell, I sprayed the it with two quick coats of Testors Enamel grey primer, then two even coats of Krylon Camo Ultra-Flat Black.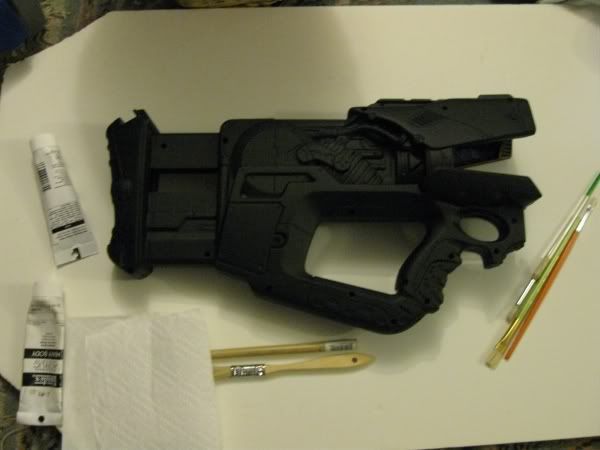 This gave me an even surface on which to paint. From there I started dry-brushing acrylic paints to the shell, beginning with the largest areas first.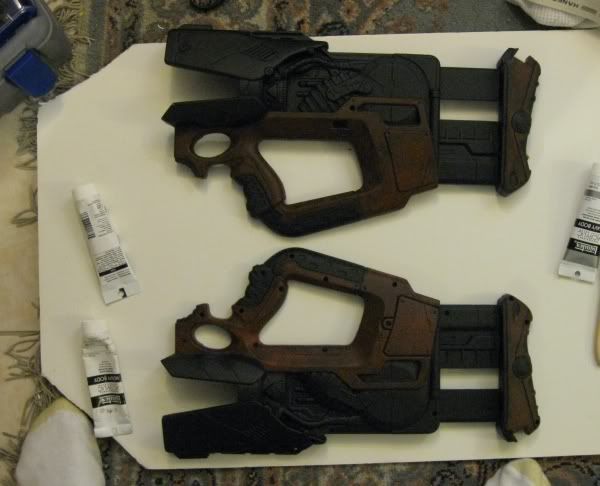 Colour 1 is Red Oxide mixed with Mars Black.
Colour 2 is Metallic Silver (Aluminum - PM1) mixed with Mars Black.
Colour 3 is Yellow Oxide mixed with Raw Sienna and a touch of Mars Black.
At this point I gave this beast some teeth, free-handing the open jaws graphics onto the turret housing with a white coloured pencil after sketching it out a couple times. I forgot about those vents molded into the shell, though, so no eyes.
Here I have started on painting the jaws using a mix of Red Oxide, Burnt Umber, Mars Black, and Raw Sienna. I didn't want to make it look too pasty or too thick, so I used a touch of acrylic matte medium.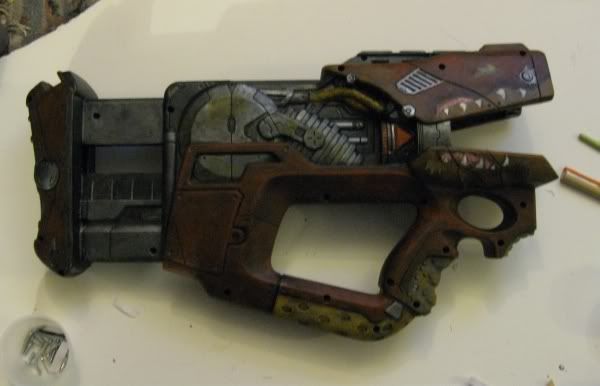 And here is the finished shell, seven hours later. To seal the paintjob, I applied three coats of Krylon Matte Finish (since a glossy coat would take away from the battle-weathered paint job I was going for).
This is where my camera died, unfortunately, and I didn't have time to replace the batteries and get good shots of the whole blaster reassembled before I left for campus. However, I did have a chance to do some range tests outdoors with foam-and-washer stefans on a cold day. This blaster averaged around 50' flat, but with better (warmer) conditions I would make a conservative estimate of around 55 feet. Not impressive by any means, but serviceable as an indoor primary and absolutely intimidating in close-quarters settings such as an office or a classroom.