First post on NerfHaven. Woohoo. I guess Iíll start it off well, with a mod, of course.
In this mod, youíll be doing a well known Recon mod: housing an extra spring. The difference between this mod and the other ones is that the stock will still be removable. Itís a simple mod that will never even allow your internals (besides the plunger tube) to see the light of day, and the materials used to make it are found in almost every house.
Inspiration for this came when I was gluing something down in school, and thought about Nerf Guns, and Crayola barrels came to mind. I though, ďHmmm. What would be a good mod for my new Recon?Ē I looked at my glue stick and scribbled down a plan. I got home that day, did it in 10-15 minutes, and loved my Recon.
Ok, for this mod youíll need:
A Phillips head screwdriver
A FAT Elmerís glue stick
A hacksaw
A miter box (optional for straight cuts)
Electrical tape or maybe duct tape
A smaller spring of your choice (canít use one much longer than 2.8 Ė 3 inches)
A quarter
A second/third generation Nerf Recon (? donít if I have second or third. Well. Just one with the full length black cover on the plunger tube, with just a small slit on the end thatíll appear orange if the gun is primed.)
1. First, before you even do this mod, I recommend doing the following mods, as
theyíre all great and will add to the overall performance of your Recon.
http://nerfhaven.com...showtopic=10436
http://nerfhaven.com...showtopic=10444
http://nerfhaven.com...showtopic=10498
I recommend also stretching your Recon spring.
2. Ok, so, youíre done all those mods. First things first, unscrew your black plunger cover off of your gun. Put it in your miter box. Saw off the VERY end of it (the end facing the stock with the small n-shaped slit in it.) Donít saw off more than 2/16 of an inch.
3. Next, grab your Elmerís glue stick. Take off the cap and twist the bottom counter-clockwise until you can pull out the actual stick of glue.
4. Take your glue stick and saw off at the red lines:
5. Punch out the corkscrew, however you can. I used a hammer and a screwdriver:
6. Next, take your two pieces so far (sawed cover and glue stick) and sand them as even as possible. Using your tape, wrap these two together tightly with several layers. And I mean a lot of layers, as in around 9. I used an electrical-type tape, but had some coarseness to it. Watch out, if you donít wrap it enough, it can actually blow the glue stick piece right off of the cover.
7. Take your quarter and place it on the end of the glue stick-piece. Wrap that with tape to close it off. You should now have a thick, longer plunger tube cover. Make sure your stock is off, and pop a spring in your new cover. Screw it back onto your gun
8. Youíre almost done. Using this diagram, unscrew these screws on your Reconís stock: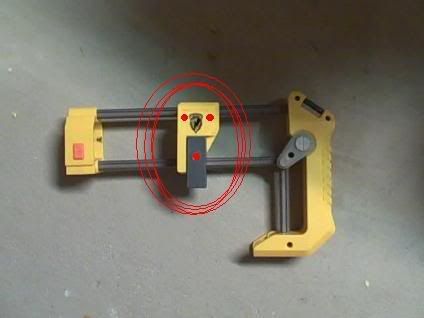 Take off that piece.
9. Congrats! Youíre done. Your stock is now removable, without getting rid of the added spring functionality! I did this mod over a normal spring add on because of its cleanliness, the no-stock functionality (as I thought that with no stock, itís cool to have a pistol-sized LongshotÖ) and it basically looking the same.
[c]~Random pictures~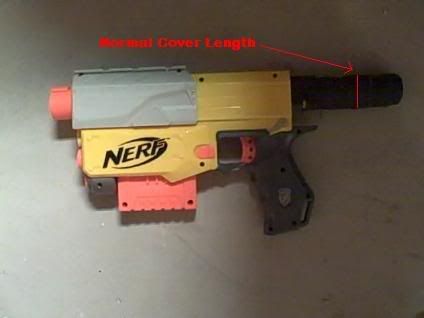 Cover in comparison to old cover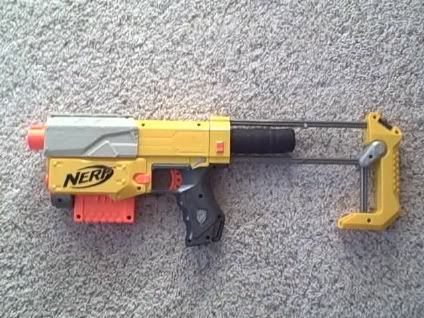 Finished gun with stock
Any suggestions to editing this mod is appreciated! Enjoy!