So, this last summer, I was messing around with a few of my SuperMaxx 3000's when I remembered that not all rotation mechs are created equally. Not even all SM3K rotation mechs are identical. This may surprise some of you, but some SM3K's have a piston the protrudes from the air tank and when pressurized, it turns an arm that rotates the turret.
Why is that such a big deal? It means the rotation is driven by air pressure and NOT the pump stroke! So, how can we use that to our advantage? Well, all you have to do is connect it to an external air source (MagStrike bladder, PVC tank, HPA tank, whatever, though I use the first two) and then it is suddenly transformed into a semi-automatic.
How do we then improve upon that? Well, we pull a ForsakenAngel_24 and slap two of them together!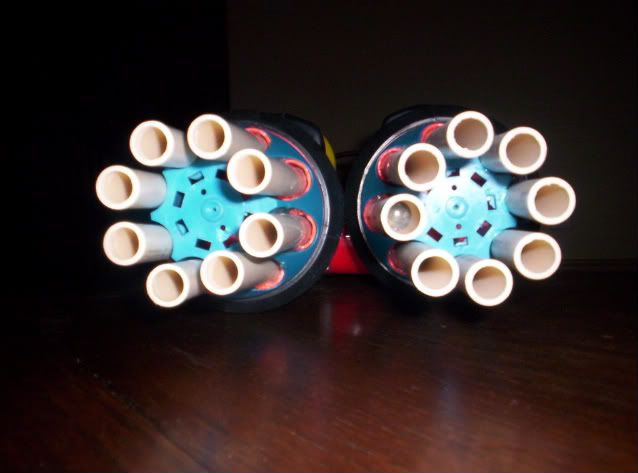 I'm not going to post a write-up at this time for this mod, but I will tell you that I can easily fire three rounds per second at 90' flat.
I normally don't post unfinished projects, but this coming Spring I'll begin some intense government training and I don't know how much time I'll have for NERF over the next couple years, so I'm trying to get a lot of my ideas posted on here.
This was conceived as part of a base-turret-defense system as these are quite large and when dual wielded, quite unwieldy (though it wouldn't be too difficult to shorten them to pistol size). The turret functions simply by placing the SM3K's on them via a loose fitting coupler (sanded out slightly) that allow for rotation left to right. They are mounted onto a length of pipe that is connected to other loose fitting PVC that allows rotation up and down to enable full range of motion. The pipe is supported by a PVC stand. There are other blasters that attach to this stand for an interesting suppression system I initially conceived a little over a year ago.
Here are some videos of my "proof of concept." Basically I just inserted a barbed tee into the line running from the pump to the tank and connected the odd end to an electric inflator.
Enjoy!
Nothing Too Exciting.
Letting the pressure build up to 40psi on my inflator.