I don't like to post things until I finish them, but if I wait until all my projects are 100% done before I post them, I will never get to show anything off. Anywho...this is an AT2K airtank inside of an NF shell. The purpose of this was to make the AT2K more holsterable, comfortable and less horrifically ugly. I despise everything about the AT2K shell. The only downside to this mod is the shortened pump, which takes 5-6 pumps rather than 3-4 to fully pressurize. Honestly though, are a couple more pumps going to kill you? No. Here she is. The NF2K: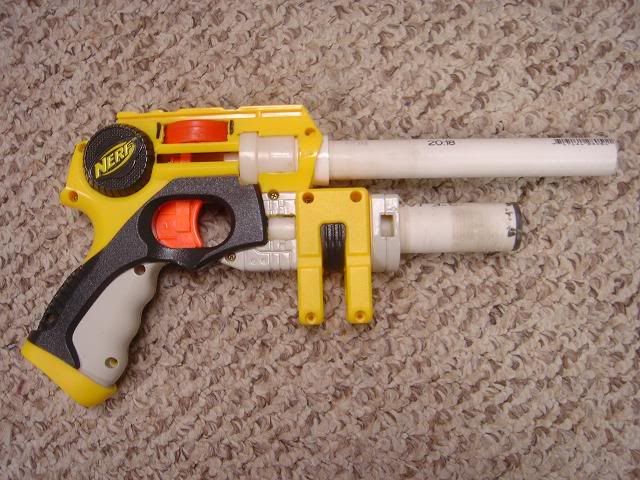 My ultimate goal is to have two sidearms: one of these AT2Ks and one NF, but they will be cosmetically modded into loose approximations of Left Head and Right Head of Cerberus from the show gungrave, but the crosses will be neon green and purple (those are kinda my colors).
The blaster is fired by simply pulling the NF trigger. The trigger of the NF was attached to the firing pin via a piece cut and shaped from the LS front-gun. The piece is fishin glued to the trigger, but isn't actually attached to the pin. The top of the front-gun piece is like a "U" that cradles the pin and is small enough that the orange piece on the pin can't pass through it.
The pump was shortened, but to keep maximum length in a tiny package, the pump shaft extends into a custom PVC/plexi pump handle. To keep the pump shaft attached, I used a dremel to shoulder a 1/4" piece of plexiglas and put a "+" in the middle of it to hold the shaft. Right now, there is just a hole through all of that and a tiny allen wrench stuck through it, but I will eventually JB Weld them together. I also took the "+" shaped piece from the AT2K shell and glued it onto the front of the orange piece which is over the pump tube. This orange piece(which is actually the trigger from the AT2K) is glued to the NF shell to keep the pump shaft from coming all the way out of the blaster.
The barrel of this thing is a ~6" piece of PETG inside of 1/2" PVC, and it is attached to the blaster via a coupler which was cut in half, so there is absolutely no dead space on this thing. The air comes out of the tank and directly into the dart. Ranges are typical AT2K ranges. Here are some pics that will hopefully make everything make sense in case I did a bad job of explaining how everything works.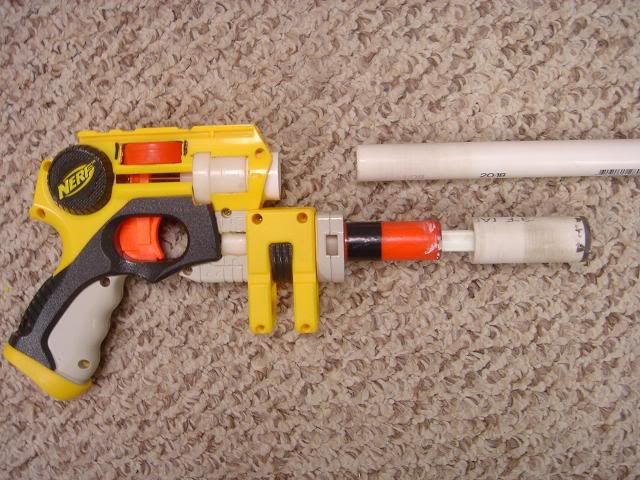 Questions? Comments?
Edited by slowguitarman, 16 January 2009 - 07:21 PM.