BitchSlayer
Bring on your singled titans. Bring on your Xbows. Whatever you chose it makes no difference. This gun dominates. This gun is ridiculous. This gun will make you cry like a little bitch.
So we all strive to make a better air gun. People talk about Oh i'm gonna go have a gun make out of metal blah blah blah... Why? The best air delivery system is already avalible. So lets start with that. The base of the gun is a Spyder Semiauto Tourney edition Paintball marker.
Simple. Doesn't need to be a uber high priced marker. Any will do so long as the barrel is replaceable. Fate had it that I came upon this one for 20 bucks in new condition. It just begged to be converted to nerf. So I wanted to convert it but its a pretty decent marker so I wanted to switch back to PB if I wanted. Easy. The only thing needed to be modded on this setup is the barrel. the air delivery system is more then ample to launch a nerf dart. Even my super heavy darts get launched a ridiculous distance.
So lets dig into the mod.
what barrel you use makes no diff. I chose to order a new barrel so that I could get one that was relatively flat on the outside. Alot of PB barrels have weird angles that will not allow well for a cocking slide. So I bought a 32 deg nyte stikk barrel.
Now since the barrel screws into the marker I didn't want to have to unscrew it everytime I wanted to load a dart. Sure that would make this conversion easy but would negate the point of having so much power on tap. I'd get diddled between reloads.
So. I started looking at Angels BBB. the deoderant clip mod on a brass breech. Beautiful. Functional. Perfect.
This was my first time cutting such thick aluminum by hand. this was a pain in the ass. By the end of this all I figured out that I could have just used my Dremmel with a thick metal cutoff wheel to slice thru the whole thing and saved a shit load of effort of cutting with a hacksaw. (will keep this knowledge handy for future projects). So its not pretty.
I made basic cuts one in back for the actual breech and one up front for the slide that operates the breech.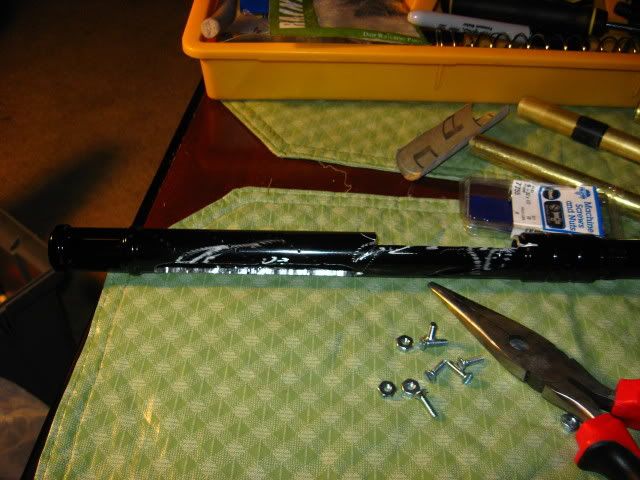 The front slide opening needs to be wide enough so you can get some adhesive and slide mech in there and still be able to move the thing.
Once the extrnal cuts have been made I put my actual barrels in so I could figure out where the cuts needed to be made. I marked off these spots with a sharpie and cut them.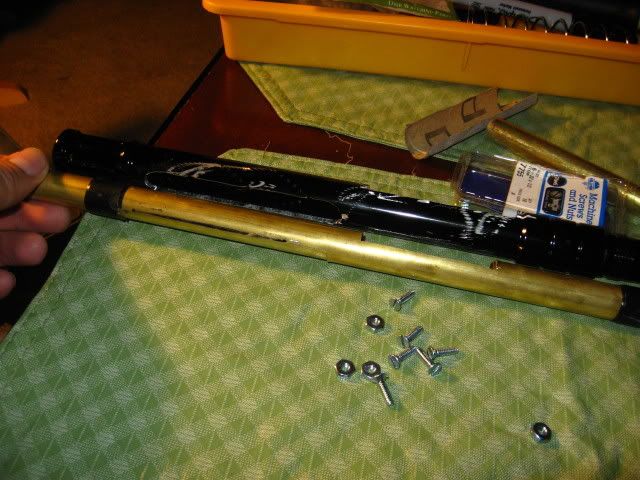 I figured it would be best to go with brass on this since it was going to be a breech in a small space that needed to be air tight and not shatter under the power of the gun.
Now I use 9/16th" brass for my barrels so that is the center of the barrel. the sliding inner peice is made from 19/32nd"s and the outer sheath of the setup is 5/8th"
Here's an example of the cuts.
the cuts on the inner and outer tubes are obvious. center I cut small lengths to give the inner barrel a fixed stability and then a center piece that will be the actual sliding part of the breech.
The outer tube I cut this way so that there would be again stability thru the whole barrel ensuring that the seal is air tight.
Once everything was lined up correctly It was time to seal everything into place.
So I put some metal epoxy on the spacers and pushed them into their places. Making sure not to get any glue on any of the moving parts.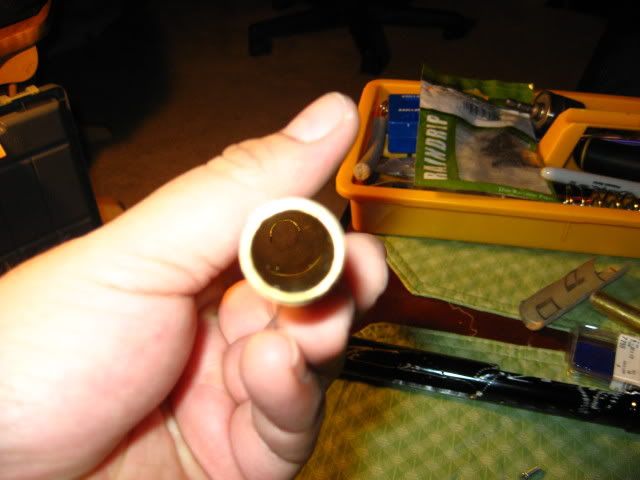 Next the tricky part of this build. The post/stand off that attaches the grip to the slide. I pondered many options here. Was about to glue a bolt to it and try that but instead went with a peice of brass that came from the cutting of the tubes. Wound it around the steel post that was intended to go thru it and then glued it in place.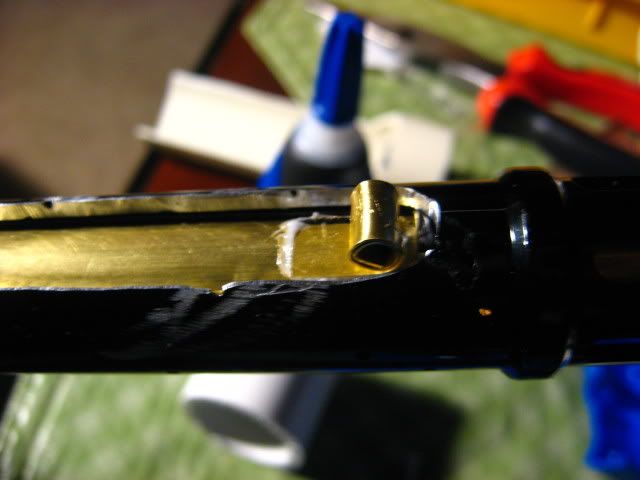 While that dries I went ahead and moved onto the clip placement.
Now the deodrant clip part is pretty obvious. Clean it out and hack the top off the lid. I used dry deodorant since the modding of it is quicker and cleaner then gel type.
A little hot glue will hold it in place while the strong stuff sets.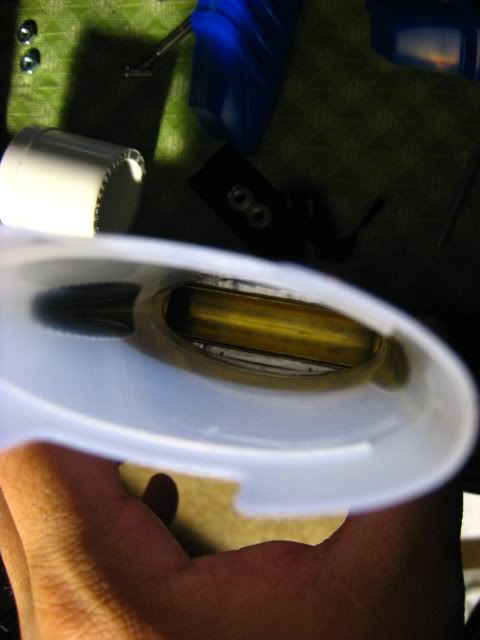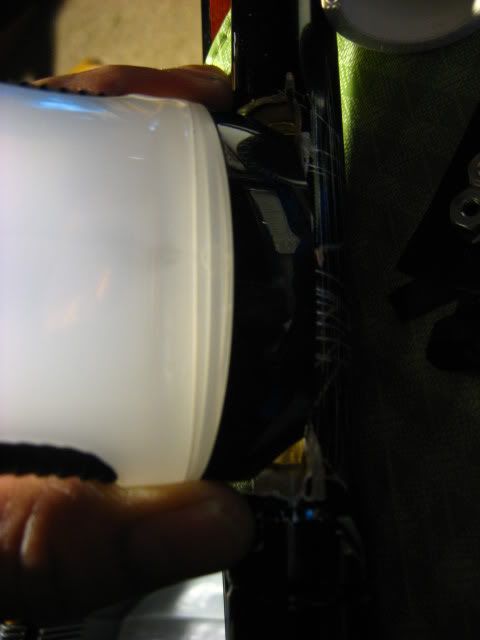 And finally the actual slider. This I stole from a POS 6shot dart gun I got at Walgreens a while back. That gun finally came in useful.
Great!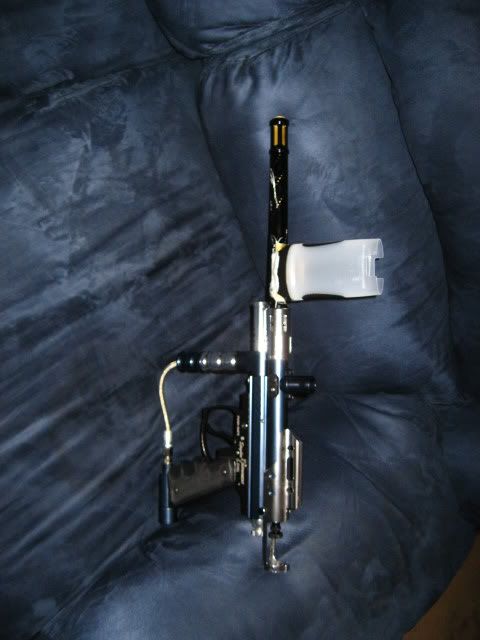 Edited by Blacksunshine, 09 December 2008 - 12:28 AM.