I just thought I'd share with the community my standard side-arm. For those of you who don't know, I usually supply the entire arsenal for the wars I host, which bring in anywhere from 10-20 guys in their twenties. The standard issued blasters are SM1500's and AT2K's with NiteFinders for sidearms. Here is a basic description of what I do to my NiteFinders. I don't know if anything is original, but I came up with my internal coupler independently (years ago) and I'm quite fond of it. Here's a pic of a few of 'em:
And a (very) simple write-up.
1) Cut away everything until the shell looks like it does in the picture.
2) Open her up.
3) COMPLETELY remove the AR assembly
4) Cut a 1/2" CPVC coupler in half and super-glue it inside the plunger tube (you may have to do a little sanding to get it to fit just right, and roughing up the plastic helps the super glue bond better anyway). It should look like this: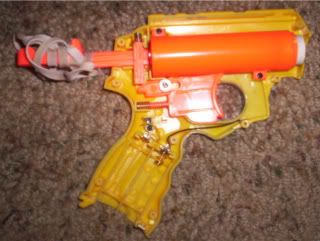 If you look down the barrel, you will notice that there is absolutely NO dead space. The base of the dart sits flush with the resting position of the plunger head: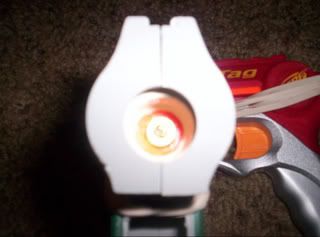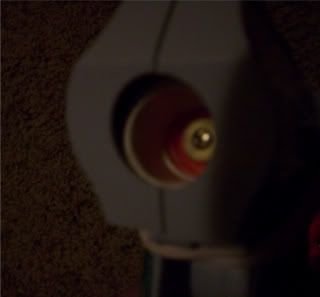 As soon as the coupler is in place, you'll want to make sure that it's in straight by inserting a barrel into it and using the barrel as a lever to move the coupler around a bit until it's in there perfectly straight (to gauge this, just look down the barrel to ensure that it is straight).
For the actual plunger head, I add some e-tape for a tighter seal and replace the O-ring. I then lubricate it with mineral oil. I've tried silicon spray and grease as well as some other lubricants, and mineral oil seems to allow for the greatest plunger acceleration.
After the glue is dry and the plunger is back in the tube, reassemble the blaster and add a few rubber bands. You may need to sand/cut out the opening that goes around the barrel just a little so that the barrel can easily slide in and out of the coupler (if you put it on perfectly straight this isn't necessary; just check to make sure). Ranges are around 80'.
The two most notable things about this mod are the complete elimination of dead space and the compact nature of the couplered blaster. We often see minimized NF's but rarely with an "invisible" coupler.