Hello everyone. As you can teel by my post number, I just got validated. I plan on posting an introduction thread soon enough, but I thought I would contribute something (possibly) usefull first. I have been too lazy as of late to go and purchase any new barrel material. I also do not currently have the resources to apply new barrels if I had said material. So I came up with this:
That material for the barrel extensions would be paper.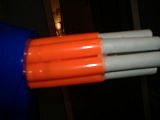 On my new AT3K. After I drilled out the God-awful Air Restrictors, the darts would not hold in there. Here's how you do it:
1.) Find a nice piece of paper. cut it to a desired length and wrap it snugly around the dart.
2.) Hot Glue the seam to prevent air loss from the side. Apply hot glue to the bottom rim.
3.) Insert into barrel and wait for it to cool.
But you probably knew that. It's really easy. I did it on my BBB (before it went broke-dick), and it worked great. Now, I have it on my AT3K and my:
Titan. And it works surprisingly well. But I will make a topic for that later. Surprisingly, it works wonders. Here are some more pictures:
Hot Glue at the base.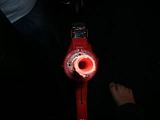 Buisness End.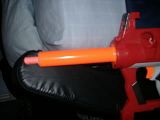 With reinforced cover.
So there. I hope you guys find it useful. Seriously, give it a try. It does work well for something so unusual.
Thanks.
-Dan