This mod has been done for a couple of months, but I have been too busy to post the writeup. Now that I have a weekend of vacation I can post my newest creation.
I present the Tsunami Scattergun, SG-7.
--------------
Introduction
--------------
Ever since I first started using my first modification, the Absolver Scattergun in my weekly nerfing, I have come to love its ability to sweep a hallway from fifty feet. It did, however, have some pretty considerable drawbacks. It took forever to pump, made a horribly loud noise, was rather large and heavy for a single shot blaster, and making more would put me thirty more bucks in the hole.
I solved these problems by using a Buzz Bee Big Blast.
The Buzz Bee Big Blast is basically my favorite blaster ever. It is small, light, quiet, easy to minimize and modify, easy to pump quickly, and very cheap. I got mine from Five Below for only 5 dollars. Note that this is basically the same functional mod I did to my Titan, only with much cleaner and more war-friendly results, with only a modest decrease in range.
-------------
Instructions
-------------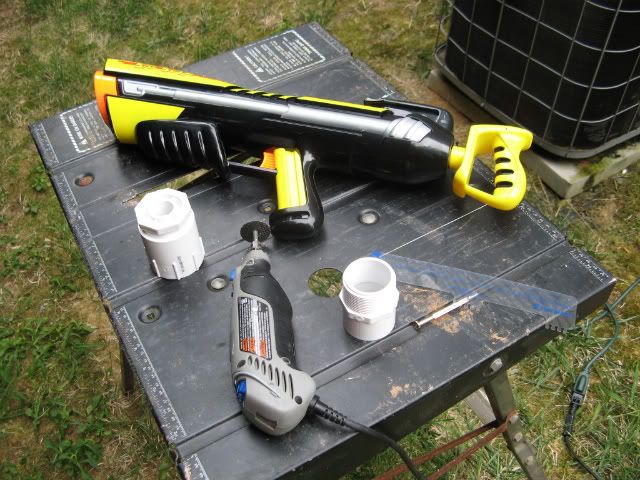 Nothing like turning a 5 dollar nerf blaster into a total beast. Here's what you need.
1) About 50 centimeters of 1/2" Hot/Cold SCH40 PVC. I found that the long pipe that Lowes sells work just fine, they are cream-colored and have thin walls. It is important that the wall of the pipe is nice and thin. Dart Taggers are a tight squeeze, but they fit all right with a little twisting. You are eventually going to need seven lengths, each about 6.5 centimeters.
2) You need two PVC fittings. First:
a)1 1/2" Slip/Thread PVC adapter, female
B)1 1/2" X 1 1/4" Slip/Thread PVC adapter, male
3) A hot glue gun, with plenty of hot glue sticks. Plumbers goop works fine too.
4) A dremel. You will need a cutting and a sanding bit. A hacksaw and sandpaper will also work.
5) A pair of scissors.
6) A broken, old dart to cut up.
7) Epoxy or Plumber's Goop.
8) About five centimeters of ¾" PVC, and expanding foam (optional)
Step one: The first thing you must do is construct an Absolver-style shotgun shell. Follow the URL to see the previous modification I made that use them:
http://nerfhaven.com...showtopic=10831
Directions on how to build them are in there so that I don't have to take up space and time rewriting everything.
Some members have since messaged me with some questions. Here is a little faq to help people so they don't have to wait for a response from me:
Q: What type of barrel material works with this? It looks like a pretty tight fit…
A: SCH 40 ½" Thinwall CPVC. PVC is much too large. PETG or brass is also really thin, so those might work too. A tip I'd suggest is to go to the hardware store, select the adapter you want, and try to fit as many ½" CPVC pipes as you can into it. That way you find out how many will fit before you buy anything.
Q: What coupler do I need? Can I cheat on the size, and fit the same amount of barrels in?
A: No, if you plan on making the same thing as me, it is best that you purchase the exact same size fittings.
Q: Screw-on fittings suck! Can't slip couplings be used?
A: As far as I know, yes. I chose to use screw-on fittings due to personal taste. You are encouraged to make your shells using slip fittings. It should work just fine, and might help you reload faster.
Step two: Grab that Big Blast, and dremel off the orange ring that keeps the shell together. Mine was glued on, and it simply snapped off with a little cutting and forcing. Don't worry about harming the shell, you are going to cut quite a bit of it off later.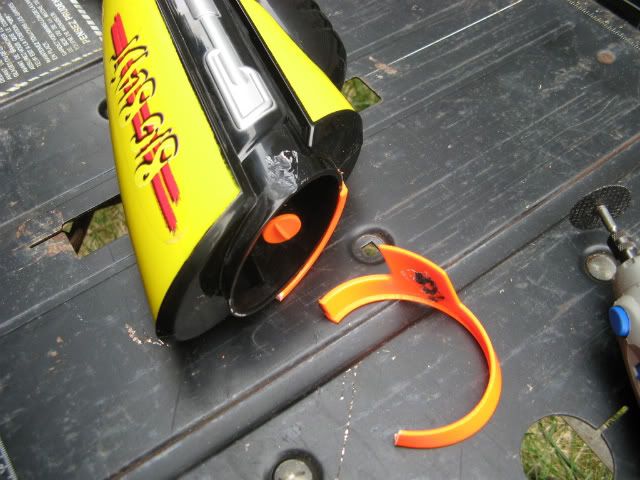 Step three: Open the blaster up, and take a look at it so that you remember how it goes back together.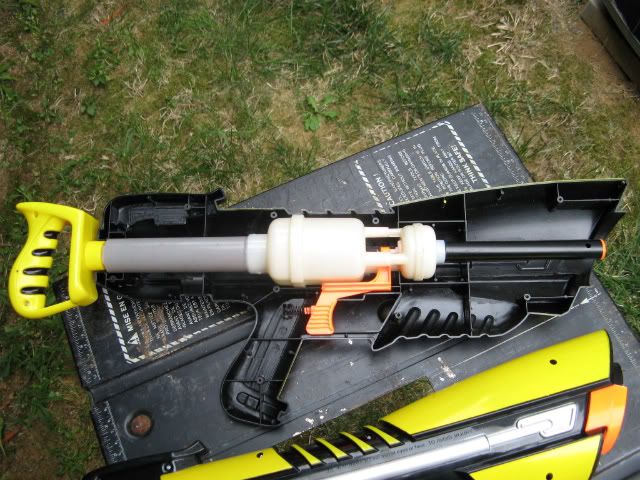 Go ahead and pull out the internals and cut off the black stock barrel, all the way down to the white plastic. Don't cut any farther than that, or you risk damaging the orange tank seal. If you want to be safe, leave a little bit of the black stock barrel on. It should not matter much.
Step four: Step Four and Five are optional. This was a successful attempt to eliminate dead space in the male fitting for increased range. Grab your length of ¾" PVC. Cut it down so that it fits into the male adapter, according to the picture. It should be just as long as the adapter is.
Step five: Fill the space between the pipe and the adapter with your favorite expanding foam. I didn't have any so I just grabbed a little Styrofoam toy putty I had lying around. Do what works for you.
Use hot glue to make sure its secure and airtight.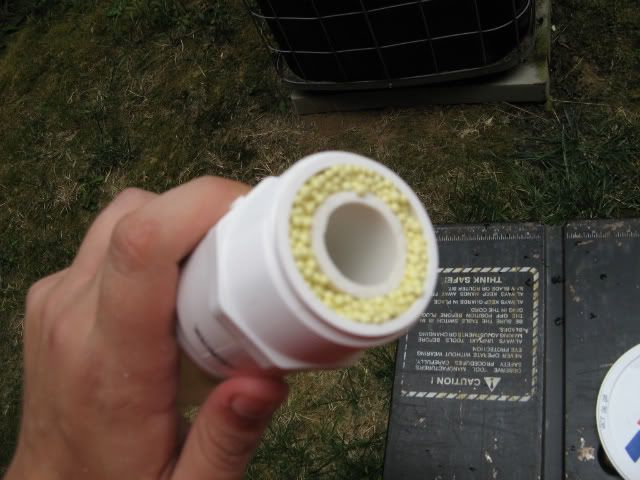 Step six: Oh no! The adapter won't fit in the stock shell at all!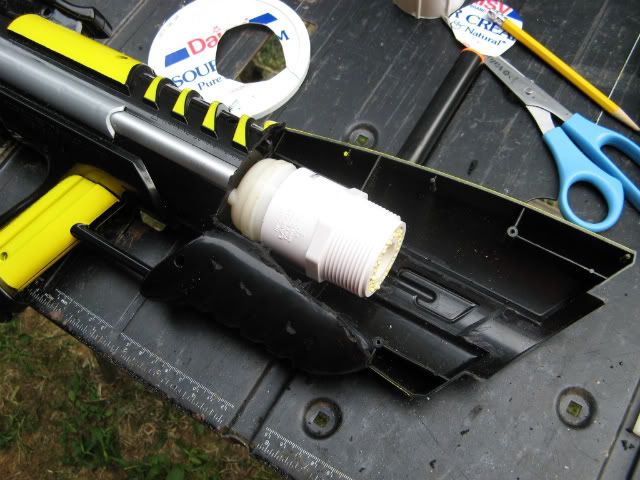 We'll have to fix that.
Using the picture as a guide, cut the shell down using your dremel. Admittedly, I was pretty heavy on the cutting, so that I wouldn't have to measure and trace the adapter and cut the barrel accordingly. Not only is doing that a huge pain in the butt, but getting it exactly right is difficult for me because I'm still relatively inexperienced with dremel work. The current minimalization cuts a lot off and exposes part of the internals, but requires less precision tracing, cutting, and measuring. It also makes the whole thing a bit lighter than other BBBB mods.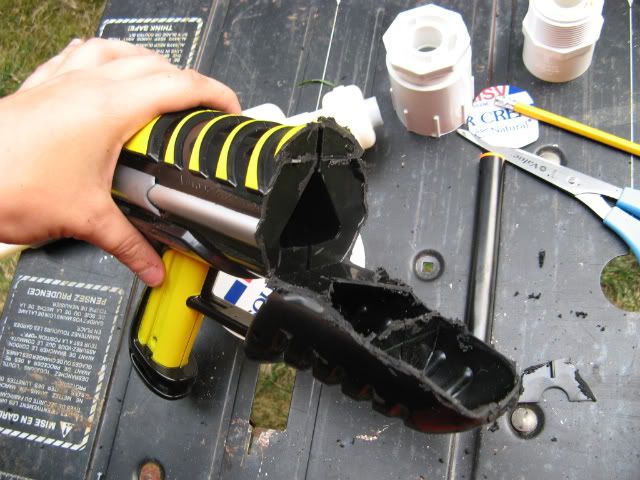 Like all dremel work, sand it down after cutting.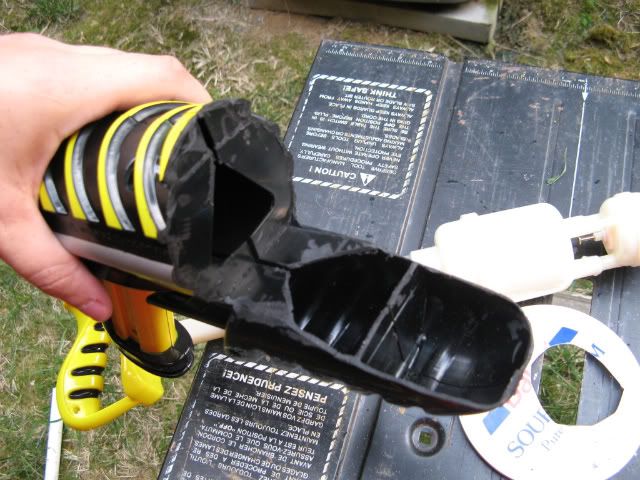 Step seven: Now that your shell is cut down to a manageable size, it is time to glue the male adapter onto the internals. You MUST use epoxy for this. Do not try hot glue, because it is not nearly strong enough to hold the weight of the adapter and the shell onto the tank.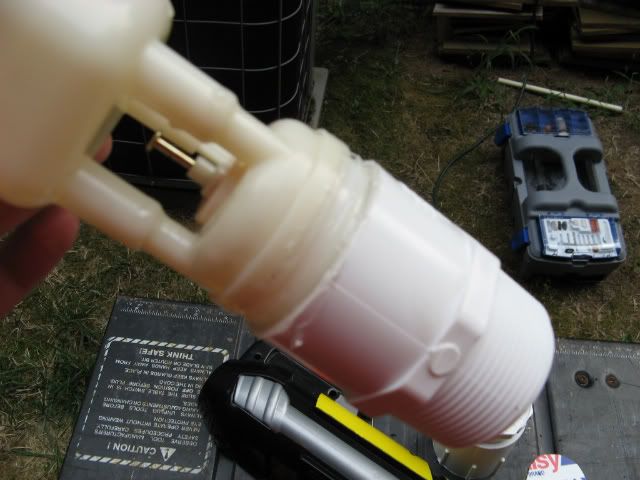 Take a deep breath, stick it on as straight as you possibly can (it fights right over it, so it isn't too difficult) and glue it into place. In the image, hot glue was used. I learned the hard way, so I'll say it again: Do NOT try using hot glue for this step. Goop or epoxy is your friend.
Step eight: When everything's secure and dry, reassemble the blaster. Before doing this, you will need to use hot glue to secure the internals to the shell. You must glue the tank to the shell because it will move around when you pump it, making it impossible to use. Don't freak out when you see that a little of the tank is exposed outside the shell. That is intentional.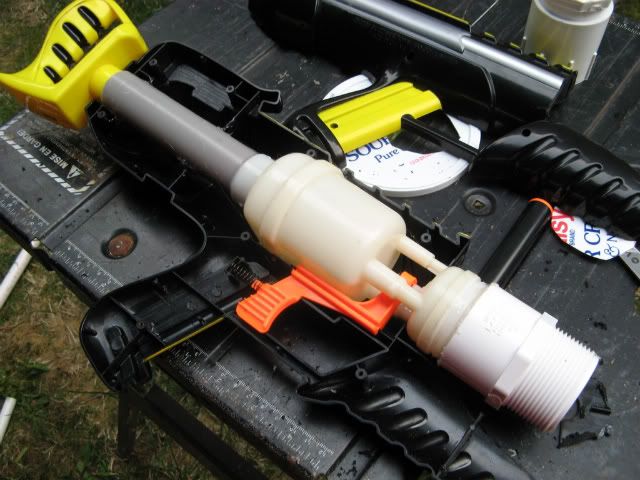 Step nine: Screw on the shell you made earlier using the instructions in the other topic, and its ready for test firing!
Ranges are remarkably similar to my Titan modification. Part of this is because I'm only using stock darts. Your mileage will, of course, increase if you use stefans and longer barrels, but have fun ramming seven darts down the barrels before every shot. Using stock taggers, it reaches approximately forty feet flat. I did not plug the pump, so doing that will also likely increase your range as well. Keep in mind that this mod is not designed for high range. The spread of this thing is ridiculous. If you are within range, you almost can't miss.
There's also a hex bushing in a 1/2" adapter in the materials pic. You use that attachment for singling by sticking some 1/2" PVC into it. It will fire a stefan at standard modded BBBB ranges, which is about 90 feet.
Here is the obligatory Youtube slideshow, with a video of it being pumped and fired.
Thank you for checking out my newest mod, and may you have as much fun with it as I have.
-Bendy
Edited by BendyStraw, 11 October 2008 - 05:30 PM.