First off, it's strange to be back. Last time I posted was at least three years ago, mainly because of this,
http://nerfhaven.com...?showtopic=3916
.
With that aside, here is my finished product. I'm not going to write a tutorial up for this because there isn't a whole lot to explain. Simply took the innards of a AT2K and placed them in the Rapid Fire Tek shell. With a few minor problems solved and tons of dremel work and hot glue, it is complete...
Some inside shots: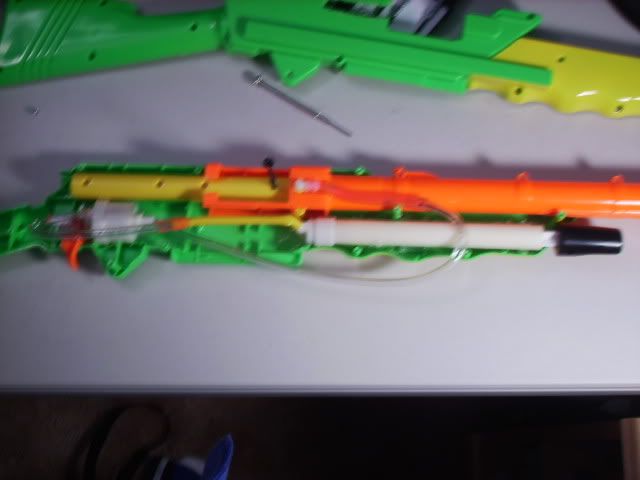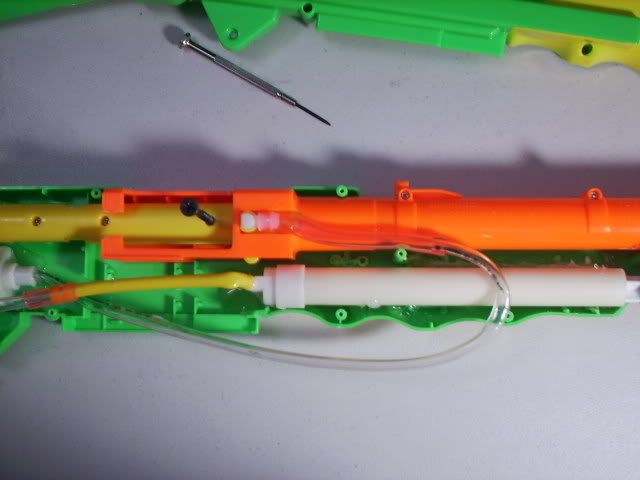 You might ask "Why would you want an Air Tech 2000 in a Rapid Fire Tek Shell? Well, for four reasons. One, cosmetically it looks nicer. Two, it has a long barrel which is tons better for accuracy. Three, it has a clip! What else could you possibly want in a snipef rifle? And four, I am partial to pump guns, since they can be modded much more easily and have better ranges. A scope and a paintjob may be a later addition...
Ranges are the normal AT2K ranges. Plugged the pump with hot glue, removed the the fluid tank and that stuff. The shell system is still in place and the bolt is worked by a long screw that I attached into one of the existing screw holes.
A problem that still exists is that the screw can't be moved fully back unless the clip is removed, but it is still a minor problem so no real worries there.
Feel free to post questions and constructive comments.
Edited by Pico10, 04 October 2008 - 11:58 AM.