The point of this project was to see if 3/4" thin wall would make a good plunger tube. The answer was kinda. This gun isn't quite finished since I need a better spring, better clothespin, a CPVC end cap, a 3/4" PVC 45* elbow, and a better barrel assembly.
Here is the gun so far: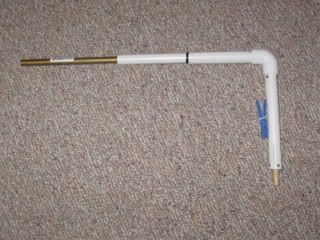 It's probably been thought of and done before but this was just a test of CPVC fittings in 3/4" PVC.
Currently the plunger is a 1/2" dowel hammer into CPVC. On both ends of the CPVC there are coupler. This is the first improvement that I plan to make. I want to replace the dowel with CPVC, the couplers with end caps and get a better O-ring since it is too stiff for a spring gun.
The barrel is straight forward I think: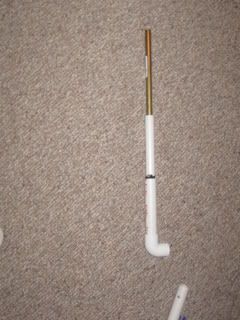 A 90* elbow, 3/4" thin wall, SCH. 40 1/2" and then 9/16" brass. both the brass and 1/2" are wrapped in electrical tape to improve the seal. I want to replace the 90* elbow with a 45* elbow and find a 3/4"-1/2" bushing to lessen the dead space.
I'm kinda pleased with the gun considering there are a lot more improvements to be made and it's still getting 20'. I am hoping to finish the improvements this weekend and have a new one built from 1" PVC next weekend. The only dilemma is that my basement is being redone and that is where my workshop is. I will try to finish these as soon as possible and post the results. In the mean time some suggestions would be appreciated.
Edited by Foam_Shooter, 24 September 2008 - 07:29 PM.