Hi Guys
A while ago I asked if it would be possible to add a pressure switch to the bladder of the magstrike to show that the bladder is full. (I got tired of counting to 55.) It works! well, it turns on at 30 pumps (two clips). It is a simple circuit. Switch,Light,and Power. I used scrap parts for everything- The switch was from the side buttons of a 20Q(the cheap hand held game at wallie world for $15). They are a little hard to describe so I have added an image.
No clue were to get it other than a 20Q- I added a little bit of aluminum foil over it so when it is touched it completes the circuit.
NOTE: YOU CAN USE ANY MOMENTARY SWITCH-this is all I had so I used it and it worked.
The little LED can be nearly any LED. I placed mine on the back of the yellow cap on the frame. The only disadvantage is that you can't see the light as you are pumping, so try to put it on the top near the clip hole.
The batteries are two AAA, they last days on my 12 LED flashlight so I figured they could power only one for years.
Note: I used a 2 AAA battery holder out of the 20Q-It worked well for me after a few cuts.
A picture of how everything is placed: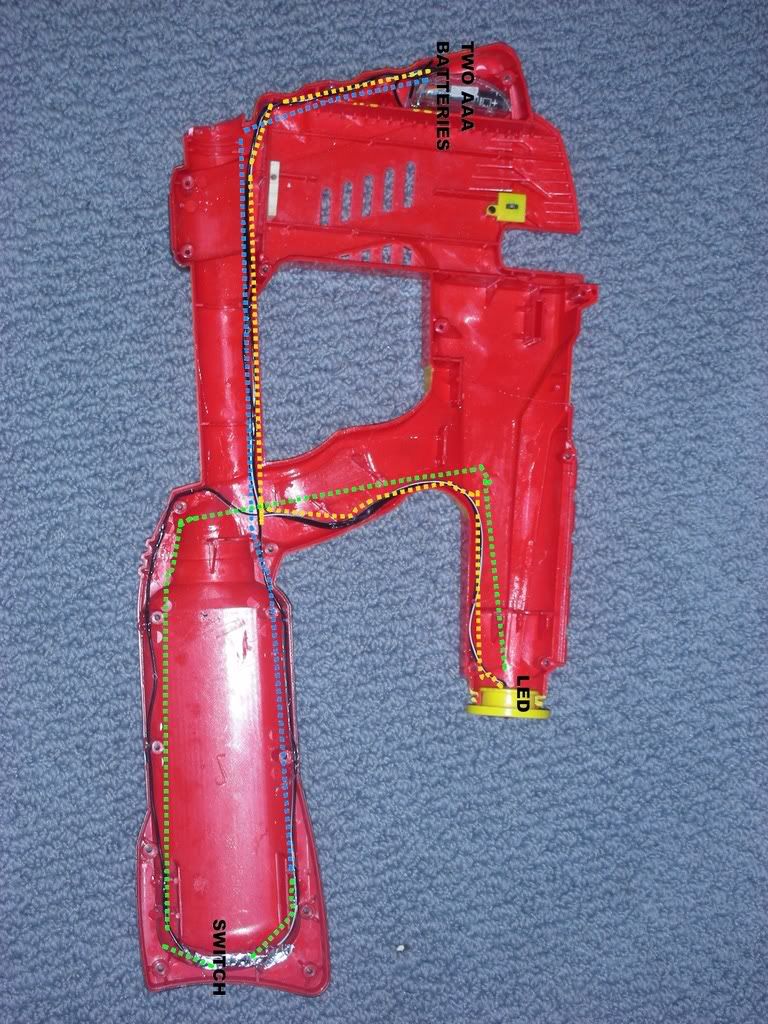 Note:E-tape makes everything look sloppy, so I used a drop of hot glue here and there.
Note: the wires need to have places cut for them to fit-they will get pinched if you don't do this.
I have a video too! its a little fuzzy but you get the idea.
Its a little short but it isn't that difficult.
Thanks!
Orogomi Ninja