The new nerf eliminator is out!!! But contrary to most peoples belief it is called the "Elimination Game" instead of the "Office Eliminator". And this gun is definetely geared to adults or teenagers. Due to the fact that it says to eliminate "Your Ex" on the box (That would be dorky).
Page -http://www.hasbro.com/nerf/default.cfm?page=viewproduct&product_id
From The Site
"Bring the dart battle anywhere at any time with the NERF ELIMINATION Game. Be the first to track your target, but be on the lookout! In the game of ELIMINATION, someone else is always on your trail! Grab onto your NERF ELIMINATION BLASTER. This palm-sized blaster shoots whistling darts at your target. Keep one dart locked and loaded. The other can be stored in the blasterís handle for quick reloading. Itís the ultimate game of stealth dart combat and itís up to you to be sneaky, or be eliminated!"
Pics!!!!!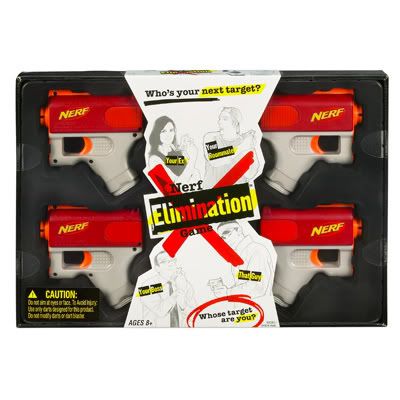 Can't Wait to get them!!