EDIT- TANK IS COMPLETED! Scroll farther down for pics. Write up is coming
I have a plan to build (in a way ) a simplified and less expensive version of CS 's LPA tank. I would use this tank on my magstrike only. This tank would let me shoot alot more shots and give me the option of using a double clip.
My plan for this build was to use 1.5'' sch 40 pvc as the tank. Then on one side of this 1 foot or so section of PVC goes an end cap. A bike pump/shader valve gets drilled into the endcap and is made airtight with Plumbers goop. On the magstrike i would connect a coupling to the flexible tubing that comes out of the trigger valve , I would then attach more flexible tubing (about a 2 foot section) to the coupling then attach it to the tank. I would pump up the tank with a bike pump via the shader valve. Then when I pulled the trigger of the MS the air would be let out from the tank to the tubing that connects into the magstrike tank.
Drawing ...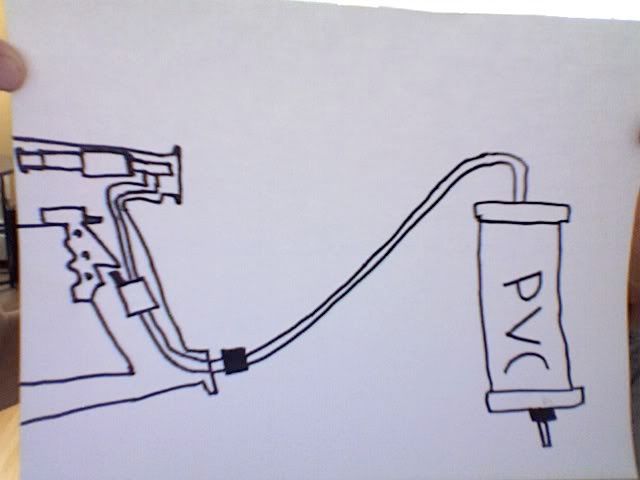 Now for questions.
#1- Would I be able to pump up the tank with out the tubing bursting , considering that the air will be able to flow freely from the bike tire valve to the magstrike trigger?. I would plan on filling this tank up to around 65 psi.
#2 What would the best way be to connect the flexible tubing to the 1.5'' sch 40 PVC tank?
Will those of you that have experience with these kinda things please help me out.
Edited by jackster57, 30 July 2008 - 11:06 AM.