This is a quick and fun little project that started as a joke. The name comes after I ended up trashing the case of my titan more than a year ago and was left with only a pump and tank. "I just don't know" was all I ever thought when I looked at that junk heap. Until now.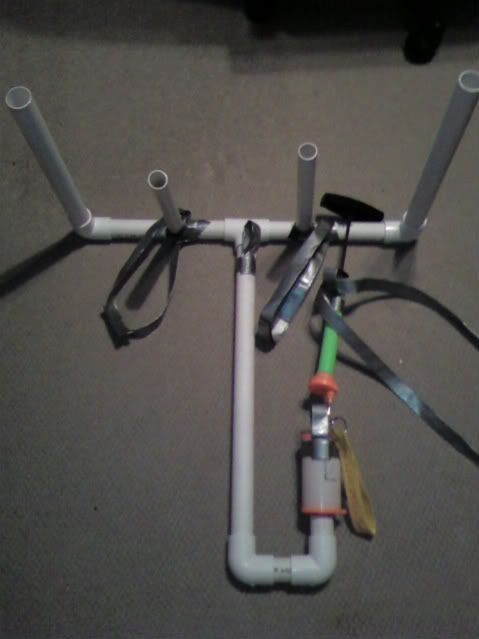 First of all, the quality of this images probably is a little sub-standard because I took them with my phone.
I would only recommend doing this if you have a titan without a shell. No sense in ruining a perfectly good titan. Basically, I hooked the internals to a simple pvc system and strapped it onto my back. Crazy huh? The final product is designed to shoot two sets of three darts from each barrel with a 1" foam sabot behind them. Just to clarify, the two inner pieces of 3/4" pvc are NOT barrels, but shoulder supports.
Before you begin, make sure you have:
-Titan (duh)
-duct tape
-1 key ring
-metal wire
-E-tape
-Plumbers Goop
-velcro patches
-replacement pump (optional)
-4x 1" PVC elbows
-1x 1" PVC Tee splitter
-Around 6-7 feet of 1" thin wall PVC
-20" of 3/4" PVC
Ok, let's get into it. I'll start with the titan itself. I did a simple pump replacement by taking the check valve from the old pump and gooping it right onto the end of my replacement. Don't mind the vinyl tubing, that was due to an error I had to fix.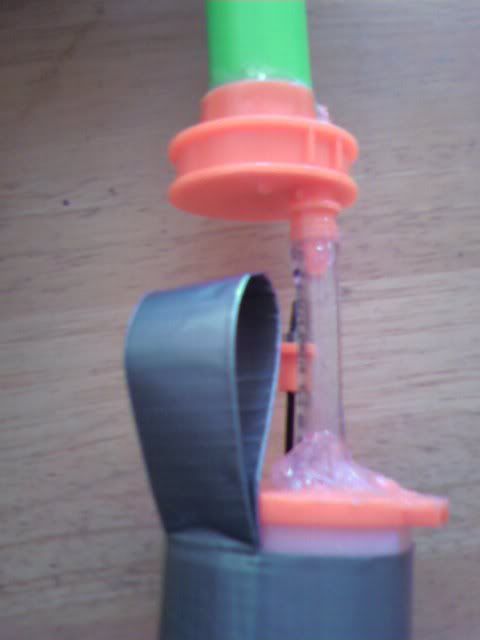 You can also see the duct tape loop I put on the tank. This is the next step to make it possible to sling the titan internals at your side. I folded about a 6" piece of tape in half and taped it to the tank. This is the belt loop. Do the same on the upper part of the pump for your shoulder strap.
Making the straps isn't too difficult, although I started to feel like a tailor when I measured myself. Measure around your shoulder to make your strap. You can make them out of anything, but I'm lazy and duct tape is quick and cheap. I ended up using a 42" strip and put velcro squares where it fit tightest around my chest.
Take 2-3" of 1" PVC and stick it right over the threads on the tank using plumbers goop.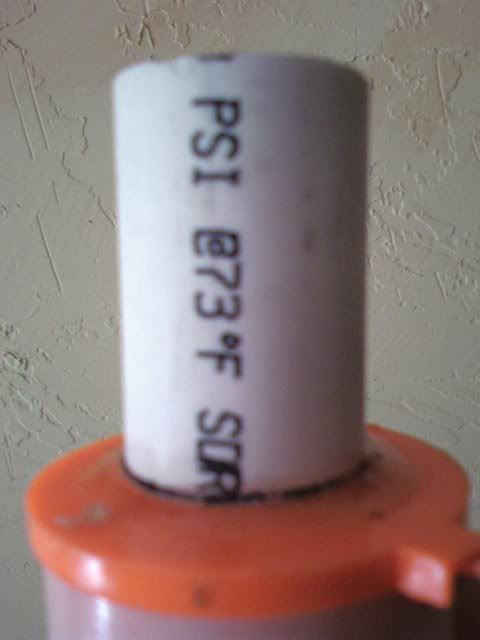 Ok, let's move onto the pipe assembly. To make a long story short, use this picture to guide you. Unless otherwise noted, everything is 1" thin wall PVC.
Cement down everything as you see fit. I chose not to for portability. I'm not sure if this is necessary, but for added stability while wearing it, I added two duct tape shoulder straps next to the 3/4" shoulder bars. Use the duct tape and velcro method above if you want to add these.
The shoulder bars are the hardest part, but still, any nerfer with a dremmel can make them without too much trouble. Using another set of T splitters for the shoulder bars would weaken the air flow, so I decided to just stick 'em on there. You must account for the curvature of the arms by dremmeling little semi-circles at the base of the shoulder bars. Sorry I don't have a picture for this step, but I didn't have my phone with me. Once the 3/4" shoulder bar sits almost-flush with the 1" arms, hold them down with e-tape, hot glue or whatever else you have and apply plumbers goop. After drying, they should look like this:
Alright, almost done now. But it's missing something... oh, right- Kamikazei bomber style ripcord.
There we go! Ok, all I did was twist up about a foot of wire around the Titan's firing pin, slip a key ring through one of the loops in the wire and put another duct tape loop through the key ring. The length is up to you, just as long as you can reach it easily.
Alright! Let's try it on!!!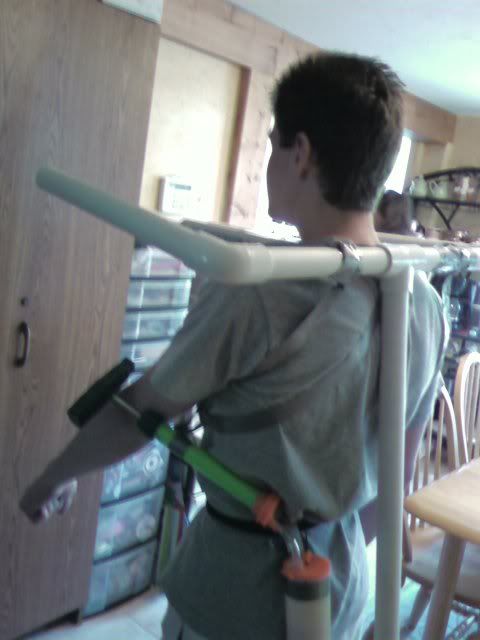 Ok, quick notes: This requires 1" foam as a sabot to push a few darts out of each barrel. I don't yet have such foam, and because of that, have no ranges, but the airflow is extreme and very promising.
Comments? Questions? Flames?
Edited by BlackFox, 13 July 2008 - 01:14 AM.