Ok, so recently I traded Orange a Larami 1k for a SM5k and I'm happy about it. I would have never wanted to mod the 1k in fear of something that rare breaking. When I got this gun it was awesome. The stock feels perfect and I even got 1 pink and green larami to try out the gun. It shot around 20 ft. I read over Frost Vectron's and Silent Blade's SM5k write-up's alot so I basically knew what I was going to do with the gun before I ever got it. I did the regular tank relocation mod and I was very suprised at how easily and smooth that was. Next, I had to shorten the tubing and add some plumbers goop to seal it up.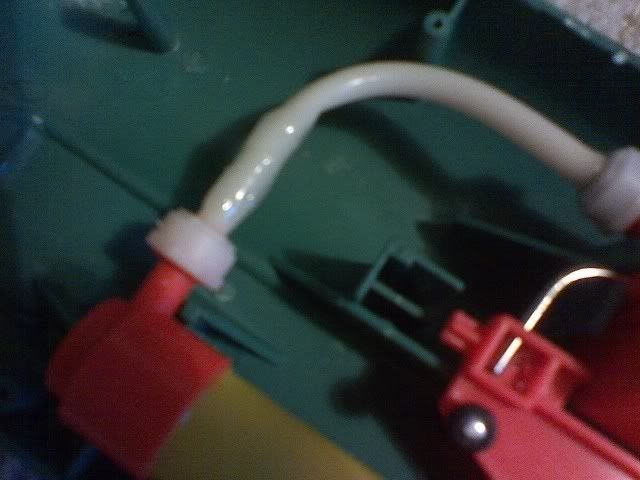 I also wanted to do a breech like FV's but I approached it so differently. He helped me with the better barrel size I used and I chose 9/16 brass with a 19/32 brass barrel making a seal. Like FV I put 3 in. of pvc over the 3in 19/32 brass. Although, instead of using a PVC endcap and such. I used a nail. Different, but it works. I put a crapload of epoxy putty around that, and believe me, that's not going to fall off. Ok, everyone knows that nails hurt, so I then put some crappy frost king foam on the nail. To add to appearence, I then added some e-tape to it.
The breech itself is just a 9/16 brass barrel with 2.5 inches cut out of it, to put in the dart. Then 19/32 nested brass barrel to cover the main barrel. And as previous stated with the nail ect.. Now the way I cut the shell, I cut it a bit short so I can only see 1.5 inches of the insides of the 9/16 barrel, but it doesn't matter because my darts are 1.5 inches and I slide them to the back with the breech. Here's the shell cut down fit for the breech, also the scope with I cut off.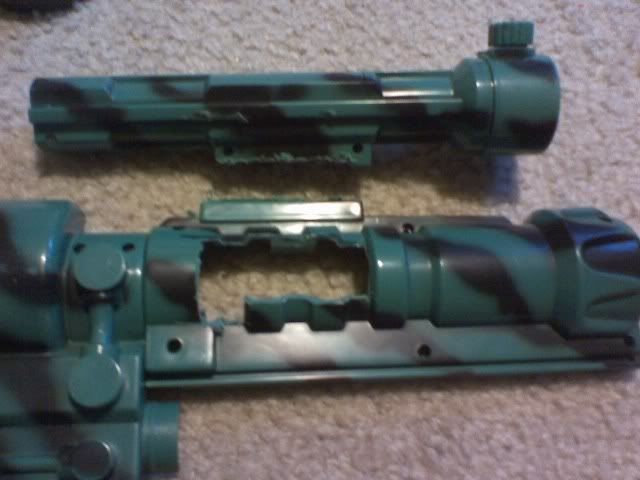 Here's anoter picture of the awesome breech opened.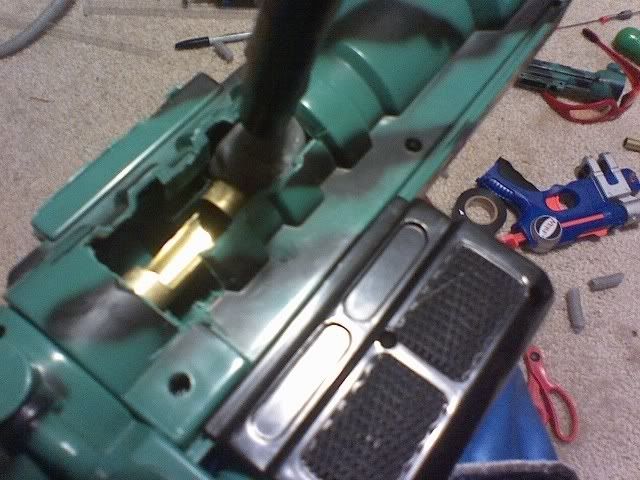 Now to secure the barrel and make sure that it is straight, I did something that Silent Blade did. I put etape around the end of the barrel. Pic time.
Also, what SB did, for looks.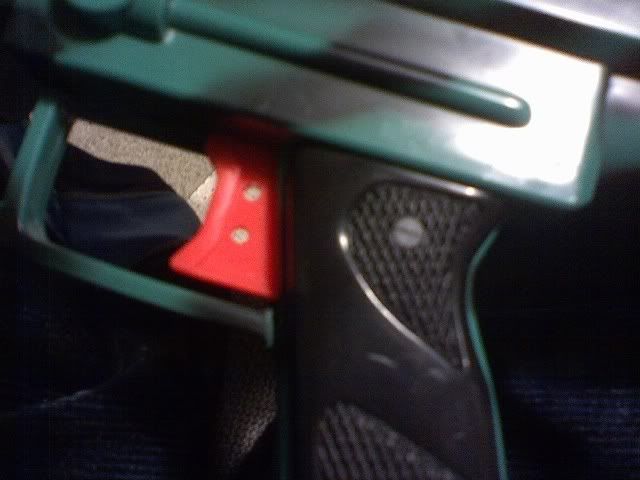 Here's the awesome detachtable stock, but I'll never take it off.
The final product: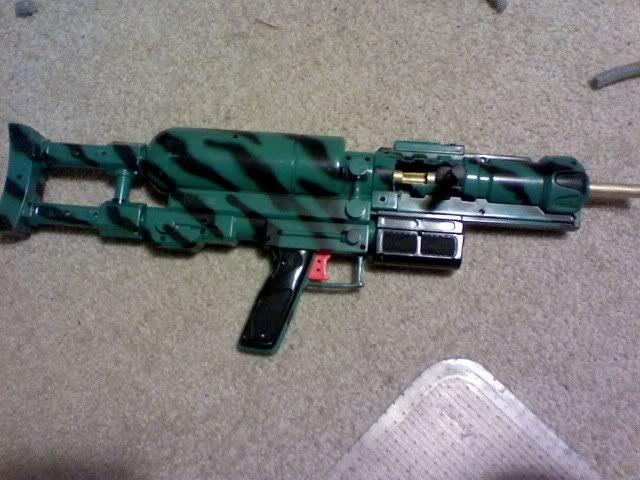 This gun is literally the shit. The best gun I've modded so far and my best work. I'd like to thank Frost Vectron for the help and Silent Blade for the basic mod and inspiration.
Now the 9/16 is a bit big for my darts but the 17/32 is way too tight so ultimately I chose 9/16 which is probably why my results aren't the best 5k ranges but they get the job done. Also, my OP valve takes a little big longer to kick in also. With 10 pumps I am acheiving 150' but that's pushingit. 7 pumps is more like it and I'm getting around 120'. These ranges aren't exact ranges, so please don't flame me for them. Anyway, the best part about this gun, is the way it feels. I'd have to put it up there with a crossbow. I own both guns so I'm not just going off what people say. The stock on this gun is extremely comfy. Also, this gun isn't that loud either, other than a small pop.
Sorry for the horrible quality pictures too. Camera phones suck.
Oh yeah, about the name. I've recently bought COD4 and I have a MP5 with Blue Tiger camo and I thought that name suits this gun perfectly. Thank you for reading this if you actually did too. I'm sure there's some mistakes, but I'll fix'em later.
Wow, this took a long time to write. So finally, any questions, comments, flames?
EDIT: I don't want to make a new topic so I'll just post it here, buy my chainblazer!
http://cgi.ebay.com/...1QQcmdZViewItem
Edited by ChiliPepperFender, 11 July 2008 - 12:19 PM.