Ok, I saw Dayko's double nite finder. I liked it, and wanted one of my own, but was skeptical.
Then I saw OfAllTheNerf do one, and I thought "Other people are doing it, it must be easy"
So, I promptly bought two nitefinders, some other modding things and alot of PVC tees and PVC couplers as I wanted something to shoot megas.
What I have here is my take on that double nite finder.
As you can see, its NEON FREAKIN GREEN!!! Pretty much my uber color of uber.....ness.
(oh yeah, and my plaid shorts that are hated by my girl)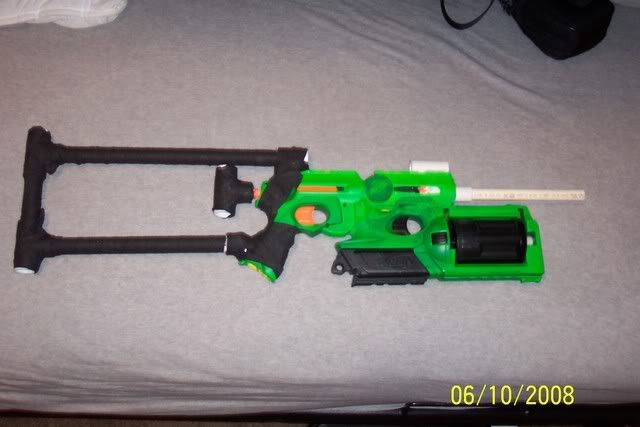 You now see the maverick I have mounted under it. I wanted some good rate of fire to offset the decent range i get with this double nite finder.
Ranges are shit at the moment, as I was only able to use the stock springs due to lack of funds. This was also only a test project to see how easy it was. Next time I will probably make my own plunger tube and better stuff all around.
Still needs bungees and probably some lubrication.