Well I needed to make some money for my warped tour ticket this summer so I decided to start selling things on ebay. I immediatley turned to my nerf guns. I went up to my room grabbed my maverick and got to work.
The Gun-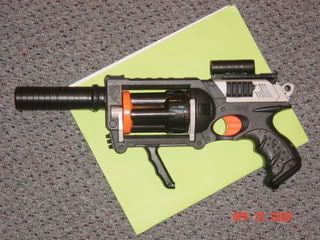 I gave the gun a basic black paintjob, excluding the moving parts. The Large barrel on the front is the plunger tube from a broken BBB wrapped in e-tape. The fun little scope on the sliding handle is made from the plunger tube of a doubleshot. Lastly, the little handle on the front of the gun was cut off of a laser tag blaster that I had lying around my basement.
The gun itself recieved basic mods such as the roulette mod, and slight spring stretching.
I just thought I'd post this up here because I really like it and I wanted to see what you guys think of it. I will most likely not be selling this on ebay anymore since I like to much (but we'll see).
Comments, questions?