Possibly one of the most underrated guns out there. So here's what you do:
First, open it up. Take out the stock barrel and leave only the green nub.
Now, take about 3.5" of 1/2" SCH 40 PVC and glue it on.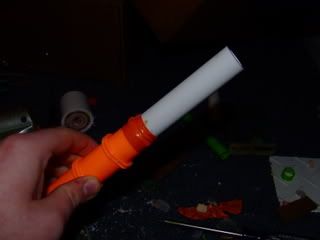 Then, go ahead and wrap some e-tape around the plunger head. Be sure to lube it before putting it back in the plunger tube.
You'll need to use the dremel on each side of the gun so the barrel fits.
Now put it all back together and make sure it's all in place.
Very light banding and the finished product:
You can expect ranges of low to mid 60's. Also, replacing the spring with one from a Sharpshooter II is said to increase range. I'm still looking for one so if anyone has one they can part with, send me a PM.
EDIT: Holy Crap 200th Post!!!
Edited by nerfer75, 29 April 2008 - 05:29 PM.