Well, I joined a year ago with the intention of helping and being helped by the NIC. Unfortunately, my efforts were stymied by my underqualifying age. I take no offense to that as I fully understand why there is an age minimum. So, with all that sentimental crap out of the way, it's time for my first original modification!
First off, I would like to say that this mod was heavily influenced by Gengar 003's awesome
Shotgun cartrige add-on
and ompa's original
Titan singling mod
. I thought they were both great mods, so I decided to put them together with my own little twist (having practically no commonly utilized materials).
I always like a little incentive in write-ups, so here's a picture of the finished product: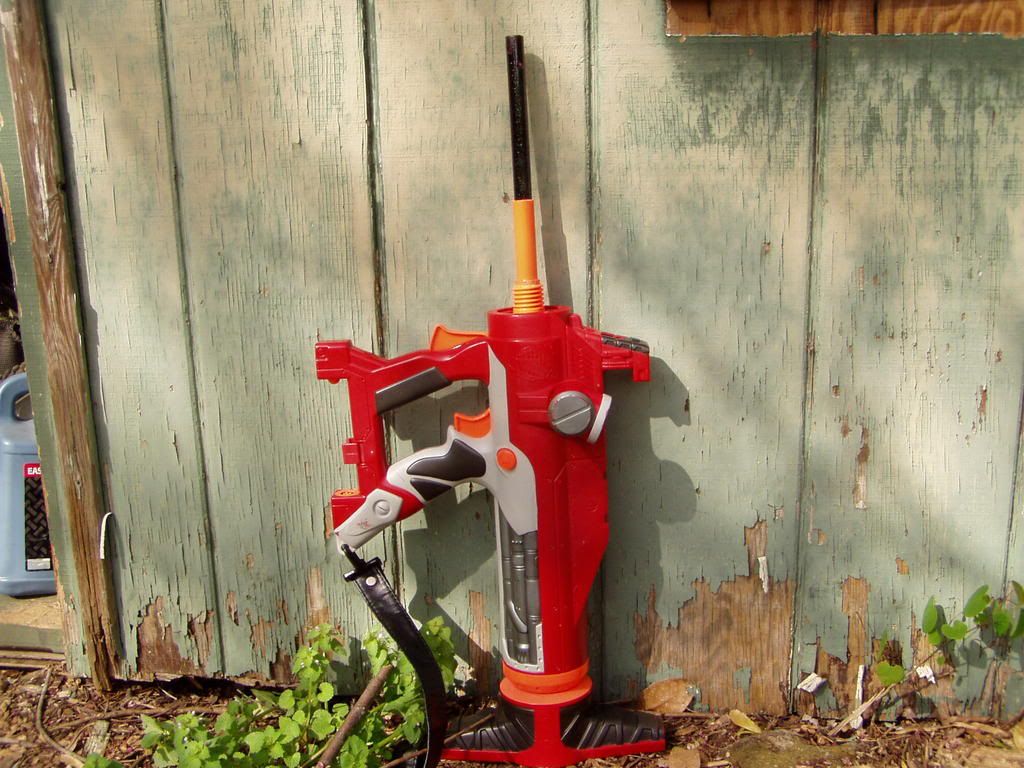 "Where's the shotgun add-on?" Patience young padawan. Actually you're almost definately older than me, but that's irrelevant.
WARNING: Read the whole write-up before attempting.

Materials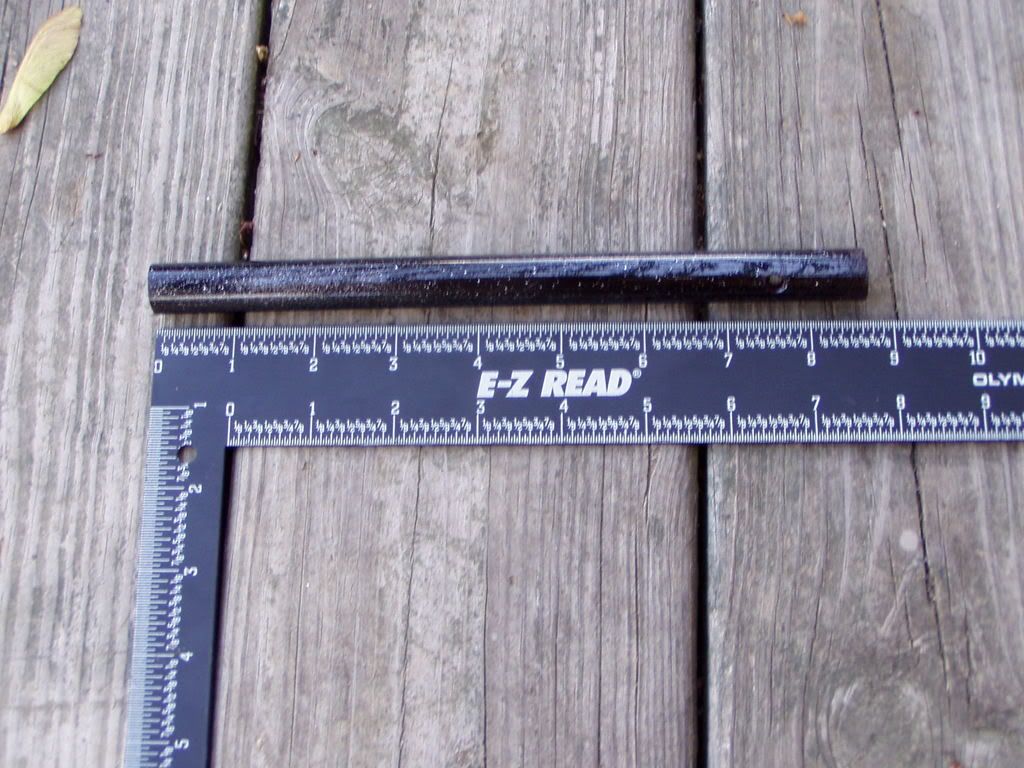 (top to bottom, left to right in the first picture)
1) Hacksaw
2) Krazy Glue pen ,or super glue
3) Gorilla Glue
4) Metal file (wood works just as well, but my metal file has 4 different levels of coarseness, not to mention I cant find the wood file)
5) Carpenter's square
6) 3 crayola, PETG, or 9/16 brass barrels, 3 inches long (not shown)
7) 9 inch piece of PETG, 9/16 brass, or thinwall sch 80 CPVC (not shown)
8) Longshot front gun extension barrel (not shown)
9) 3 pieces of 3 inch long FBR (not shown)
10) Hot glue (not shown)
Shotgun Stage
First step, cut off the front half inch or so of the Titan barrel. YOU MUST DO THIS, or the shotgun part will not work. Take the three 3 inch barrels and arrange them inside of the very front of the stock barrel. If they don't fit, either you didn't cut enough off the front or your barrels' walls are too thick. now stuff FBR or anything similar in the 3 outer cracks and hotglue it all to death. It may look a little sloppy, but if you lined up the barrels right and the whole thing's airtight, then it should work wonderfully.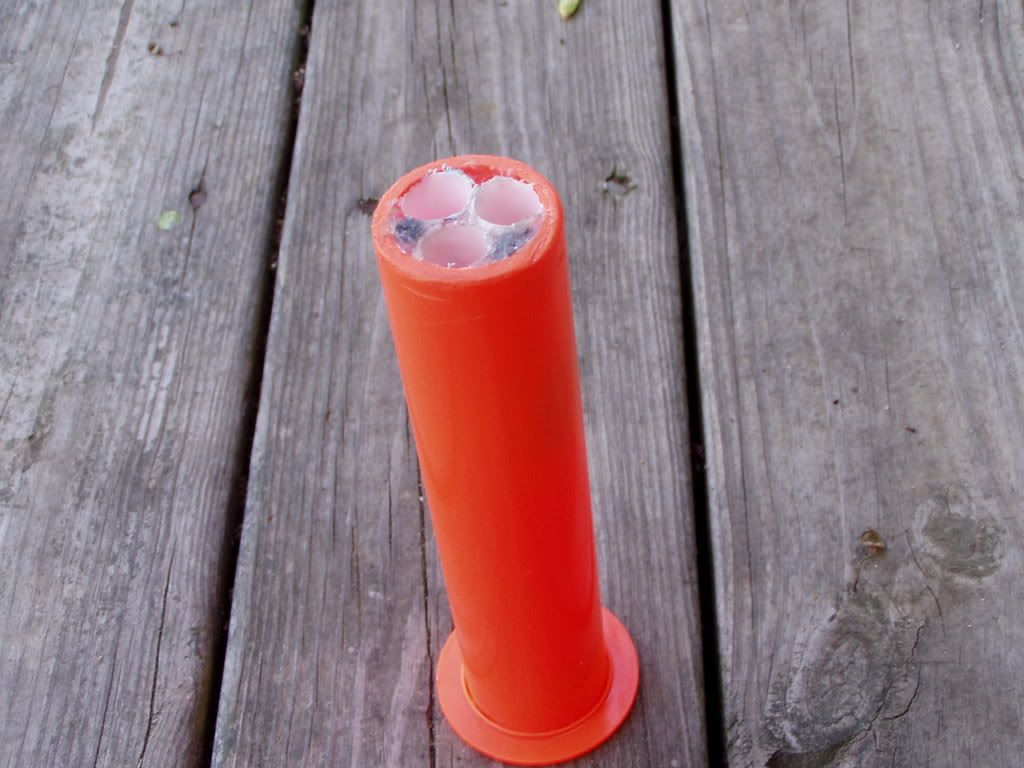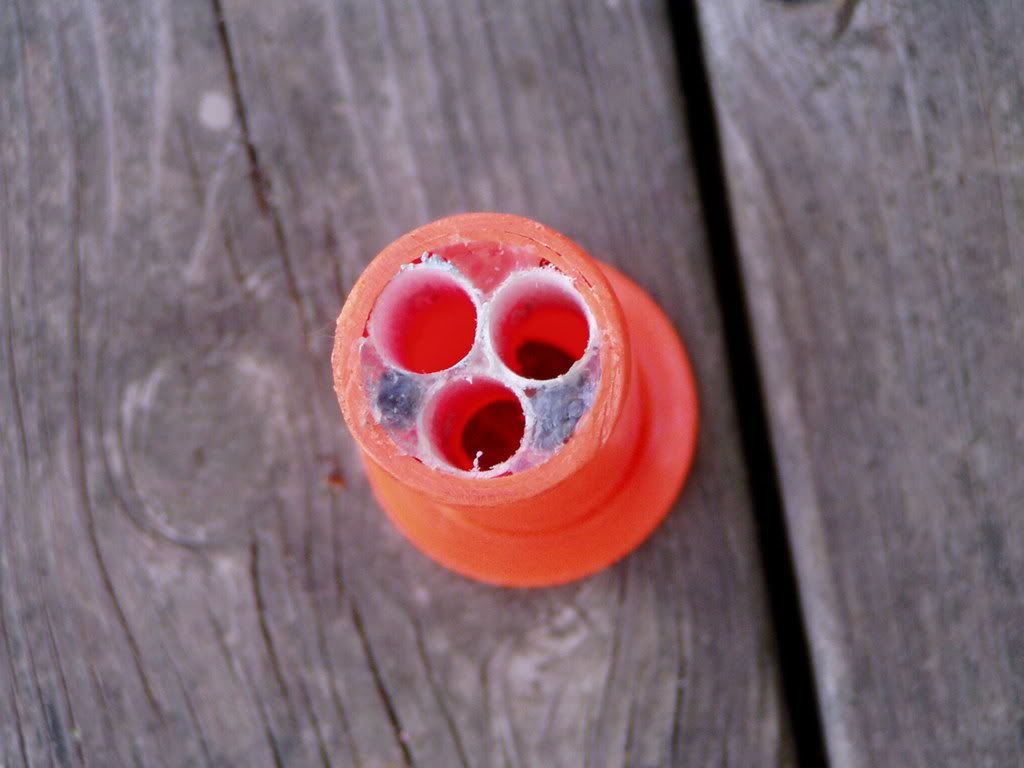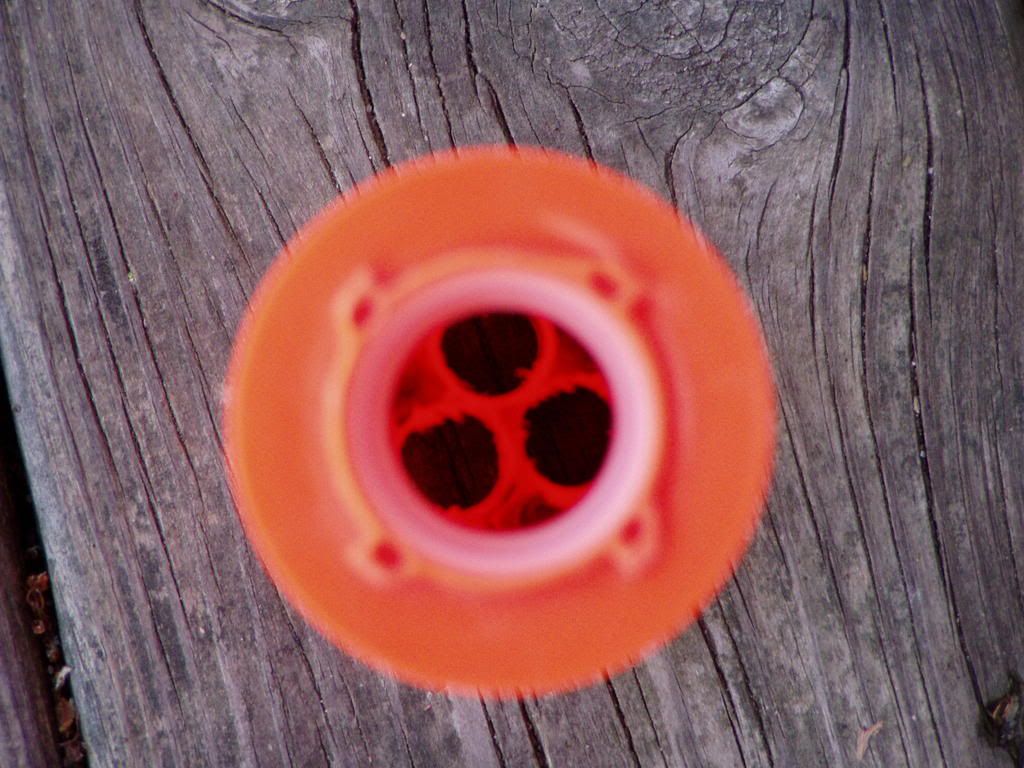 Single Barrel Stage
Now, take the Longshot extension and remove the big, long, orange barrel at the top. Starting at the back, cut it off at about 3 inches. I advise that you mark the flat end (the part you didn't cut). Use the file to shorten the end you did cut, if necessary, and to remove the pieces of plastic sticking into the barrle that result from cutting. Also use the file very carefully to rough up the uncut end. Make sure you don't file so much that it ceases to be level. Then just Gorilla Glue it in place inside the small nub that the stock Titan barrel screws on to. I also used the Krazy Glue on the outside to add stability and to act as a "clamp" while the Gorilla Glue dried. All you have to do now is cross-drill holes in your 9 inch barrel (possible with a pocket knife). Use the carpenter's square to make sure it's level.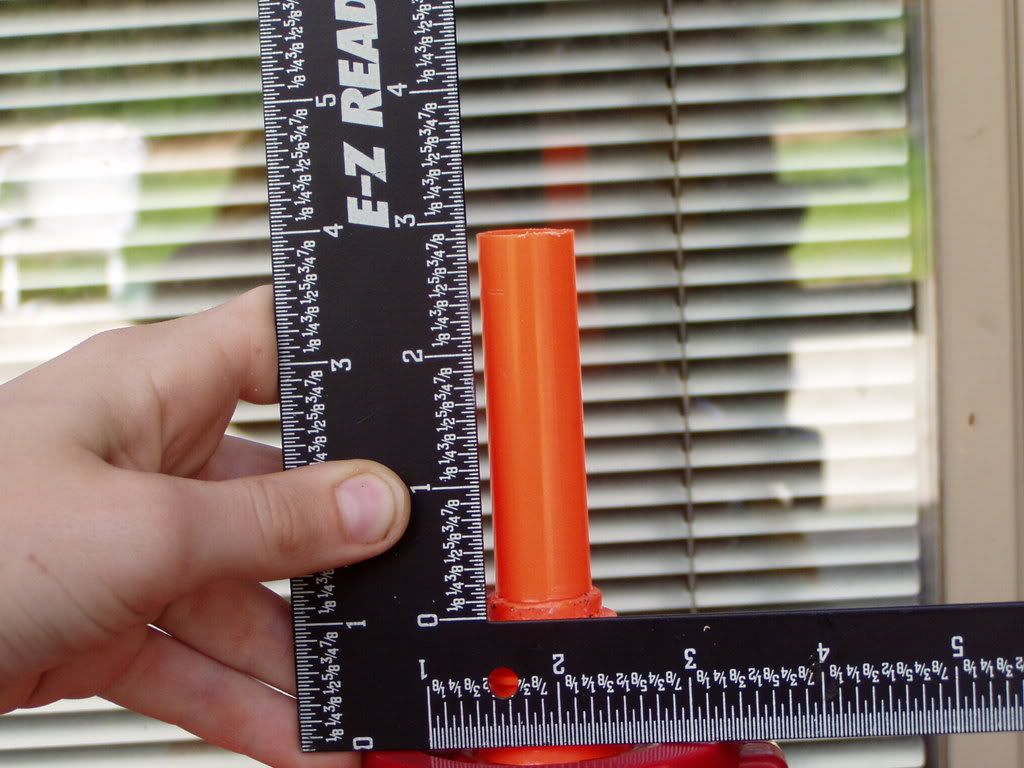 Operation
To fire the single shot, load your dart in the back of the long barrel. Simply insert it into the LS barrel, pump, and fire. For the shotgun or missile, take out the long barrel and screw on the stock Titan barrel. The best thing is, this requires no internal mods whatsoever and still achieves great performance.
Ranges
All ranges are flat, and all darts shoot in an almost perfect line

CDTS, 16 pumps:
114 feet
Streamline, 16 pumps:
68 feet
Custom Piercing dart :
117 feet
3 Custom piercing darts:
____#1: 40 ft____ #2: 53 ft____ #3: 57 ft____ about 3 foot spread
Here concludes the write-up for the Stryker arms SA-01B Prometheus.
Questions? Comments? Notions of Directoryness?
Edited by Foam: Total War, 13 April 2008 - 05:24 PM.