Hello.
First and foremost, this mod is
not recommended
to be used with magstrikes that have had the overpressure release valve tampered with or removed.
You will need:
A Magstrike
A road bike inner tube (i used a 700 x 26/32 $3-4 at REI) Schrader or Presta valve is up to you
Two small 1" hose clamps
A drill with a drill bit to match your inner tube valve
Duct tape
I also recommend:
An O-ring that is a little beefier then the stock O-ring (I bought a verity pack to get mine)
A hack saw (or the saw bit that comes with a leatherman)
First open up your Magstrike and pull the plunger back on your pump: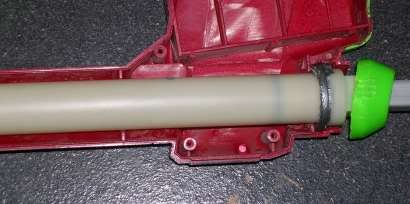 Note the position of the O-ring on the plunger.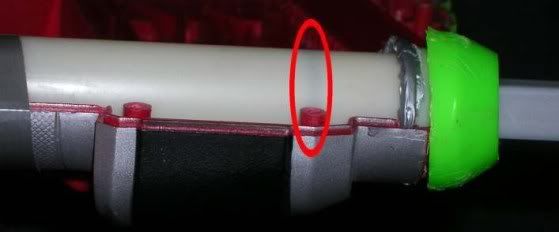 The hole you are going to drill needs to be on the pump side of that plunger in order work correctly. I would recommend using the area painted black as a vertical reference.
Use the center of pump / pump handle as a horizontal reference for your hole.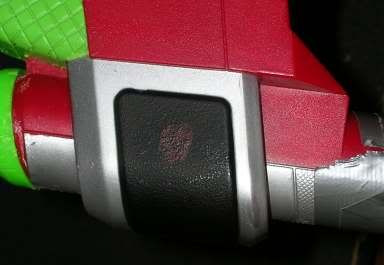 Pull the plunger out of the pump and secure the pump to the side of the case with a clamp or some duct tape.
Drill your hole to match your inner tube valve. Make sure you are drilling perpendicular to the pump and only
drill through the first side of the pump.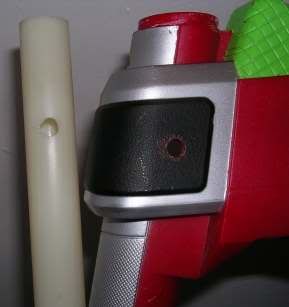 Next cut your inner tube down so there is about an inch on either side of the valve (I know my picture looks different)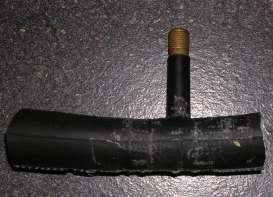 Slide the cut inner tube over the pump, it will be a tight fit so be careful not to tear the inner tube. make sure the valve is over the hole you drilled. Check to make sure the valve fits into the hole in the case as well. then wrap the inner tube with two to three layers of duct tape to make sure it doesn't balloon after you clamp it in place: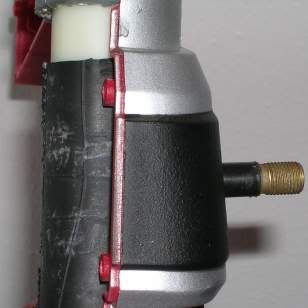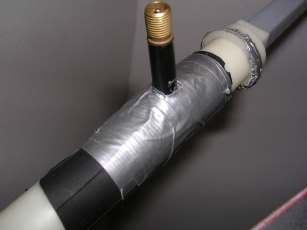 Next make your final adjustments to the inner tube and clamp it in place:

Put it all back together and you're all done.
However
, I would highly recommend that you use duct tape reinforce the part that holds the pump plunger in place, it will be under pressure that it was not designed for.
I have two more recommendations the first is that you swap out your O-ring like so: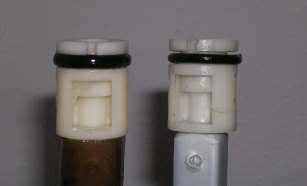 This will make it so that when you use a bike pump it creates a seal automatically. With the stock O-ring, you had to apply some pressure to create a seal and it was inefficient. One draw back with the beefy O-ring is that it lowers the inefficacy of the hand pump (it creates back pressure).
The second suggestion is that you cut a window in the back of yor air tank case: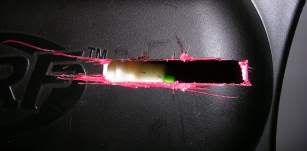 (I know it looks messy; I am a function over form kinda guy)
I have a few old wildfires and i really missed this window on the newer automatics.
To pump this gun up with a bike pump pull the plunger out all the way, attach your bike pump and go for it.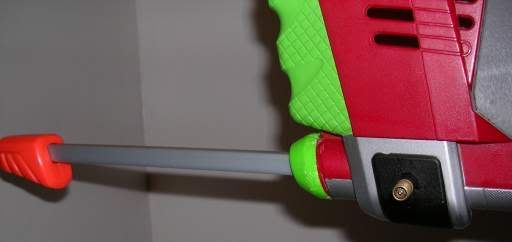 WARNING
Do not
point the plunger/pump handle at anyone or anything fragile while inflating your gun. If something where to break that pump could really do some damage.
That said I would also for the same reason use low pressure pumps.. all you need is 30 - 40 psi.
Let me know what you think.
I wish you all luck.
(I may edit in a few video links to show how i use it in a week or two. I don't own a camera so I will have to borrow one.)
YAY FOR FIRST POST!!!!!
Edited by Djorn, 01 April 2008 - 11:38 AM.